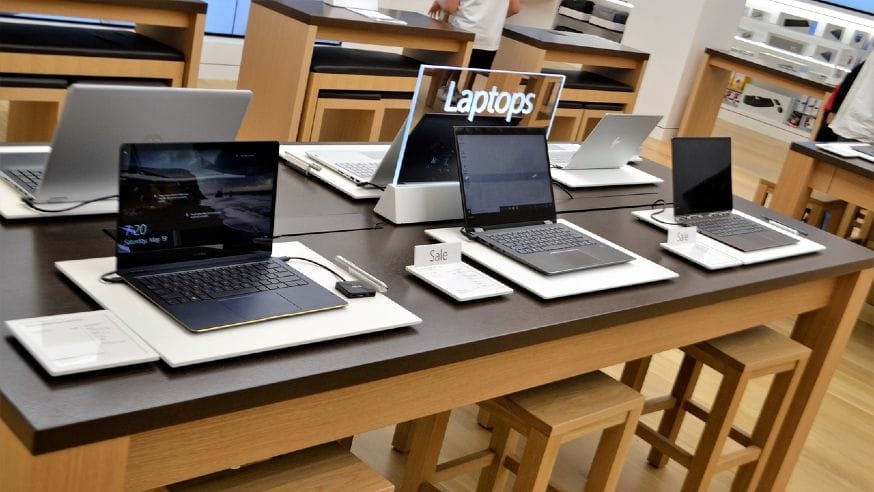 Are you struggling with an underperforming laptop? Don't worry; here, we'll go through some simple steps you can take to tidy up your hard drive, physically clean your laptop, protect your data and generally optimize your laptop.
If you want to Improve a Laptop's Performance, there are several things you can do to keep it running smoothly. The best part is most of them are really quick and easy to do – you'll feel like you have a brand-new laptop in less than an hour! By following these tips, you can help ensure that your laptop runs at its best and continues to serve you well for years to come. Let's get started…
1. Tidy up your hard drive
A cluttered hard drive can slow down your laptop, so it's essential to regularly clean it up. Start by organizing your files and folders into neat stacks. This makes it easier to find what you need and move files onto external storage devices like USB drives or SD cards.
To clean up your hard drive further, consider removing any files or programs you no longer need. You can also use the Disk Cleanup tool built into Windows to get rid of unnecessary files and free up space.
2. Physically clean your laptop
Dust and dirt can build up on your laptop over time, affecting both its performance and appearance. To keep it clean, use a damp cloth to wipe down the exterior. You should also clean the keyboard and trackpad if they're removable. An air duster is a great tool to get the dust out from underneath and between the keys on your keyboard.
Make sure to avoid using harsh chemicals or abrasive materials that could damage your laptop. Always read the manufacturer's instructions before cleaning your laptop.
3. Declutter your desktop
Having too many icons and shortcuts on your desktop can make it harder to find what you need. Consider moving them into folders and using plain wallpaper with minimal distractions. When you're done with a program, remove it from your desktop and uninstall it if you no longer need it.
4. Clear your cache
Your browser and other apps store temporary files on your laptop in what's known as the cache. Clearing the cache can speed up your laptop's performance by freeing up memory. You can clear your browser cache by going to your browser settings and selecting "clear browsing data."
To clear your app cache, open Windows Explorer and navigate to the "AppData" folder. From there, find the folder for the app you want to clear the cache for and delete the temporary files.
5. Install updates
Keeping your laptop up to date is essential for its performance and security. Check for OS updates regularly and make sure to install them promptly. You should also check for updates for any apps you use regularly and update drivers as needed.
6. Uninstall unused programs
Unused programs take up valuable space on your hard drive and can slow down your laptop. Uninstall any programs you no longer use, and delete any associated files. You can do this manually, or use a program such as CCleaner to do it for you. Make sure any remaining programs are up to date by checking for updates in the app store or on the website.
7. Protect Your Data
Your laptop likely contains sensitive information, so it's crucial to protect it. Back up your files regularly, use encryption software on sensitive files, and create strong passwords that only you know.
Avoid accessing sensitive information when using public Wi-Fi networks, and use a password manager such as LastPass or similar to keep track of your passwords securely.
8. Check your battery life
Monitoring your battery usage is essential to keep your laptop running smoothly. You can monitor your laptop's battery life using your operating system's built-in tools or third-party apps. Calibrate your battery periodically to ensure accurate reporting of remaining charge levels.
You can adjust your power settings to optimize battery life. On Windows 10, go to Settings > System > Power & Sleep and adjust when the computer goes into sleep mode. On macOS, go to System Preferences > Energy Saver and adjust the settings for when the computer turns off after being inactive.
9. Check your antivirus software
Antivirus software is essential for protecting your laptop from viruses and malware. Make sure to update your antivirus software regularly and run frequent scans to check for any potential threats.
If your antivirus software detects any viruses or malware, make sure to remove them immediately to prevent any damage to your laptop or theft of your personal information. You can also consider using additional security measures such as a virtual private network (VPN) or a firewall to add an extra layer of protection to your laptop.
By staying up-to-date with your antivirus software and taking additional security measures, you can help keep your laptop and personal data safe from harm.
10. Optimize
Optimization is the final step to make sure your laptop runs at its best. Here are some tips to help you optimize your laptop:
Disable unnecessary startup programs: When your laptop starts, it loads all the startup programs, which can slow down the boot process. To speed up your laptop's startup, disable any unnecessary startup programs by going to the Task Manager and disabling them under the Startup tab.
Adjust your power settings: Adjusting your power settings can help to conserve battery life and improve performance. For example, you can reduce the screen brightness, turn off Bluetooth or Wi-Fi when not in use and set your laptop to sleep after a certain amount of inactivity.
Use an optimization tool: There are many optimization tools available that can help to speed up your laptop's performance, such as Microsoft's Windows 10 Optimization Tool or CCleaner (free). These tools can help you to remove unnecessary files, clean up your registry and manage startup programs.
Disclosure: This post contains a sponsored link to the betmgm.com website.