Hey friends, I always post different tips and trick of Facebook on this blog. Many people knows about them already and some of them only heard about them. But today, this article will give 10 most hidden Facebook tricks that you might neither know nor heard.
I've collected these hidden Facebook features or tricks for all the Facebook users that's why you can make your Facebook experience amazing and superb.
Look: Hidden Facebook Tricks You Might Not Know
Look guys, here's these 10 most hidden and interesting Facebook tips and tricks that may be proven very useful for you.
1. Save Items Like Photos, Links, Videos on Facebook
A few days ago, Facebook launched one of its new features that many people don't know till now. Actually, this is called "Save" and it enables you to save any item of Facebook like videos, movies, music, photos and any other type if posts on Facebook. Don't worry, only you can see the items you save unless you choose to share them with friends.
To save items foe viewing them later, you have to click on the download icon on right top corner of the post and click on "Save 'Item Name'". Isn't it very easy and useful. As it is very new, so you might not know about this hidden feature.
2. Get Rid of Unwanted Status Posts on Your Timeline
Many times it happens that you don't like the status updates of some of your friend but you also don't wanna unfriend him/her, then you can freely unfollow that person. It means, when you unfollow your friend, he will be in your friends but none of his status updates will be seen on your timeline.
Do you know how can you do it? So, let me tell you. In your Facebook timeline, just click on the downward arrow at the right top corner of the post and click on Unfollow 'Friend Name' (As shown in following picture).
3. Disable Facebook Tracking
Very few of you might be knowing that Facebook tracks your each activity while you use it. It means, when you use Facebook it can track your activity like visiting web pages in other tabs and many more and deliver this secret information to third parties.
To get rid of this problem, you can simply disable Facebook tracking by using a browser extension called Facebook Disconnect. Facebook Disconnect blocks all traffic from third-party sites to Facebook servers but still lets you access Facebook itself.
4. Turn off Notification Receiving Sound on Facebook
It is also a very less known and a hidden Facebook trick to turn off the sound on receiving notifications. Yes guys, if the notification incoming sound is disturbing you, then you can make it silent.
To do so, navigate to Settings > Notifications > On Facebook > View and Uncheck the term "Play a sound when each new notification is received". Finally click on Save Changes and you're done!
5. Use Facebook Without Internet Connection
I'm sure that this trick will definitely shock you and enable you use Facebook without having Internet connection. But, it is possible on your mobile phone. In fact, Fonetwish is the solution for users who want to surf Facebook without Internet connection. So, read this article to learn how to use Fonetwish service and access Facebook without data plan.
6. Turn Off Receiving Notifications for Any Facebook Post
It happens many times on Facebook that when a photo or status in which you're tagged in gets any like or comment, then you gets notified while here's no interaction of yours with the post.
So, in this condition you can turn of receiving unwanted notifications for any individual post or game or app on Facebook. Learn – How to turn off Facebook notifications.
7. Send Auto Replies on Facebook
Isn't it very interesting and useful trick! You may often need to send auto-replies on Facebook or other social accounts but most of you think it is impossible.
In reality, you can send auto reply on Facebook as well as on Twitter by using an online service called Relaxed. So, learn how to send auto reply on Facebook.
8. Find out Who Unfriended You Facebook
It is another shocking and can be a hidden trick for Facebook users to find out who unfriended you on Facebook. This is because Facebook doesn't provide the facility to find out who unfriended you but however by using an app, you can do so.
Guys, I've already written an article on how to find who unfriended you on Facebook. So, read out this article to know about this app and how to use the app to find who unfriended you.
9. How to Make Facebook Profile Picture Unclickable
It's also very interesting trick that you might not know. So, if you ever needed to make your Facebook profile picture unclickable or private, then you can do it in seconds.
You just need to follow a few steps to learn this trick. The complete guide about making Facebook profile picture private can be found here. So, guys now impress your friends by applying such type of changes in your Facebook profile.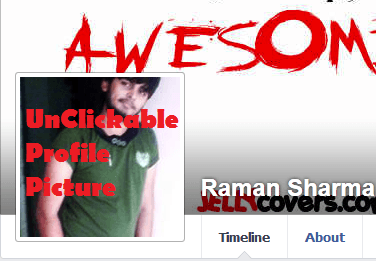 10. Restrict People From Posting on Your Timeline
If you are receiving spam or unwanted messages or posts on your Facebook timeline from others, you can simply stop people from posting on your Facebook timeline. For this, you need to change a timeline setting.
So, learn – How to restrict people from posting on your Facebook timeline. I hope you'll find this trick useful.
More Facebook Tips:
That's all friends. These are the top 10 most hidden, useful and interesting tricks of Facebook that you might not know. I'm sure, after knowing about these tricks, your Facebook using experience will be definitely changed.