Today nobody wants to leave their phone alone for a single moment at all. But we all know about the Holi Festival that is the Indian festival of colors and water. So, at the time of Holi, your smartphone is in great danger from water.
However, if you want to enjoy Holi festival without leaving your smartphone, then you should follow these tricks to keep your smartphone safe during Holi. Have a look on them:
1. Use Zip-Lock Bags
To protect your smartphone from colors and water during Holi, Zip Lock Bags are the best choice. You can use zip lock bag to put your smartphone inside. The zip lock bag protects your smartphone from dust, color and water.
The best thing about it is that these bags are very small and that's why you can put them in your pocket during Holi. You can enjoy Holi festival Worriless by putting your phone inside the zip lock bag.
If you're unable to find these bags at your nearby places, then don't worry. You can also buy them online. Just visit any trusted online shopping website and feel free to order your product.
2. Waterproof Cases
We all know that water is the enemy of mobile phones and can damage your smartphone. You can't imagine that water can turn your smartphone into brick.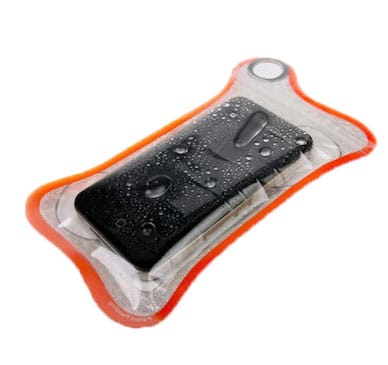 At the time of Holi, water colors are mostly used and that's the solid danger for smartphones. So, there are several waterproof covers/cases available in the market which completely protect your smartphone from water and dust.
I've previously compiled an article on 4 superb waterproof cases for your different smartphones (iPhone, Android phone etc.). You can read this article to know more about them. To purchase these ceases, you can visit to any online shopping website.
3. Use Bluetooth Headset
If you mostly stay connected with someone via smartphone, then Bluetooth headset will be proven very helpful for you during Holi. With the help of Bluetooth headset, you don't need to pick up phone in your hands, instead you can just put your phone in your pocket using zip lock bag or waterproof case and stay connected with anyone.
You only need to connect your smartphone with Bluetooth headset and fit the headset on your ear that's you could automatically pick up the phone and talk out without show off the smartphone.
So, isn't it the great idea to keep your mobile safe during Holi. Bluetooth headset has now become very common device which you can purchase from your nearest shop. You can also buy it from online shopping website.
4. Use Old & Cheap Mobile
It's very simple and clear method to keep your smartphone safe. In case if you are unable to buy the above three products, then its my humble request that use old and cheap mobile phone during the Holi festival.
Nowadays, several mobile phones are available in one house. As the new smartphone launches, most of the people leaves the old one and purchases the new one. So, during the Holi festival, start using your old smartphones and old clothes as well.
MORE HOLI ARTICLES:
Disclaimer
While playing Holi, don't keep any costly smartphone such as iPhone, iPad or Tablet. Don't swap the screen of your smartphone with colored/wet hands.
It will be very good to switch off mobile and place it inside the closet while playing with colors. Another important thing is to protect smartphone with children because they can also damage your phone during Holi.
At last, I just wanna say that Enjoy the HOLI Festival and I wish you all a very HAPPY HOLI.