You would have tried to open your favorite social networking site or sites like YouTube for watching videos in School, Office or College but in many cases these sites are blocked by administration. So, if you really want to access any blocked website on any computer, then this article will give you 5 effective ways to easily open blocked websites.
In one of my previous articles, I've already discussed about how to block a website on your PC. And this time to unblock any of your favorite site. Here are 5 very helpful tricks to open blocked websites without any effort.
5 Best Ways To Open Blocked Websites
Now, guys without wasting your time, just move ahead to these methods to simply open blocked websites on your computer:
1. Open Blocked Website Using Its IP Address
Using the IP address of any website you can access any blocked website. Generally, the site URL is used to block the website and in such a manner you can use IP address in place of URL to open the blocked site.
What to do:
First of all, open command prompt on your computer and enter ping www.example.com. Replace example.com with blocked site URL.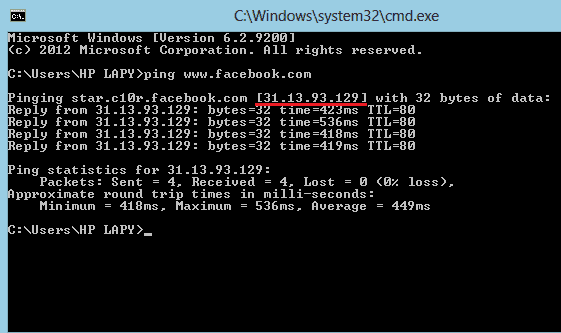 Now, as you press enter the IP address for the desired website will be disclosed in front of you.
Finally, enter this IP address in your browser's URL bar to access the website.
This procedure will only work if website URL will not block in command prompt. If the URL is also blocked in command prompt, then you can move on to the further tips.
Recommended Posts:
2. Open Blocked Websites by Shortening the URL
URL shortening is the most common method to access blocked websites on any computer. However, it doesn't works everywhere. So, if somewhere the websites are blocked lightly, then you can use this method to open blocked websites.
What to do:
First of all, visit any of the following website URL shortening service:
https://goo.gl or https://bitly.com
Now, enter the blocked website URL into bx given and then click on Shorten URL button.
You'll get a random characters and completely changed format of  blocked website's original URL.
At last, you can copy this new shorten URL into browser's URL and access the blocked website simply.
3. Open Blocked Site Using Browser's Built in Proxy Server
In case if short URL is also not working then you can try browser's proxy server. You can access blocked websites by changing proxy server settings. So, learn how can you open a blocked website by changing proxy server settings.
What to do:
Open Google Chrome browser, navigate to Settings > Advanced Settings and then Click on Show Advanced Settings link.
Now, click on Change Proxy Settings.
A box will  open in front of you. Here, under connections click on LAN. It will open the another box. In this box, heck the term "Use a proxy server for your LAN" and simultaneously enter blocked site URL.
Finally click on OK and the blocked website will open.
4. Access Blocked Websites Using Ultrasurf Tool
Ultrasurf is a free proxy based tool for Internet privacy and security. This is one of most popular tool for opening blocked websites on Internet. Now learn how to use this software.
What to do:
First of all, download the Ultrasurf tool from Internet.
Now unzip the downloaded file on your PC.
Now, install Ultrasurf on your PC and after installation it will instantly start working.
5. Enter Blocked Websites Using Proxy Sites
Proxy sites act as an intermediary for requests from clients and resources taken from other place (Server). So, a proxy site enables you to access blocked websites on any computer very simply.
What to do:
Go to any proxy website and simply enter the blocked website's address.
As you hit enter, you'll be able to access blocked website in seconds.
Further Reading:
That's all guys, you can use any of the above listed trick to open blocked websites on your computer. I hope any of the following ways will definitely work for you.