If you have Android smartphone but don't have any application locker, antivirus app or anti theft app to secure your phone, then you should go through this article to know about some of the best and essential security apps for your Android phone.
Here you will find different types of security apps for your Android phone and they will make you a smart Android user without any doubt. So, are you ready to know about these security apps for your Android phone? Continue reading the article.
Essential Security Apps for Smart Android Users
Now, look at the following apps that will be helpful for your Android phone's security in all possible ways.
[Price: Free]
Wheres My Droid is an amazing free Android app to track your lost smartphone. If you misplace your phone in your home, this app increases the ring volume of your smartphone or automatically off the silent mode of your phone. To do so, you need to text message to your phone from another smartphone. This text message includes an attention word which you already saved in your app. As the text attention word reaches to your phone, the silent mode will be off or your phone will automatically increase the ringing volume. Don't worry, the stealth mode hides the incoming text with attention word.
If your phone is stolen, this app also helps you to track the GPS location of your smartphone. After the phone is stolen, no one can make changes in your app because you can password protect this app. There are so many features of this app. You can visit its Google Play page for more features and details.
[Price: Free]
You will definitely appreciate this app because this app contains the ultimate and the amazing features. And is well known as Mobile Security and Antivirus. It provides maximum protection against emerging threats, it also uncover apps that may harm your Android device by sending text message, remotely locate it and lock your stolen device and many more.
Other features are Premium SMS & Call Filter Features, Premium Security Features and Premium Anti-Thief Features. So, if you find thi app useful, you can install it on your Android device from Google Play.
[Price: Free]
It is the free version of Gallery Lock Pro Android app. Its pro version is available on Google Play at Rs 255.82 with some extra ordinary features. However, the free Gallery Lock Android app is sufficient for you to provide the security lock to your phone gallery.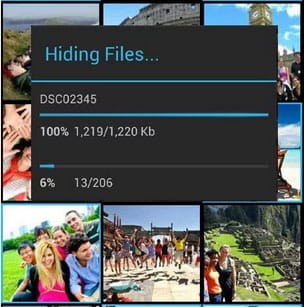 This app also helps you to hide pictures and videos from your Android gallery. Isn't it very interesting and useful app! Some other features include Beautiful designs, A variety of viewing modes, Easy to use PIN and Pattern access etc.
[Price: Free]
RedPhone can also be proven an essential security app for your Android phone because it provides security to your incoming and outgoing calls. In the other words, it provides end-to-end encryption to your calls and makes your conversations secure so that nobody can listen it.
The other thing about this app is that it must be available in the both user's phone. It uses WiFi or data so that your plan's voice minutes will not be deducted while talking with somebody on the phone.
[Price: Free]
If you are thinking to lock various applications to maintain your privacy, then this App Lock will help you a lot. It is another very essensial Android app to WhatsApp, SMS, Games, Contacts, Gmail, Facebook, Gallery, Market, Settings, Calls and any other application you like.
AppLock can hide pictures and videos, AppLock empowers you to control photo and video access. Selected pictures vanish from your photo gallery, and stay locked behind an easy-to-use PIN pad. With App Lock, only you can see your hidden pictures by providing the password.
More Essential Apps:
Conclusion
These are the most essential Android apps that I use on my Android phone for better security. These apps will definitely enhance your phone's security without any doubt. These different apps are used for different purposes. As per your need you can install the app in your Android phone.