After a long time of working on my laptop, I take a rest for an hour (at least) and enjoy the time by playing games on my Android phone. One of the most favorite games of mine is Beach Buggy Blitz that I often play on my Android device.
Today, I would like to share a list of the 8 most interesting Android games I played a lot in 2014. I'm sure you'll definitely like them. Most of the games I always like to play are racing and shooting games.
It's a very interesting adventurous racing game. In this game, you've to drive the buggy as far as you can in the uncharted depths of a mysterious tropical island!
Usually, a time of 30 seconds is provided to reach the next power-up that will give you extra time to run away. You should collect more and more coins to unlock the upgrades by paying your earned coins.
Really a very interesting game, truly while playing it I always forget the real world and enter the life of the game. A great eagerness of collecting coins always has in mind to build up a performance-boosting collection of upgrades and powerups.
It can be said an explosive sequel to Beach Buggy Blitz. The difference between both is that in Beach Buggy Blitz, you race with yourself just for collecting coins, powerups, and upgrades whereas, in Beach Buggy Racing, you will have to race with the rival drivers, each with unique personalities and special abilities.
In Beach Buggy Racing, you will get your position among the participants like 1st. 2nd, 3rd, etc. There are many other funny acts in this game like exploding your competitors and collecting crazy powerups, like Dodgeball Frenzy, Fireball, and Oil Slick that may help you win the race.
It is a good running game and I played it a lot this year but truly after installing Beach Buggy Blitz, my interest in this game became down. In this game, you just need to run away by saving your life from the grumpy Inspector and his dog.
Trains keep moving around you. Be safe and dodge the trains as far as you can. Moreover, as far as you run away, your running speed will automatically grow up so it may be difficult to control yourself. Keep running carefully, don't hit the train.
Hill Climb Racing is another favorite game of mine that I've played very much in 2014 on my Android smartphone. Newton Bill is the driver in the most addictive and entertaining physics-based driving game.
You need to fulfill the dream of Newton Bill of reaching the highest hills on the moon, Mars, and other planets. But be careful about the fuel in your car because cars can easily go out of fuel and after a few seconds you will get a fuel tank so keep driving faster to get the next fuel tank.
Face the challenges of unique hill climbing environments with many different cars. Gain bonuses from daring tricks and collect coins to upgrade your car and reach even higher distances.
Dr. Driving is the fastest and most visually stunning driving game. In this game, you will get the real car driving experience. Different missions in this game such as Mission Speed, Mission Highway, and Mission Speed Parking will entertain you a lot.
If you're interested in playing in multiplayer mode, sign in with a Google account to play online multiplayer. You can get free gold when you finish the mission before the opponent in multiplayer.
Zombie Roadkill is the best action game that I loved a lot in 2014. It blends the boundaries of classic shooter games and timeless racing games. The rules are very simple – slay the endless waves of zombies or have your brain eaten.
Guys, in this game your hometown is overrun by the zombies, the only thing left to do soon becomes clear – drive your way through a zombie apocalypse! Zombie Roadkill sees you not only driving your way through hordes of the walking dead but allows you to shoot down the zombies using machine guns and RPGs equipped on the car.
Along with the Zombie Roadkill 3D, I also played this game in the starting 2 months of 2014. I found it a very interesting action game in which you will have to survive in the zombie apocalypse.
Into the Dead throws you into the gruesome world of the zombie apocalypse where there are no second chances. Do what you have to in order to stay alive, keep moving as fast as you can, and protect yourself by any means necessary. Dead are kept rising so run fast as you can.
Rovio Mobile's Angry Birds became so popular around the world and people played the different versions of Angry birds. I too played different sequels of Angry Birds but in 2014, I played Angry Birds Go very much.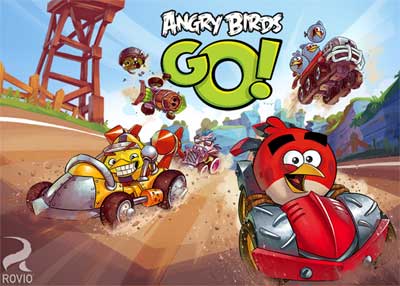 This is a rich and colorful racing game between many Angry Birds and Pigs. You'll see Angry Birds smiling in this game if you help them to win the race.