There are many email services available across the world, but Gmail is widely popular and very easy to email service. As we all know that Gmail provides many services such as send and receive mails, distinguish between read and unread mails and more. Moreover, if you want to do more with your Gmail such as scheduling mails to be sent later, then this article will help you to do so.
Actually, in this article I came with 4 amazing chrome extensions to schedule emails in Gmail. With the help of these outstanding extensions you can schedule any mail to be sent later on a selected date and time. So, isn't they amazing?
Best Chrome Extensions to Schedule Mails in Gmail
Without taking your more time, I'm just going to deliver the best chrome extensions for scheduling mails in Gmail. Here they are:
1. Boomerang For Gmail
Boomerang for Gmail plugin is a fantastic browser extension or plugin that enables you to schedule your emails to be sent later. It means with the help of Boomerang plugin, you can compose an email now and schedule it to be sent on the perfect time.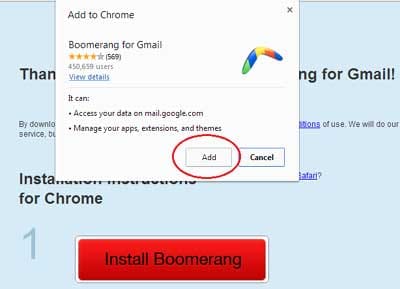 This Boomerang for Gmail plugin is available for Firefox, Google Chrome and Safari. You just need to add this extension or addon to your browser and start scheduling emails to send and receive.
Read Also: How To Schedule Mails With Boomerang Plugin
2. Right Inbox For Gmail
It is another way to schedule emails in Gmail to be sent later. With this extension, you can also set reminders and follow up conversations.
It is small browser extension that integrate seamlessly with Gmail. It also enables you to send yourself a future email for an important reminder so that you'll never forget a birthday or paying bills.
3. SndLatr Beta for Gmail
With SndLatr, you can schedule emails to be sent automatically at a later time. Just write the email in GMail as you normally would, then click the Send Later button. Pick a date using the calendar or just enter something like "monday at 9 am".
Your email will be sent at automatically at the chosen time. Scheduled emails stay in your Drafts folder. You can edit them there just like any other email.
4. mxHero
Supercharge your Gmail with mxHero chrome extension for free. It contains all the essential apps for your Gmail. It integrates with Gmail very smoothly without creating any problem.
With the help of this extension you can pick the time for your emails with Send Later, remind yourself for important emails with Remind Me and many more things.
Read Further:
Conclusion
As we all know that Gmail doesn't provide the facility to schedule emails to be sent later that's why all these extensions are very essential to make this possible. You can search them in Chrome Web Store by their name and install them. After installation, when you open Gmail, they autocratically integrate with your Gmail account and enable you to schedule mails to be sent later.