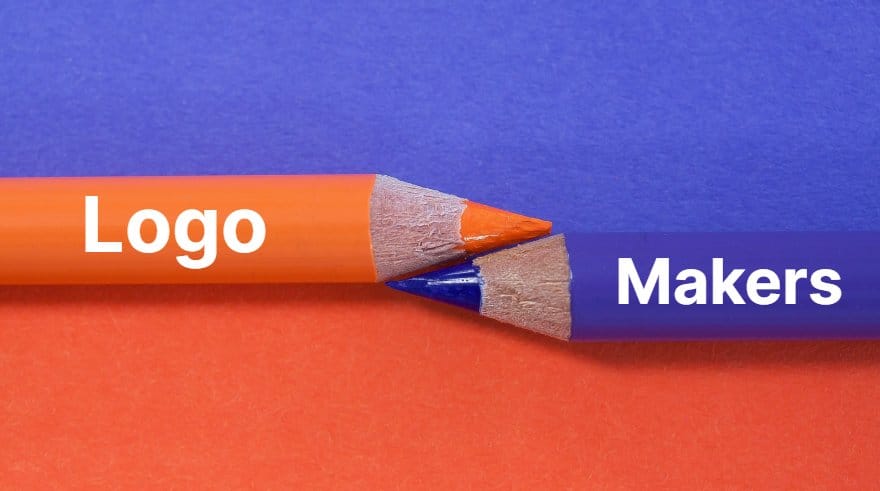 The artful presentation of your company's logo has the potential to make or break your business. Contrary to popular opinion, the merit of a company's value proposition is not the primary determinant in terms of capturing market share.
Oftentimes, the qualities of marketing and advertising the product or service are very important. Customers are drawn to visual beauty, captivating images, catchy slogans, and marketing material that makes a lasting impression.
In particular, the quality and style of your company's logo design are especially important. Choose the right logo maker for your business logo design and you'll succeed in creating branding that makes a truly indelible impact.
Top 5 Logo Makers For Your Business Logo
Let's delve into a couple of logo-maker tools that will help your business make meaningful inroads with your target audience, capture their attention and bring them into the fold as paying customers.
Ask fellow business owners and managers about the appeal of BrandCrowd's logo-maker tool and you'll be inundated with glowing praise. BrandCrowd's logo maker has in excess of 100,000 logo designs, each of which is premium quality. BrandCrowd's logos are the result of designer brainstorming that culminates in images that can be narrowly tailored to each individual company without losing their artful quality.
Choose between generic and highly specific designs based on keyword searches, refine the logo as desired and you'll succeed in creating a visual representation of your brand that surpasses that of the competition.
BrandCrowd makes it easy to quickly alter hues, layout, text font, and other subtleties. You can even modify the design spacing in mere seconds thanks to their logo maker's intuitive and simple user experience design.
Each BrandCrowd customized logo is presented in the form of vector files ideal for printing and/or high-res files for a truly stunning online presentation. The BrandCrowd library even includes premium designs handcrafted by experienced designers based in the United States and abroad.
Wouldn't it be nice if you could create a captivating logo design for your business in mere minutes? Tailor Brands empowers you to do exactly that. Their AI-powered logo maker sets the stage for you to generate a fully customized logo with a couple of mouse clicks.
Creating a logo with this logo maker requires basic information such as the name of the enterprise, the type of business/industry, the purpose of the business, desired logo style, and the preferred font.
Tailor Brands' logo maker even lets you choose the logo style that is optimal for your unique business, be it an icon, monogram, or wordmark. Simply select your preferred style of fonts and let the artificial intelligence get to work. The end result is the creation of several suggested logos, one of which will be perfect for your unique business.
Choose your preferred logo from the suggestions, alter the hues, icons, and fonts as desired, and download the PNT, SVG, or EPS design and you'll have a high-res logo file available for use across all marketing materials.
Instead of generating a dozen of logo designs for business owners and managers to select from, Tailor Brands' logo maker creates 100s of highly idiosyncratic logos, one of which is sure to strike your fancy. In fact, it even creates 21 resized logo versions for use on Facebook, Twitter, LinkedIn, and other social media platforms.
Freelogodesign makes it easy to create a stunning new business logo in three simple steps. The first step requires the entry of text. Simply add your business name/brand name, choose a tagline (if desired), and select the appropriate industry.
Choose your preferred logo design from professionally created templates ideal for your unique sector, edit the image as preferred, save it to your computer and it won't be long until the artful presentation of your brand sparks conversions, sales, and repeat business.
Freelogodesign's logo maker makes it easy to edit professional logo templates, setting the stage for you quickly and easily alter everything from colors to font, layout, and more. Give Freelogodesign's logo editing tool a try and you'll agree it creates aesthetically pleasing images in surprisingly little time.
Alter the generated logo as desired and it won't take long to create a visually captivating symbol worthy of presentation across the entirety of your marketing materials. This logo maker generates files that are ideal for pixel sizes used on social media platforms ranging from Instagram to Twitter, Facebook, and beyond.
Turbolog's logo maker sets the stage for your business to transition from logo-less to a beautiful logo in a couple of minutes. The Turbolog Log Maker suggests colors, icons, fonts, and overarching style combinations for your unique company. Simply select your preferred template based on hundreds of designs and you'll have a customized logo in a couple of clicks. The process begins with entering your business name and sector, then transitions to selecting the optimal symbol, hues, and other details.
Turbolog is just as effective as an actual graphic designer yet costs less than a professional designer's fee. Turbolog also provides business owners/managers with the option of transparent backgrounds and color-filled backgrounds for maximum visual impact.
Business owners will be happy to learn they aren't locked into the logo design after its generation. The logo creation tool makes it easy to quickly make changes as desired, altering the logo aesthetics after the initial point of creation and beyond with precious few keystrokes and mouse clicks.
Each logo generated and sold by Turbolog becomes the property of the customer, providing complete user ownership and copyright protection without any limitations. Give Turbolog a try for yourself and you'll find you have a gorgeous new logo available for use throughout the entirety of your advertising material in half an hour or less.
Placeit also makes it easy to create memorable logos with a couple of mouse clicks and keystrokes. This user-friendly logo maker makes it easy for business owners to create logos that make a meaningful impact today and also across posterity, proving timeless thanks to their universal appeal.
The Placeit interface is intuitive, straightforward, easy to use, and impressively diverse in terms of image options. Take a deep dive into Placeit's logo-making tool and you'll find in excess of 8,000 logo templates, one of which is sure to portray your business in the best possible light.
The process of generating a logo through Placeit is fast and easy: enter your company name, select your preferred hues and choose the elements as desired. This unique logo maker is especially appealing to business owners, managers, and marketers lacking artistic flair, presenting visually pleasing pre-made images and designs for customer modification as desired.
Simply select your industry, choose the logo template you prefer, customize it as desired, and download it in the form of a high-resolution PDF. The end result is an easily printable and transferrable logo that can be added to your website, social media pages, stationary, business cards, vehicle wraps, billboards, and other advertising materials.
Choose the Best Logo Maker for Your Business
Take your time when picking a logo maker, hone in on the cream of the crop, and carefully review their individual merits before making a commitment. The right logo maker tool empowers you to create an indelible business logo that makes a lasting impact, steering more prospects toward and through your sales funnel for conversion at the bottom.
The process begins with the basic building block of a branding vision unique to your business, yet logo makers do the majority of the work on your behalf. Present your business in the best possible light with an artful logo design and it won't take long to reap the reward of new customers, many of whom will remain loyal to your brand long beyond the initial point of conversion.