[Published on: Dec 24, 2014]  You would know that till now there was no special feature in YouTube for creating GIFs of any part of a YouTube video. But, it seems that now Google is testing its own GIF maker to create the GIFs from any YouTube video. However, this GIF maker is not now available for all channels but Google just added this feature for certain channels and on getting a better response, it will be added completely for all channels on YouTube.
So, through this article, I'm going to tell you how this GIF Maker works. However, previously I've also written an article on how to turn a part YouTube video into GIF easily but that was an external source of making GIFs of YouTube videos and of course, Google may hate it. I think you should take care of Google and not to use that method when Google has now launched its own GIF maker for YouTubers.
How to Create GIFs from YouTube Videos
Here's how you can create GIFs from YouTube videos using its own GIF maker.
Step 1: Go to www.youtube.com and sign in with your Google account.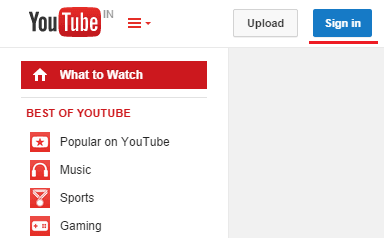 Step 2: After login, play any video as usual. Now, below the video look for Share option. Under the share section, alongside share, embed, and email you will find GIF option (if Google added for that channel).
That's all, as soon as you will click on Create GIF, your GIF will be created and ready to share on the web. Google will give you code to embed the GIF or the direct link that points to your created GIF.
If you want to save that GIF in your computer to be uploaded with your own link, just open the direct link of GIF (created after creating GIF) and here you will see your GIF image working as you created it. Now, right click on the GIF and save it as image (make sure that format must be .gif).
RECOMMENDED:
Moreover, as shown in the above picture, YouTube also gives you option to add your own upper and bottom text to the moving GIF to make it more interactive.