However as you know that Facebook is one of the most popular social networks in all around the world but still a wide variety of professionals and online earners always love to use Google+ and Linkedin. But, if you're not that familiar with Google+ or newly started using it, this article might be very useful for you! In fact, here I listed 10 most useful Google Plus tips and tricks for beginners.
All the new users of Google+ will find this resource very helpful as it contains all those tips that you will definitely need one day while using Google Plus.
1. How to bold, italicize & strike out text in Google+
As you would know that HTML tags don't work in Google Plus interface so how can you bold, italicize and strike out text in your Google+ posts and comments? Google Plus uses its own syntax and methods to make changes in text.
You can use the astericks (* *) both side the text to make it bold. For italicize the text, use underscore (_ _) both side of the text and for strike out, put dash or minus symbol (- -) both side of the text.
Here's how you can bold, italicize and strike out text in Google Plus: Read Here!
2. Conduct opinion polls on Google+
Conducting opinion polls on Google Plus is the simplest way. You just need to login to your Google Plus account and as soon as you will open the status sharing box you will see a Poll button. By clicking on this Poll button you can choose your options and a question to conduct a poll on your Google+ timeline.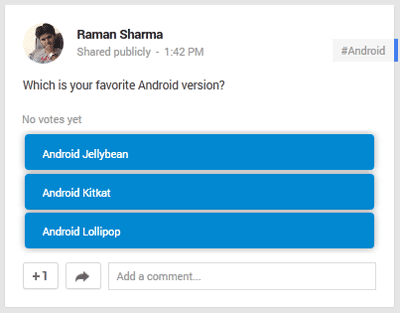 A complete guide for conducting opinion polls on Google Plus – Click Here!
3. Change display name of your Google+ profile
However, it is very easy to edit the display name of your Google account but still before some days, it has been teased me a lot. But, one of my friend told me about it and then I realized that how easy it was!
To change your Google+ display name, just go to your Google Plus profile and click on your Google+ Name displayed below your profile picture. As soon as you will click on your name, you will be able to edit it. Isn't it easy!
Here are the full steps with screenshots to edit your Google+ display name – See Here
4. Control who can see your Google+ posts
However, it's not an advanced feature but we can say it's one of the best things about Google plus. You can privately share status with one or more people to keep your post private.
To share a post privately, delete everything in the To: box and add the name of one or more people. You can also enter an email address. And the post will only be shared with the people you mentioned in the To: field.
5. How to create a fan page on Google Plus
You would be most probably created fan pages on Facebook, but do you know that you can also create fan pages on Google Plus? Yes friend! You can easily create a fan page for your business on Google+ platform.
To create a Google+ fan page, login to your account and navigate to Home > Pages and then click on Create a page. Finally, select a category for your page, link to your website if you've one and it's all!
Still having difficulty to create Google+ page? Click Here for the complete guide!
6. View specific keyboard shortcuts for Google+
As of other Google products like Gmail, Google+ is also friendly with keyboard ninjas. One of the best thing about Google+ is that you never need to remember its useful keyboard shortcuts because you can view its keyboard shortcuts anytime while using Google Plus.
To see the keyboard shortcuts of Google Plus, type the question mark (most probably you will be needed to press Shift + ?/ button for pressing ?). This command will open the window of keyboard shortcuts of Google Plus.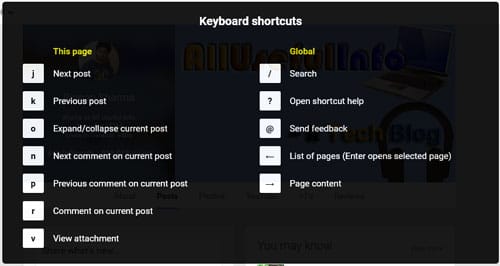 All useful keyboard shortcuts for your Gmail account – Check Out!
7. Disable comments and re-share on specific posts
It's one of the most important feature of Google Plus. If you don't want anybody to comment on your post or share it further to more people, you can easily disable comments and re-share for any individual post.
To disable comments and reshares, click on the Options Menu button and then click Disable comments or Disable reshares.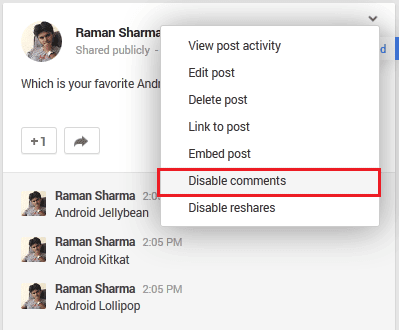 8. Restore deleted photos in Google+
You know guys that mistakenly deleted photos can easily be restored in Google+ with its built in feature. To restore the deleted photos in Google+, open Photos, click on the dropdown More button and choose Trash. Here choose the photo you wanna restore and click on Restore.
Here you can restore photos till 60 days older. After the 60 days of deletion the photos will be permanently deleted automatically.
How to recover deleted photos from your smartphone – Learn Here!
9. See who shared your posts
If you're getting reshares on your Google+ posts, you would also liking to know who they are! In fact, who are those people which resharing your stuff!
So, you can easily check it out in Google Plus. For this, just click on the drop-down box on the top right of any post and select "View Ripples". And you will be able to see the number of shares on your post as well as the people who shared.
10. Use a GIF as your profile picture or cover photo
If you're a beginner to Google+, you might not know this fact that you can use a GIF as your Google+ profile picture and cover photo. Google+ is the only social network which lets you use animated GIFs in your updates as well as your profile.
Further Reading:
These are the 10 must know tips and tricks for every Google Plus users specially for beginners. If you're having any problem with these tips and tricks, let me know via comments.