Most of the Android smartphones by-default come with several security options to lock the device such as pattern or face lock. But in iPhone there is only fingerprint and passcode option to unlock the device. The worst thing is that I searched the iTunes app store and didn't found any pattern lock app to manually add pattern lock to my iPhone. Then, how will you get it? Don't worry I will tell you adding pattern lock to your iPhone or iPad in this article.
It's very easy! In fact, you will have to take help of Cydia. You would know Cydia is itself an app store and application manager for your iPhone from where you can install different apps in your iPhone which even aren't available in iTunes App Store. So, you can find the pattern lock application in Cydia app store and install in your iPhone or iPad. But, the only problem is that Cydia needs to have a jailbroken iOS device.
So, the first step to add pattern lock to your iPhone or iPad is to jailbreak your device and then install Cydia. Once you install Cydia software in your iPhone or iPad, it becomes almost the easiest task to add pattern lock in your iPhone. The following steps will guide you on how to add pattern lock to your iPhone or iPad device.
[su_note note_color="#fefbf8″ text_color="#222222″ radius="2″]
Recommended Posts:
[/su_note]
Here's How to Add Pattern Lock to Your iPhone or iPad
As I told you above that first of all you'll have to jailbreak your iPhone or iPad and then install Cydia in your device. Once you install Cydia software, search for "Android lock for free".
Now, you'll have to download and install this app in your iPhone or iPad device.
To activate the pattern lock, go to Settings, tap Android Lock and then tap Change Pattern. Now, create a pattern you would like to add on your device.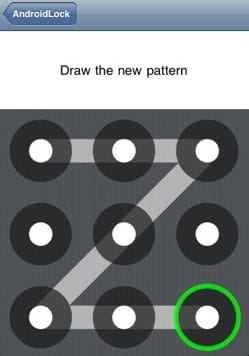 That's all. After that, whenever you will open your iPhone or iPad it will ask show you pattern lock like Android and by verifying the pattern you created in your iPhone/iPad settings you'll be able to enter the phone.