Do you know guys, you can create your own Facebook app? Yes friends, you can create your own Facebook app to get an app ID and app secret for your website or blog. This app enables your website to embed recommendations bar, Facebook like bar and so many Facebook plugins to your website.
You don't need to know any programming language or Java to create this app. If you ever want to add Facebook Recommendations to your website, you will definitely need the app ID or app secret of your Facebook app. So, if you want to do it, you must know how can you create your own Facebook app that actually you can create without any effort.
RECOMMENDED: Find Out Your Numeric Facebook Page/Profile ID
Here is very easy and perfect guide with screenshots to create a Facebook app. Have a look on these steps:
STEP 1: Log in to your Facebook account and then Visit Facebook Developers page. Here Click on Apps.
STEP 2: You'll reach to the Apps manage page. Here you need to Click on +Create New App to start creating a new Facebook app.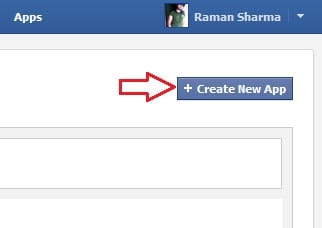 STEP 3: As You click on Create New App button, a Create New App window will appear in front of you. Look like following.
Here, enter an App Name like All Useful Info's App. App Namespace is optional, so you can leave it blank and then Choose a category for your app like Business, Entertainment etc. Click on Continue.
STEP 4: At last, as you click on Continue, you need to fill some details and save your app. The next screen looks like the following.
MUST READ: Facebook Page Promoter Lightbox WordPress Plugin
So, do all the above mentioned steps and click on Save changes to save your app. The important thing is App ID and App Secret of your new created app. You'll see App ID and App Secret of this app at top of the page below the name of App. You may need both of them for your website or blog.