Have you lost your Aadhaar card and urgently need your Aadhaar number even when you also misplaced your enrollment slip where the enrollment number present? So, as you know that enrollment number is needed to get your new Aadhaar card, but let me tell you that even without having the enrollment number, you can get your Aadhaar number. And not only this, you can also get your enrollment number without needing the enrollment slip.
All this can be done by using the resident portal of UIDAI (Union Identification Authority of India). So, never panic if you misplaced your enrollment slip and need to get your Aadhaar card or number.
Truly, I'm writing this article because my best friend Amit Sharma, lost his Aadhaar Card as well as the enrollment slip and searching for the solution to get back his Aadhaar card or enrollment number by which he can get his Aadhaar card. So, I thought that many people around the country might be having the problem of losing the Aadhaar card or enrollment slip.
So, if you lost your Aadhaar card or misplaced your enrollment slip, don't worry as I'm here to provide the solution to get your Aadhaar card number as well as enrollment number.
Here's How You Can Get Your Aadhaar or Enrollment Number Online
You can easily get you Aadhaar and Enrollment number online very easily. First of all, you need to visit the UIDAI website and Tick on Aadhaar Number if you want to get your Aadhaar Number or tick on Enrollment if you wanna get your Enrollment number.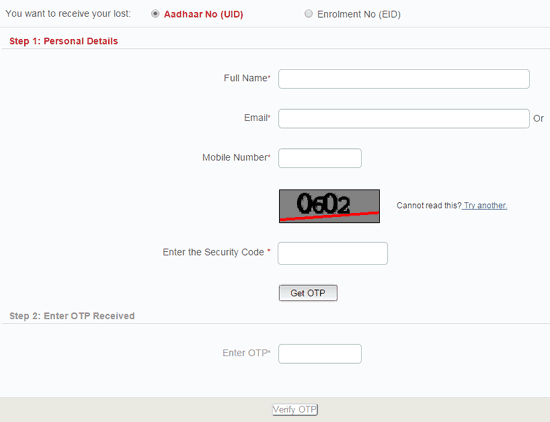 Now, whether you wanna get your Aadhaar number of enrollment number, just fill up the details such as your full name, your registered email address or mobile number and then after entering the security code, click on Get OTP so you will receive an One Time Password that you need to enter into the box you can see in the above picture.
After all these things, as soon as you'll click on verify OTP button, you will receive the same you're looking for. I mean, if the information you entered above is correct, then you will get your Aadhaar number or enrollment number (whatever you're looking for) as an SMS on your mobile phone.