Today, a great amount of people are using Android phones because of the amazing features. This article disclose a great functionality or we can say a trick of Android phones which is hidden.I know if you're new to Android, it may be a very common problem for you to take screenshot in Android phone. This article will cover the guide to learn how to take screenshot in different versions of Android phone.
How To Take Screenshot in Android 4.0 or Above
Everybody wants to purchase the high quality and feature rich Android smartphone to use its uninterrupted services. So, Android 4.0 or above version holders can capture the screen very simply. These versions of Android phone take high quality screenshots. So, now it's time to learn how to take a screenshot in such versions of Android phone. Generally, there are two methods to take screenshots in Android 4.0 or above versions. Have a look on the both of them –
Method #1
It is a quick and easy way to take screenshot of your Android phone screen. To take screenshot, just press Volume Down and Power Buttons at the same time and hold them for a moment. You'll hear a capture sound and your screen will flash. Actually, that will be a screenshot taken by you by pressing Volume Down button and Power Buttons simultaneously.
It'll save automatically and you can view your screenshot in photo gallery of your Android phone. So, isn't it the fast and easy? Now try yourself and take a new photo capture experience with your Android smartphone.
Method #2
The second method is also simple one. First of all, open the screen which you want to capture and now press and hold Power button until you get a new menu screen appear in front of you. The screen is just like the following.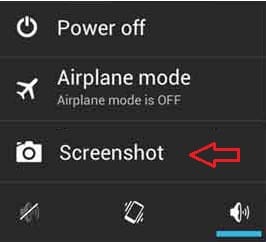 So, finger Click on Screenshot and the screen will be captured behind it.
[su_note note_color="#f2faf4″ text_color="#000000″ radius="1″]MUST READ: Take Screenshot in Samsung Galaxy Grand 2[/su_note]
How To Take Screenshot in Android 2.3 or Below
If you are using Android 2.3 or below versions, feeling bad to say that Android 2.3 or other below versions don't enables you to take screenshot. But still some Samsung Android smartphones do.
But in case you don't have  Samsung smartphone having Android 2.3 or below versions and unable to take screenshots, you need to buy an Android app named No Root Screenshot It. This app enables you to take screenshot in every Android smartphones without rooting your phone. For this app you need to pay a little amount of money but in exchange it will give you a lot of services.