The main purpose of writing this article is to help those people who ever wanted to type in their regional language such as posting status in their regional language on social media sites rather than English. But, as we all know that English is the universal language, that's why every devices, keyboards and machines are primarily made to function the English language.
So, here you'll learn that how to type in your regional language such as Bengali, Gujarati, Kannada, Malayalam, Marathi, Punjabi, Tamil, Telugu, Urdu etc. using the English keyboard on your
Windows computer
.
Honestly, the idea of writing this article came from my own multilingual friends who always want to type in their regional language on MS word for writing letters to their family and for posting status in social media sites.
Type in Your Regional Language Using English Keyboard
Actually guys, I always love to use Google services and products and for this purpose, I'm going to recommend you to use Google Input Tools, a free software that will enable you to type in almost 22 languages those are Amharic, Arabic, Bengali, Persian, Greek, Gujarati, Hebrew, Hindi, Kannada, Malayalam, Marathi, Nepali, Oriya, Punjabi, Russian, Sanskrit, Serbian, Sinhala, Tamil, Telugu, Tigrinya and Urdu by using English keyboard.
Guys, I've disclosed the name of software that is Google Input Tools but you've to download and install it on your Windows (Win 7/Vista/XP) computer to start using it.
But before downloading it, you can give it one or more try to ensure whether it works for you or not. To ensure, just visit HERE and you'll see a visual clipboard. So, select your regional language.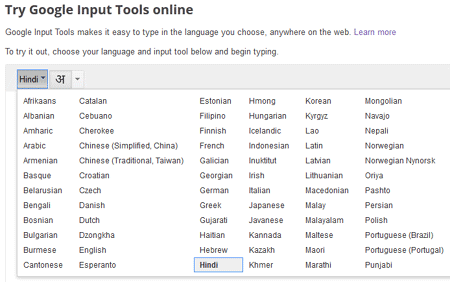 After selecting your regional language, just type in your regional language in English alphabets, similarly as you type mobile text messages in your regional language. For more ease, look at the following screenshot.
So, after using it online if you're satisfied from its service, you can download and install it on your Windows computer absolutely free. After downloading it on your PC, you will be able to type in your regional language on Microsoft Office Word, Internet such as on Facebook, Google, WordPress and in any type of editor.
Download & Install Google Input Tools for Free
To download Google Input Tools, go to the link https://www.google.com/inputtools/windows/ and Select your Regional Language, Accept the Terms and Conditions of Google and finally Click on Download button.
After downloading, you need to run the setup to install it on your Windows computer. It may take a few minutes to complete the installation.
As soon as the installation will be finished, the Input tool will be docked into your taskbar change your language while typing.
Due to any reason, if you can't find the Input tools icon in the taskbar, then go to Control Panel and type region and language in the search bar. Click on Region and Language link found below.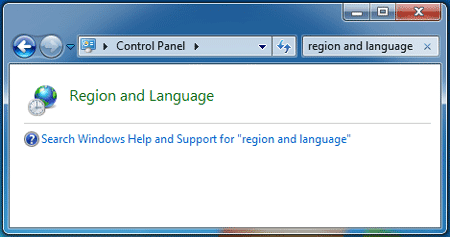 You'll see the following popup box. Open the Keyboards and Languages tab.
Under Keyboards and Languages tab, click on Change Keyboards button.
In the last popup as shown below click on the Language Bar and check the radio button Docked in the taskbar. Finally, click on OK to apply the settings.
That's all, now you can use Google Input Tools to type in your regional language using English keyboard on your Windows computer. For example, my regional language is Hindi, then I will type in Hindi by pressing English alphabets like Mera Naam Raman Hai and Google Input Tools will turn it to मेरा नाम रमन है.
Further Reading:
Note: Always remember that this software supports only in Windows 7, Vista and XP. It doesn't support in Windows 8.