People, who recently purchased a new computer and don't know more of its functionalities, might feel many difficulties, even in the easiest tasks. For example uninstalling a program in Windows 7 is the easiest task, still the beginners might have problem in performing the task. So, if you're one of them and want to uninstall a software program in Windows 7, this article will guide you.

This article will provide you step by step procedure to uninstall a program in Windows 7. First of all I will tell you the reasons behind uninstalling a program:
When you mistakenly install a program
When date is expired of a installed program
A program that you don't want to use and it consumes a huge space in memory.
So, you can easily uninstall a program without finding the location of program by simulating the following steps :
Go to the start menu of your computer and click on Control Panel.
 After clicking this button, you'll see the following screen. To uninstall a program,you will have to choose the option for Uninstall a Program.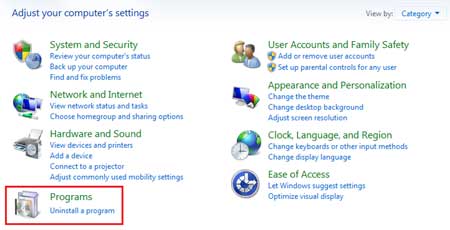 At last select the program that you want to uninstall and a link "Uninstall" will be displayed at the top of the screen.
Read Also: 5 Best Uninstallers For Your Windows 7 PC
So, this is the way you can easily uninstall any unwanted program from your Windows 7 computer very simply. I hope, now you won't feel any problem in uninstalling software applications from your Windows 7 computer.