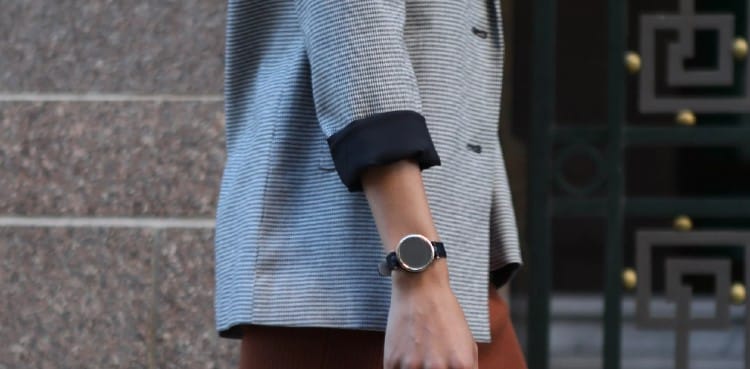 Famous watch company Garmin Ltd. came up with a new smartwatch to keep complete track of pregnant women. On this women's day, the surprise was for the pregnant women in India, that can track their pregnancy routine in this sensitive moment. The watch is designed especially for women to keep track of their health with other women-centric features like pregnancy tracking, menstrual cycle record, and some effective workout plans to provide a healthy routine. This watch has a battery backup of five days, which will give nonstop coverage for your health without getting interruption.
Garmin Lily produces the finest watches for women of a certain class, and the new pregnancy tracking watch is now available in India. It will give complete health tracking to the women to ensure a healthy routine life for every woman.
Let's come to the special features and crucial points about this awesome watch that can provide health records with a classy look.
Garmin Lily Watches Price in India
The Garmin Lily smartwatch is easily available in India with online shopping platforms like Amazon, Flipkart, and other ones. This watch is available in the Indian subcontinent named Garmin Lily classic and Garmin Lily sport. The pricing of these two variants depends on the watch's features and varies from 20,000 to 30,000 INR.
The Garmin Lily Classic watch's price is 25,990 INR, whereas you can buy the Garmin Lily sport version at 20,990 INR by using any of the online platforms. If you want to grab this watch from offline platforms, then physical stores of Garmin Lily, Malabar Times, Helio Watch Stores, and other multi-branded watch stores can offer you this awesome piece of health band.
The Main Features of Garmin Lily Watches
There is a tracker for your heart rate, which will allow you to keep track of your heart rate every time you want. This watch's health tracking system will allow you to track blood oxygen level, respiratory rate, and all the key data with pregnancy health.
The pregnancy tracking system will guide from week one to forty and figure out the nutrition plan as per the body's need. You can keep everything controlled single-handedly by using the advanced real-time health tracking system.
The watch's physical appearance is also classic, which comes with a circular 1-inch TFT LCD with a resolution of 240×201 pixels that comes with a Corning Gorilla Glass Protection. There are certain color options for both of the watches that come with Cream Gold, Dark Bronze, and Light Gold color options for the Garmin Lily Classic watch.
For Garmin Lily Sport, you can get color options like Cream Gold, Rose Gold, and Midnight Orchid color options that will give you a cool look while having all the health data with you. Garmin Lily Sport version comes with exotic straps to give a cool look on the wrist, and the bright display can provide the data in huge lighting also. Also, you can see all the mobile notifications on this smartwatch with all the crucial information you want to see on your mobile phone without taking it into your hands.
Related: Top 10 Fitness Gadgets To Buy in 2021
Key Specifications of Garmin Lily Watches
The following are the key specifications of the Garmin Lily Classic smartwatch:
Strap Colors Available
Cream Gold
Dark Bronze
Cream Gold
Rose Gold
Midnight Orchid
Strap material
Dial Shape
If you're willing to buy the Garmin Lily Sport smartwatch, you'll get the following specifications:
Strap Colors Available
Cream Gold
Rose Gold
Midnight Orchid
Strap Material
Dial Shape
The watch comes with built-in functions like tracking yoga, jogging, biking, and other sports that can give you a fit life, where you can manage everything in this hectic life.
For similar latest technology-related updates, you can click here and update yourself with all the technical news of the current period.