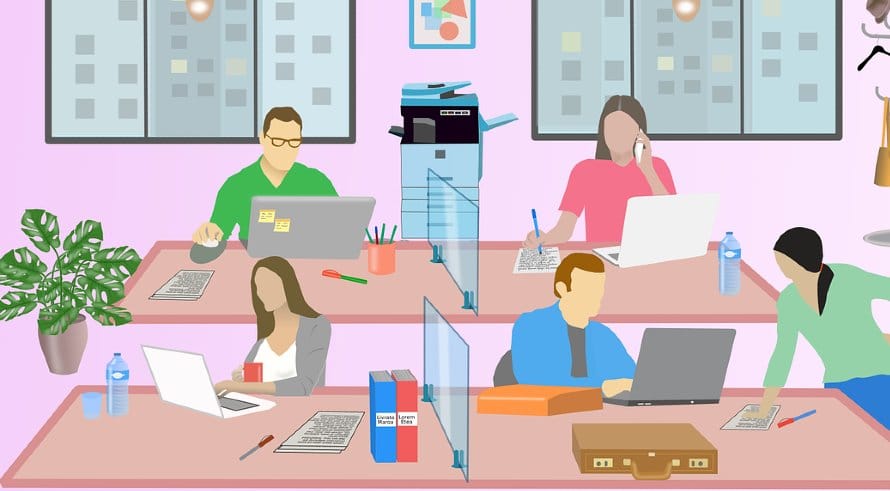 The way we work has changed drastically in recent years. People are no longer tied to a desk in a traditional work environment. The pandemic sped up many of the different work environment trends that had already been taking shape over the past decade.
One way that people work differently is by renting a coworking space.
Before the pandemic, coworking spaces had become extremely popular. During the pandemic, that waned, but now they appear to be making a comeback.
A coworking space is loosely defined as a situation where people come together in a neutral space to work. They can be working independently on different projects, or they might get the space to work together as a group on the same project.
In a typical coworking environment, the people sharing the office usually aren't working for the same company.
Most of these facilities will have the resources people need to work conveniently, like WiFi and a conference room, and some have amenities like snacks and coffee or even technology like 3D printers.
Types of Coworking Spaces
There are four primary categories of coworking spaces.
The first is an open space. This is what we most commonly associate with the idea of coworking. These spaces will have desks where people from different companies can come, and they share common areas.
Private workspaces might include a dedicated room that members from a single company share.
There are industry-specific coworking spaces.
There are also incubators or venture capital spaces. These are exclusive spaces where the goal is to attract and fund companies through the provision of the support needed for growth. Venture firms will often exchange reduced rent or capital for equity in the companies they let into their programs.
What Are the Benefits of a Coworking Space?
If you run a small business, whether it's just you or you have a little team, you might be in the process of deciding whether or not a coworking space is right for you or if you should rent a traditional space.
The biggest benefit of a coworking space compared to renting a conventional office space is the inherent flexibility it offers. When you rent a space, you're locked into a contract.
On the other hand, coworking paces offer leases that are daily, weekly, or monthly. The payment options are often very flexible as well and are specific to the type of space and the length of the contract.
If you're running a business or startup, you can scale up or down as you need.
Coworking spaces can create opportunities to network. These are ecosystems where everyone, from lawyers to freelancers, can connect with one another. You could find unique business opportunities simply by going to your coworking space.
When you rent an office, you aren't just paying for the space. You're going to have to pay for furniture, equipment, utilities, and more. None of these things is something you have to worry about, at least on any large scale, with a coworking space. You get access to a turnkey solution.
What Are the Benefits of Renting An Office?
There are some upsides to renting an office too.
The first is that you can create a space that suits your needs. You also have more privacy, and you're not sharing conference rooms and other features of the space. You can set the rules in your office too because you don't have to worry about the preferences of other people in the shared space.
You can brand your office and make it your own.
How to Choose a Coworking Space
If you weigh the pros and cons and decide a coworking space is right for you, keep the following in mind as you choose one:
If you're interested in a coworking space, you might also want to take advantage of networking opportunities. With that in mind, consider the sense of community before you decide on a space. Are there networking events where you can meet new people and form connections with like-minded individuals?
Does the environment inspire you? You should visit the locations you're thinking about to see how you feel while you're there. You want a place that makes you feel upbeat and creative. The entire purpose of a coworking space is to help everyone there thrive.
You want a location that's centrally located not just from your perspective but for your employees and clients if they're going to visit the space.
Finally, does the coworking space support your business growth in all of the important ways? For example, does it have the basics of what you need, like desks and chairs?