If you have no time to read newspaper because of your online business or blogging work, you can read out news using many of the Hindi news websites of India. If you work online on your blog or business website, you'll definitely get the time to leave a glance on any of these Indian news websites.
There are numerous websites to read Indian news in Hindi. So, friends here I listed the
top 10 Hindi news reading websites in India
. You can read out latest as well as old news online using one of the following websites.
In this given list most of the news websites are very popular because of their newspaper service or TV news channels and some of them are only Hindi news websites without channel or newspaper service. So, have a look on these websites to read Hindi news online.
Aaj Tak News is a most famous TV news channel in India. Here is its official website to hire day to day news online. It is one of the most popular Hindi news websites in India.
Dainik Bhaskar is the most famous and largest newspaper service provider. You can also read out the latest news online at Dainik Bhaskar official Hindi news website. Here you can read out the news by selecting your belonging state or your city. You can still read out news in epaper format.
Patrika is also a newspaper service provider and also running a website to provide Indian news online. It is also a largest news website like Dainik Bhaskar. It is very popular in India and many people like this Hindi news website because of it's reliability and correctness. Here also you can read news by selecting your choice like Bollywood, Sports, Business etc. Epaper service is also available to read out news in your newspaper format.
It is an Indian Hindi news website. You can get the news by choosing your appropriate city or state. The site is very interesting. It is promptly updating website and makes its users updated with latest news in politics, sports, entertainment, business and others.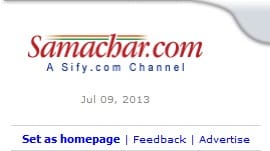 Samachar.Com is one of the most popular news website in India. It is not only in Hindi but you can read news in many languages in this site by choosing your regional language. This website is connected through many popular news channels and here you can also read news in epaper format of various newspapers.
6. P7 News
P7 news is Pearls Broadcasting Corporation Limited with the punch line Sach Jaruri Hai. It has best news storage and very attractive in look. Here you'll find all the news in India in absolutely Hindi.
As the name suggests, it is the Hindi news website of India. Here you will find latest news on Cricket, Entertainment, Sports, Business, World,  India and state wise news in India. Several funny jokes are also available to make your mood funny and happy.
WebDunia is another Indian Hindi news website. Here also you can read latest news of India. You can also change your language. Nice website layout and and well updated content is here.
IBN Khabar is a largest Hindi news website for Indians. Here you can hire Indian news and latest information about India. IBN is a largest news channel in India that's why you can also watch live news on this website.
It is a great site to read news in many languages like Hindi, English, Gujarati, Telugu etc. So, it is the best news website of Indians live in different regions and know different languages.
MUST READ: Free Websites To Read Old Newspapers Online
So, friends this the list of top 10 Hindi news websites for India. You all can stay updated with latest Indian news in Hindi language using one of these popular Hindi news websites. I hope you'll like these websites.