Valentine's Day is celebrated as a festival of love and romance in many regions of the world. Couples from all over the world wait for this day every year to celebrate and provide pleasant gifts to their partners. Couples believe that Valentine's Day is the best day throughout the year to express their love for each other.
To make this Valentine's Day special, you can give some really creative, unique, and interesting gifts to your partner. This article contains a list of the top 10 valentine's day gift ideas for your tech-savvy girlfriend. So, if you're looking for some of the best Valentine's Day tech gifts for her, this article is for you.
Top 10 Valentine's Day Gifts For Your Tech-Savvy Girlfriend
So, here is the list of the best gift ideas for your tech-loving girlfriend. I'm sure that she is going to love them. You can choose any of the following gifts for your girlfriend to make this valentine's day special for her.
1. Fitness Band or Smartwatch
A fitness band or smartwatch can be a perfect gift for your tech-savvy girlfriend that you can give her this Valentine's Day. Giving your girlfriend a fitness band or smartwatch means that you are not only giving a stylish watch to her but a smart wearable device that will take care of her health and fitness as well. This shows your care and love for her.
There're many smartwatches available in the market that works as a fitness band as well. I would suggest the following smartwatches that you can give her as your perfect Valentine's Day gift.
Fitbit Versa 3. This is a fitness-oriented smartwatch that comes with a built-in GPS and a 24/7 heart rate tracking system. Comes with fast charging. Once charged full, the battery lasts for 6+ days.
Apple Watch 6. Considering health and fitness as primary factors, you can give Apple Watch Series 6 to your girlfriend this Valentine's Day. Smartwatch comes with a great combination of advanced health and fitness features and looks.
Apple Watch SE. This can be another great gift for your female friend, girlfriend, or wife. It also has many powerful features like Apple Watch Series 6 but little light on the price as compared to Apple Watch 6.
There're many other options available in the market like Samsung Galaxy Watch Active 2, Timex Metropolitan, Fossil Gen 5 Julianna, and more. You can choose any of them depending upon your budget, features, and design.
2. Hair Dryer
This is the most commonly found device at any home. But, if your girlfriend doesn't have a hairdryer yet, you can gift her one this Valentine's Day. There are different kinds of hairdryers available in the market. You can choose any of the following options that are stylish yet feature-rich.
Philips 2200 Watt Foldable Ionic Hair Dryer
Revlon One-Step Hair Dryer & Volumizer
Havells HD3151 1600W Foldable Hair Dryer (One of the most gifted hairdryers according to Amazon).
A hairdryer is a very common and useful device that you can give as a gift to your girlfriend this Valentine's Day. If your budget isn't that high, this can be a perfect and meaningful gift item for her.
3. Headphones
Headphones are the most popular gift items for your loved ones. There're many stylish and affordable headphones available in the market that you can provide as a gift to your girlfriend. All you need to choose a perfect pair of eye-catching and feature-rich headphones for her.
Here are some of the best picks:
boAt Rockerz Wireless Headphone
JBL Extra Bass Bluetooth Headset
You can find hundreds of headphones online on Amazon, Flipkart, or any other online shopping store. It will be easy to find the best one by filtering them based on pricing, brand, and features.
4. Smart Bluetooth Tracker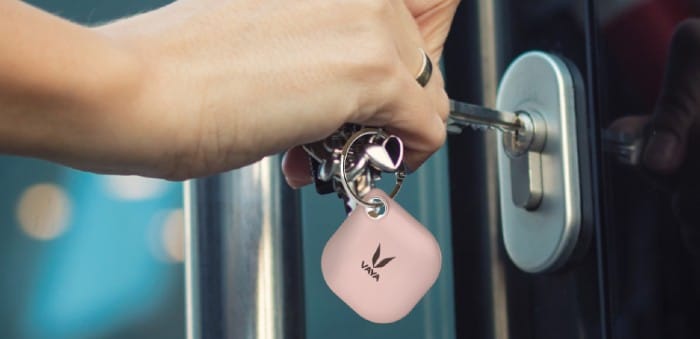 Smart Bluetooth Tracker can be another beautiful yet tech-oriented gift for your girlfriend. There're many stylish Bluetooth tags available in the market. You can even buy them from any of your favorite online shopping stores.
Some of the popular Smart Bluetooth Tracker brands are as follows:
Tile. The company has different kinds of Bluetooth trackers available in the market. You can choose anyone between Tile Pro and Tile Mate as both of them are very small in size and attractive in design.
Orbit. Not only the Bluetooth trackers for keys or bags, but Orbit has made the world's smallest Bluetooth trackers even for your glasses, wallets, and DSLRs so that you can track them easily.
Vaya. Not only the Bluetooth trackers, but the company manufactures different kinds of household goods such as lunch boxes, tumblers, etc. The smart Bluetooth tracker by the company named "Vaya Lynk" is very popular in the market.
These are the popular brands that manufacture smart Bluetooth trackers. If your girlfriend often forgets her personal belongings like keys, bags, etc, a Bluetooth tracker can be a very useful gift for her.
5. Smart Speaker
Smart speakers are the new trend these days. The AI-based speakers work as your voice assistant as well. You can ask them to play music, tell a story, or listen to anything from the Internet by just giving the voice commands.
Some of the following smart speakers help you turn your home into a smart home:
Amazon Echo
Sonos One
Google Nest Audio
Not only the smart speakers but there're many smart home gadgets available in the market that you can give your girlfriend as a gift for this Valentine's Day. If you're planning to gift a smart speaker, the above-mentioned products are the most recommended ones.
6. Wireless Earbuds
Wireless earbuds are the new trend. People are more interestingly buying wireless earbuds instead of wired earphones. You can choose a pair of wireless earbuds as your Valentine's Day gift for your girlfriend.
However, there're many options available in the market but the following are some of the best picks for you:
boAt Airdopes 131
JBL T100TWS
Sony WF-XB700
All of these above-mentioned earbuds are truly wireless that can be purchased either online or from your nearby store. Well, if you don't find them suitable, you can search the internet for wireless earbuds for more options.
7. Blue Light Protection Glasses
The blue light can leave severe effects on the eyes such as irritated eyes, difficulty in focusing, retina damage, etc. So, if your girlfriend or wife spends most of her time on a laptop or computer, blue light blocking glasses can be a very useful gift for her.
You can buy blue light blocking glasses either from a website like lenskart.com or from your nearby eyeglass store. This will be a very health-conscious gift for her on Valentine's day.
8. Smart Garden
Smart gardening products are trending these days. You can please your tech-savvy girlfriend by providing her a smart garden for growing fresh foods and flowers throughout the years from the comfort of home.
However, the smart garden products are heavy in price but will be very beautiful and useful as gifts. A smart garden can be useful for different purposes such as decoration, stress relief, and growing 100% organic food. So, I think it can be another great Valentine's day gift idea.
Read about the Forest app to get rid of the phone addiction.
9. Amazon Kindle
If your beloved girlfriend is fond of reading eBooks, magazines, and newspapers online, the Amazon Kindle will be a great gift for her. There are many models of Amazon Kindle devices available in the market. You can either buy it online or via an online store.
10. Digital Photo Frame
This can be a great replacement for your ordinary photo frames. A digital photo frame displays pictures automatically from its internal memory or external memory card. Some of the models also allow you to add pictures to the internal memory of the photo frame via a USB cable or wirelessly via Bluetooth.
A digital photo frame can be a most beautiful and stylish gift for your girlfriend especially for the occasion of Valentine's day. This gift can even be more romantic if you will add the memorable pictures of both of you to the digital photo frame to show the gesture of a beautiful togetherness.
Read Also: What to Consider Before Giving a Gift to Your Man?
That's all for this post. These are some of the best tech gift ideas to make your girlfriend's Valentine's day memorable and special. These Valentine's day gift ideas are not only for a tech-savvy girlfriend but for everyone. Whether you're in a long-distance relationship or living in the same city, these gift ideas will definitely make your partner's Valentine's day more memorable.