Don't get relevant Google search results ? Means, are you not getting search results according to your query ? Don't worry ! This article deals with best tips and tricks to get search results according to your query and you'll be satisfied with the Google results. Here is top 5 tips to get relevant Google search results by making your Google query effective and relevant.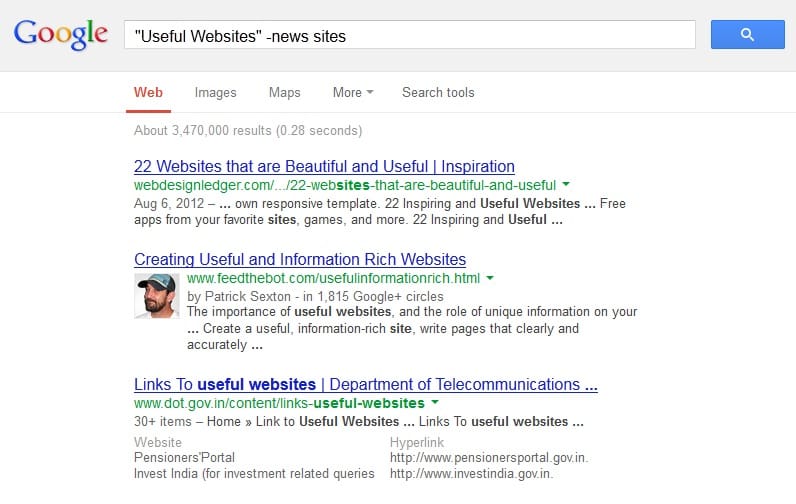 In this article I'm going to tell you about query tips and some other tips related to improve perfection in Google search results. Lets see:
Make an exact phrase or a group of your query to get better results. I've a best way to do it that Close your query surrounded by quotes. For example if you are searching for Useful Websites, write it like "Useful Websites" to make it relevant and perfect phrase.
Many times, you search any item on Google and find many results other than your query, isn't it ! You can use this trick to avoid this irrelevance. If you are searching for Useful Websites but don't want any page including news site, try this query – "Useful Websites" -News Sites. This query shows your all useful websites except news sites.
You can fix the range for your search result means if you want useful websites of 2009 to 2013, you can enter query like this – "Useful Websites" 2009..2013.
Search for URL is also a best way to find relevant result. Means you search for URL that contains the specific word that you enter. For example if you want to search for any URL containing Internet word, you need to type this query  allinurl: Internet. Visit the Google Operators Page to know many operators like this.
If you want to check weather of any US or world worldwide city, simply enter weather followed by city and state, U.S. zip code, or city and country. Check out Search Features page of Google to look for more like that.
[su_note note_color="#f3f6f9″ text_color="#222222″ radius="2″]DON'T MISS: How To Make Google Search More Effective[/su_note]
So, these are top 5 Google search result perfection tips. These all are very effective and helpful. I hope you'll get relevant search results after using these techniques. So,try these all for different queries.