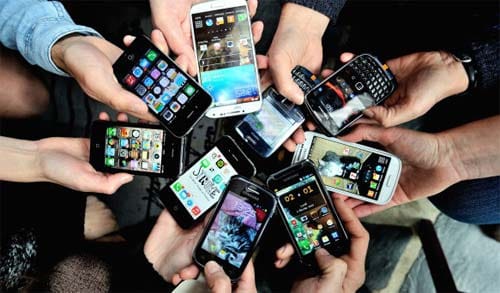 A smartphone is a device that can make phone calls and gained some additional features. These additional features did not present in mobile phone (featured phone). Really these would have found on a Personal Digital Assistants (PDAs) or computers. Some of these features includes emailing, web browsing, and office document editing etc.
One thing that we can say with an open mind that these additional features makes the smartphone smart from other cell phones. Basically smartphone is just a cell phone, but there are some reasons of its smartness.
Some years ago cell phones and Personal Digital Assistants (PDAs) were used. Cell phones are used to make phone calls and messaging also and nothing more else while PDAs were used like personal computers. PDAs attained the wireless connectivity and were able to send and receive email. By combining the features of cell phones and PDAs, a smartphone is derived.
Key Features of Smartphone
Here's some of the most important features that a smartphone provides. Have a look on them:
Software (operating system)
This feature of smartphone is attained from PDAs. Normally a Smartphone is based on an operating system. There are many types of operating systems used in Smartphones like, Google's Android OS, Hp's web OS and Microsoft's Windows Phone while Apple's iPhone uses iOS and BlackBerry smartphone use the BlackBerry OS.
Web Access
Most of the smartphones can browse the web at higher speed with the help of 3G and 4G networks. Some of the Smartphones gained the Wi-Fi connectivity to access the web without any wire. But all the smartphones can not offer the high speed web access but honestly you still can browse any site on your Smartphone.
Qwerty Keypad 
A smartphone may also include a qwerty keypad just like as computer keyboard. The keypad is not in form of old cell phones where we had to tap any number to enter any alphabet. The keypad can be software and hardware. The software keypad opens on the touch screen where we press any alphabet by touching the screen like iPhone keypad, but in hardware we have to type on physical keys.
Apps
Every smartphone allows us to download more and more applications. It may also allow us to create and edit Microsoft office documents and allow us to edit photos and provides much more apps features.
Touch Screen
Nowadays, most of the smartphones are coming up with touch screen features and that's why they reduces the habit of keypad in cell phone. This feature makes a huge difference between a cell phone and a smartphone.
So, we can say that a smartphone is really smarter than a cell phone. In a normal cell phone, there is no facility of video calling, touch screen, apps, Qwerty keypad and more. But a smartphone can provides all these facilities. I hope now you would understand that what really a smartphone is!