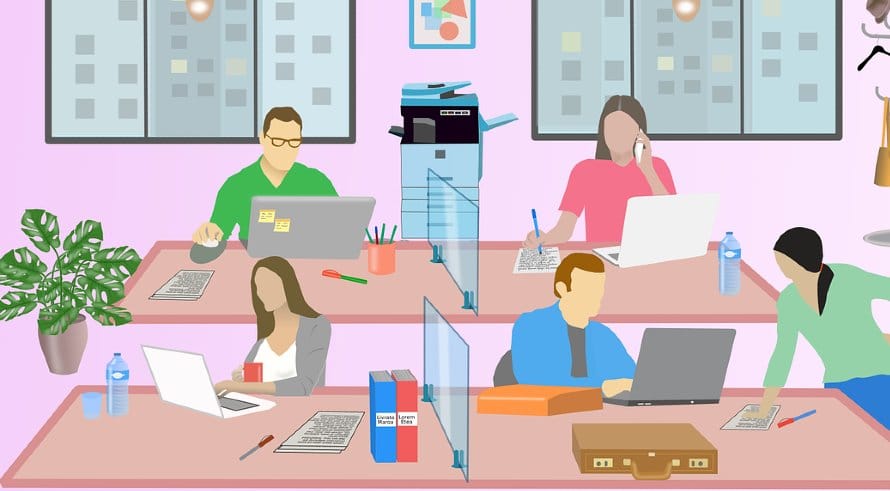 Working for any business these days requires you to wear multiple hats at once, which is to say that you have to take on several roles at the same time. This is especially the case for small businesses and start-ups that have limited resources, but it is true for almost any company.
As every team member has a lot to do, it can be difficult to ensure that all work is being done to a high standard and meeting those deadlines. With such a large to-do list every day, it can feel overwhelming to come to work, and this can cause the quality of work to drop.
The majority of the to-do list is also likely to be dedicated to menial tasks such as admin and financial filing, such as making a paystub. These tasks are important but can take up too much time from your working schedule.
How To Organise Work Loads
As we have mentioned, in almost every company, the majority of the workload is spent on menial admin tasks. These tasks need to be completed every day to ensure the business is running smoothly and the files are up to date, but this does not mean all of your time should be spent on them.
This is where outsourcing can come in very useful, and it is a way for businesses to offload some of their work onto another team. There are also options to pay for computer software to do the work for you by automating the process.
Outsourcing your core functions, such as admin tasks and payroll, can make a significant difference to your working schedule. This can be a great way to save time within your business while also ensuring that these tasks are being done on time.
Freeing up the space in everyone's working schedule by outsourcing these tasks can ensure you reach your business goals faster, as there is more space in the working day to tend to these.
What Tasks Can I Outsource?
Almost anything can be outsourced these days to save time within the working day and help your business out.
Administration
A virtual assistant or outsourced office assistant may assist you with the boring activities that consume hours of your time each week, such as answering calls and emails, qualifying prospective new customers, maintaining your schedule, and more.
To ensure that an administrative assistant is a suitable match for your firm, begin slowly by assigning just one or two hours of work each week to them. If things go well, you may expand by delegating additional work each month.
Record Keeping
Using online accounting services is the ideal way to keep your records in order without spending a lot. When you deal with an outsourced accounting company, you will pay a single monthly cost that includes all of your services, which may include not just bookkeeping but also taxes, accounting system development, and CFO coaching.
If you don't have an accountant on your team, it makes sense to engage an outside party, particularly if you're a small firm, and hiring a full-time accountant would be a waste of resources. Outsourcing may be a cheap and straightforward answer if you lack understanding in an area that isn't critical to your company's competitive advantage. Routine chores are ideal for outsourcing.
While you may be perfectly capable of handling your accounts and ensuring that your bills are paid on time each month, an outsourced accountant may assist you in taking your company to the next financial level. They will assist you in identifying areas for development where your bottom line may increase, as well as issue areas that may be costing you money without your knowledge.
It is most common for brands to outsource core functions, such as admin and payroll tasks, because these can take up a lot of time from the working schedule. Tasks such as making a paystub for every employee need to be done regularly, but this does not mean they should take up a lot of time from your schedule.
Outsourcing Saves You Time
Spending the majority of your working day on tasks that can be outsourced can prevent you from getting any real work done. This can limit the growth of your business and prevent the company from seeing the success it deserves. Overall, this is a waste of resources and the skills that are present on your team, which is why outsourcing is a great option.
Outsourcing services not only save your company money on human resources but also allows you to benefit from the knowledge and skills of individuals who are specialists in these fields. Aside from those described in this article, many small companies outsource marketing, phone sales, and other services.
Freeing up time in your schedule by outsourcing allows you to focus on other aspects of the business and your long-term goals.