Are you experiencing the "not responding" and freezing issues in your Windows computer? So, here in this post I will clear out that why does the computer system freeze so often. Not only this, I will give you a lots of methods to fix freezing or not responding issue in your Windows computer.
Here I compiled number of reasons for why your computer freeze or stop responding all the time. Once you find the cause of problem, it becomes very easy to solve it out.
Some reasons for why does your computer freeze
Now, look at the following causes of freezing of your Windows computer and find out how to fix!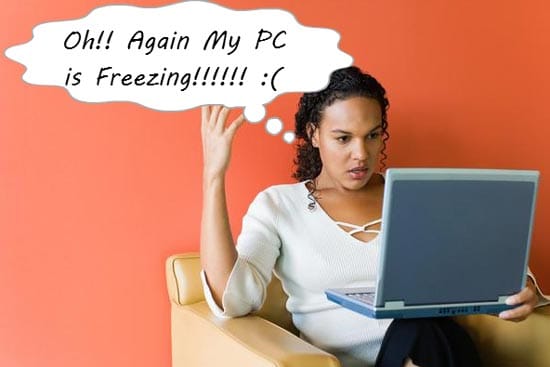 Too many programs are open at a time
This is one of the main reason of freezing the Windows computer. Each program or window you open in your computer takes some of the computers resources such as RAM in order to keep it running. So, as more as programs you run at a time, there will be as more possibility of freezing the computer.
To make sure whether or not the freezing of PC is due to opening more programs at a time, try to open one program at a time.
Read: Uninstallers For Windows to Remove Unwanted Programs
You may be running the older versions of software
The locking or freezing of computer may also be due to the software related issue. It means, you should make sure that you're not using the older version of any software. If you using any software with its older version, you should find its latest updates from the software developer or publisher.
Other than this, you should also make sure that your operating system has all of the latest updates installed on it.
Make sure your computer's drivers are up to date
The freezing of a Windows computer can also be caused by drivers. For example, if there is an issue that exists with your video drivers a computer could lock up while playing a game or displaying any other video.
You should make sure you have the latest drivers for all major devices in your computer (video, sound, modem, and network).
Also make sure no errors exist in the Windows Device Manager. You can check it by opening the Device Manager and verifying that no "Other Devices" are listed and no device has any exclamation or red X mark.
Freezing due to hardware problem
In addition to software, hardware can also be responsible for your computer to be locked. So, remove all the recently added hardware from your PC to make sure that it is not the cause of your issue.
If you haven't recently installed any hardware to your computer, then remove all the hardware that are not needed to run the computer such as your modem, network card, sound card, and any other expansion cards. Now run computer without these hardware to check if problem solves.
Additionally, if after reinstalling your operating system, or during the installation of your operating system, your computer turns off abnormally, it is very likely that some hardware is failing in the computer that may be RAM, CPU, Motherboard, or Power Supply.
Its possible that Windows may be seriously corrupt
If you're tried all the above recommendations and still your computer is continue freezing, it means that Windows may be seriously corrupt. Try out running through the basic troubleshooting steps of your Windows version. If even after troubleshooting your problem remains as it is, I suggest you backup all the information and format and reinstall Windows.
---
More Useful Tips for PC: