It will be a most interesting trick for you that you can control your Windows 7 PC with your voice. It may be a new and amazing experience for you with your Windows 7 computer. I previously shared an article on how to make your computer speak to you whatever you type or do. But with today's article, you can voice control your computer. It means, your computer will do everything, whatever you say it to do. Isn't it an interesting trick?
You don't need any external software to make your Windows 7 computer a voice-controlling device or a voice controller. Yes, guys, your Windows 7 operating system enables you to control your PC with your voice, you just need to move a few steps ahead.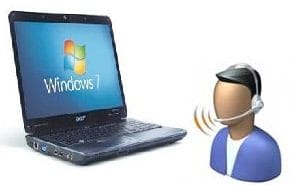 By following some steps, you can do it very easily. So, have a look at these steps to control your Windows 7 computer with your voice:
First of all, go to the Control panel and Navigate to Ease of Access > Speech Recognition > Start Speech Recognition. Or you can directly Type Windows Speech Recognition in Start Menu Programs Search Bar. Now, Click on Next in the pop-up window shown below.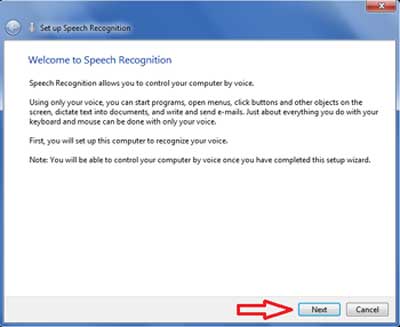 Now, in the next screen Choose the Microphone for speech recognition. In my opinion, Headset Microphone is best suited for voice recognition. So, Tick on Headset Microphone and Click on Next.
The next window will give you the guide for Microphone placement. It means how to wear device on head, how to speak etc. So, read them carefully and Click on Next.
Now, on the next screen, you need to adjust your Microphone volume by reading the given sentences in a natural speaking voice. After reading the sentences, Click on Next to move on to the next page.
The next page will inform you that your microphone is set up and Click on Next to continue setting up Speech Recognition.
Now, you need to improve speech recognition accuracy. For this, you can allow your computer to review documents and emails in your search index. For this, you need to Tick Enable Document Review. Click on Next.
Next, you need to choose Activation mode for Speech Recognition. Read the instructions on the screen and select a perfect mode. So, tick on any of them and Click on Next to move on to the next window.
On the next screen simply Click on Next and move on to another window. So, in the new window Tick Run speech recognition at startup. Click on Next again.
Finally, the next screen tells you now you can control your computer with your voice. You can worry-free Click on Skip Tutorial to Finish the Wizard.
READ ALSO: How To Make Your Windows PC Speak To You
That's it! Now the Speech Recognition tool will open on your Windows 7 screen. It will look like the following. You can on/off the Speech Recognition tool by Clicking it on your Microphone.
So, guys start controlling your PC with your voice. Click on Microphone on it and start speaking to your computer and your PC will do whatever you'll say it to do.