There are many websites on Internet that offer you online courses on many subjects. Today, I'm going to deliver such 5 websites through which you can learn many courses online and also get certificates for your courses done.
So, if you're unable to go to university or college due to money and time, you can follow these sites for free online courses and even get certificates.
[clickToTweet tweet="Check out the collection of Great Websites for FREE Online Courses" quote="Check out the collection of Great Websites for FREE Online Courses" theme="style1″]
Udemy is the great destination for online courses. It offers more than 16,000 courses online. Some of the trending courses at Udemy are – Android apps development training, Cloud computing, Web Development, Yoga, WordPress security, Guitar lessons etc.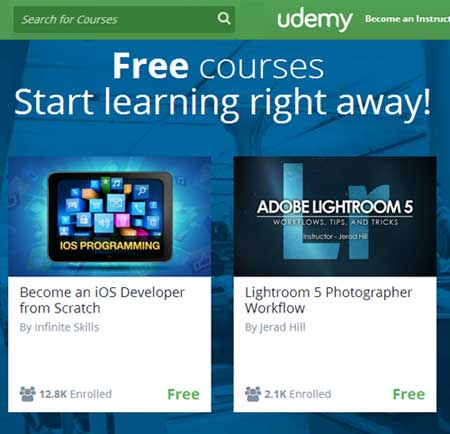 Udemy has over 3 million regular students. You will find many courses free of cost and most of them are paid. So, visit the website to select your course and start learning from today.
Recommended For YOU:
Here, you'll feel just like as school environment. Most of its courses also provide certificates. So, Coursera is a fantastic education platform that partners with top universities and organizations worldwide, to offer courses online for anyone to take, for free.
After visiting the website, you should discover a course from 400+ courses created by world's top educational institutes. Coursera also enables you to watch short video lectures, take interactive quizzes, complete peer graded assignments and connect with classmates and teachers.
At Udacity, you don't need to worry about the starting time and ending time of any course, instead you can finish every course according to your flexibility and perform the exam whenever you want. After accomplishing the exam, you can get your certificate for that individual course.
It generally focuses on online computer science courses with personalized support. Udacity offers a variety tech based courses which you can start learning according to your interest and skill level.
EdX offers interactive online classes and MOOCs from the world's best universities such as MIT, Harvard, Berkeley, UT and many more. It is a non-profit website which offers the best online courses to the millions of students worldwide absolutely free.
Mainly at EdX, you'll find all the technology related courses but not all are tech based. Most of them are from different field such as Art, Biology, Communication, Economics and Finance, Music, Medicine, etc.
MIT OpenCourseWare (OWC) is a widely popular web based publication of mostly all the course content of MIT. So, the simple concept behind this website is to publish as more as possible course materials online and make them widely available to everyone.
MIT OWC provides a great material from 2150 courses to its 125 visitors worldwide. One of the best and most lovely advantage of this site is that here's no registration required to learn courses material.
Further Reading:
Conclusion
Every website has different way of content delivery or presentation that's why if you're going to pay for any course, before making payment you should grab the information about their way of presentation using their some of free courses or demo classes.
Another aspect is that many online courses might be so lengthy and may take your long time. So, you should take complete information about the course and its time period before start learning.
In case if you're learning only for certificate, then many websites listed above give the facility of certificates after completing the course. But, certificates are not that important as compared to learning. So, you must concentrate on learning rather than certification at all.