Accidents can happen with anyone at any time either little or big. So, we should always be heedful for any emergency case. However, we can't keep a doctor or physician every time with us, so in this condition, there are many First Aid apps available on different app stores that will truly be proven as helpful as a doctor when you would be in a trouble and need first aid urgently.
Today I'm very delighted to share these most reliable and best first aid apps that must be in every smartphone because I'm sure that these apps are capable to save anybody's life in an emergency case.
5 Must-Have First Aid Smartphone Apps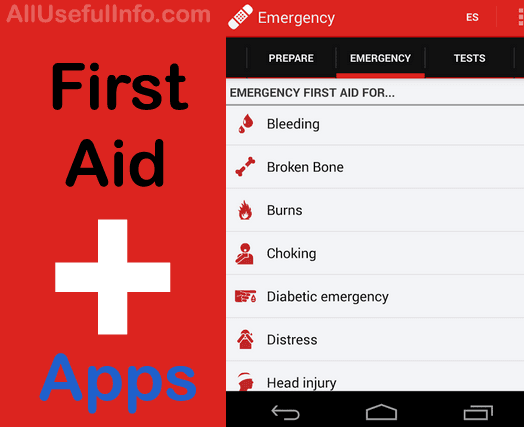 It's a very helpful and interactive app that puts expert advice for everyday emergencies in your hand. Red Cross First Aid app gives you instant access to the information you need to know to handle the most common first aid emergencies.
This app has really made knowing first aid very easy and handy with the videos, interactive quizzes, and simple step-by-step advice. The best thing about his app is that it is absolutely free to use and even without any irritating ads and spams.
This app has preloaded content by which you will have instant access to all safety information at any time, even without reception or an Internet connection.
Moreover, it will give you the helpful safety tips for everything, from severe winter weather to hurricanes, earthquakes, and tornadoes to help you prepare for emergencies.
The official IFRC First Aid app gives you instant access to the information you need to know to handle the most common first aid emergencies. It gives you quick access to a huge healthcare & medical database in your pocket.
It provides you the step-by-step instructions to guide for everyday first aid scenarios. It had a lot of preloaded content means you have instant access to all safety information at any time, even without cellular or WiFi connection.
WebMD Health Corporation, the leading provider of health information services, provides the first aid guidance to survive in emergency cases with the help of mobile applications. Like the above two, it is also available for different operating systems such as Android, iOS, etc. The app offers physician-reviewed health content and interactive tools in addition to on-demand healthy living information.
WebMD App also gives you access to first aid information without having to be connected wirelessly – critical if you don't have Internet access in the time of need.
With the help of this first aid app, you can create custom lists of drugs, conditions, and articles and review your saved information anytime and anywhere.
This app also contains everything you need to know about the first aid and the treatment guidelines and techniques. The app also contains the first aid for emergency childbirth, first aid for poisoning, snakebites, and even suicide attempts and self-harm.
The best thing is that this app also runs offline and there is no signal bar. No problem if you're not connected to the internet, this app will always be ready whenever you need it.
St John Ambulance is another first aid application launched with an aim to provide first aid services to each and everyone who needs in emergency conditions.
This app includes the latest first aid advice and protocols for dealing in emergency situations. It is simple to follow with illustrated guides and voiced instructions.
However, this app doesn't contain the in-depth manual of first aid but when there's an emergency it will help you to know what to do in those crucial moments when basic knowledge of first aid can make the difference.
More Articles to Read:
Conclusion
I highly recommend you all guys keep any of the above listed first aid apps in your smartphone to survive in an emergency case. Everybody knows that a drowning man catches at a straw and whenever you're in an emergency case and need a doctor urgently but unfortunately, there is no doctor far and far, so in that condition, you will be like a drowning man and even look for a straw to save your or anybody's (victim of the accident) life.
But guys, truly the above mentioned first aid apps are the pocket doctor that can be available in front of you whenever you need. So, in that condition when you become like a drowning man, these apps will not (only) work as a straw but will allow you a boat, in fact, you will feel a doctor in yourself to overcome the problem.