Online doctor consultation has become the need of time. People are more likely interested in booking an online consultation with a doctor instead of visiting the clinic. This is why many online doctor consultation apps came into the spotlight.
There're hundreds of online doctor consultation apps available in the market these days but finding the best one is still a challenge for most of us. If you really are health-conscious and looking for the best online doctor consultation app in India, this article is going to help you.
In this article, I'm not only listing the best online doctor consultation apps available for Indians but also going to share my own experience with some of the popular online consultation apps available in India.
The 6 Best Online Doctor Consultation Apps For Indians
So, the very first thing is to know about the popular online doctor consultation apps available in India. Among hundreds of online doctor consultation apps available on Google Play Store and Apple App Store, let's filter out the 6 best of them.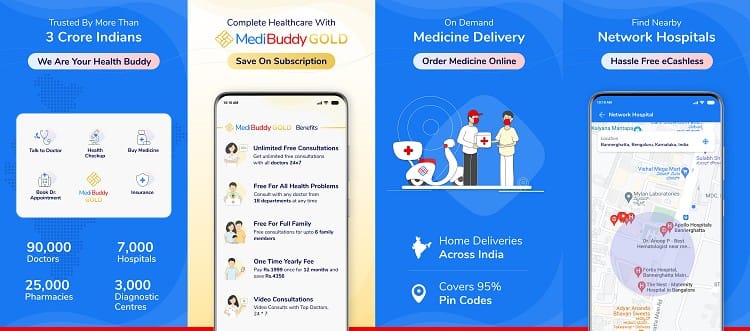 MediBuddy is an award-winning Indian healthcare app. It is India's largest digital healthcare platform that gives users 24X7 access to high-quality healthcare.
Their services include online doctor consultations, medicine delivery, lab tests, and hospitalization assistance. They also cater to leading corporate customers across the country and help their employees with a wide range of healthcare benefits. Their offering, MediBuddy Gold provides health coverage for the entire family. MediBuddy Gold is a health subscription that provides unlimited online video consultations for the entire family.
During the COVID-19 pandemic, MediBuddy broadened its scope of services to help the frontline workers of the country. Their COVID-19 services include RT-PCR testing, finding beds in COVID-19 hospitals, and vaccination slot booking.
Its wide-array of services and offerings makes MediBuddy standout amongst the rest in the health apps niche.
DocsApp is India's one of the best online doctor consultation apps that makes it very easy to book appointments with any specialist doctor in the desired area. You can book appointments with doctors in 20+ specialties.
All you need to install the application on your mobile phone, signup with your phone number, and start your consultation with any doctor. If you are unable to choose the specific category for consultation, you can simply ask questions related to your health and the doctor will transfer your chat to the relevant doctor. You can connect with the doctor via chat, phone, or video call.
Apart from the consultation, you may also book lab tests online through DocsApp mobile application. You can also order medicines online through the app that will be delivered to your doorstep at a discounted price.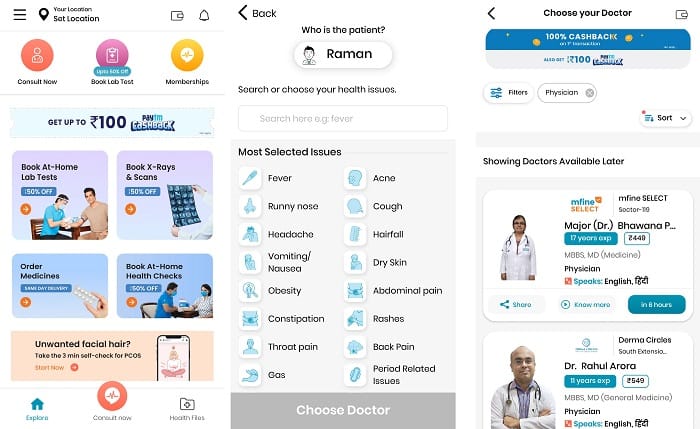 It's another popular online doctors consultation app that allows you to book appointments with doctors from the trusted hospitals across the country. Using this mobile application, you can consult with any doctor online in 30+ specialties over chat, phone, and video call.
To start a consultation with any doctor on MFine mobile application, you need to signup with your phone number and look for a doctor in your desired specialty. After paying the consultation fee, you can chat, call, or video call with the doctor, and you'll get 5 days of free follow-up on your consultation.
Just like DocsApp, you can book full body checkups and other lab tests at your home without any pickup charge. And you can get your reports online within 24 to 48 hours only.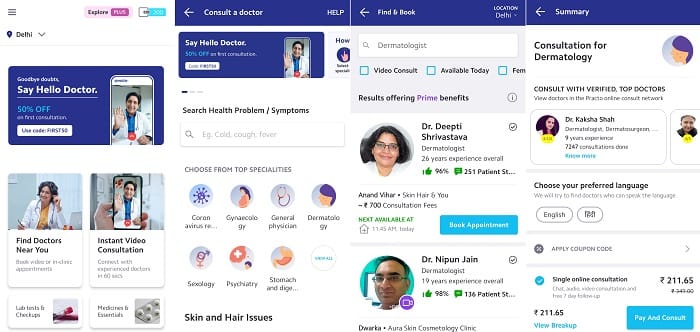 Practo lets you book appointments with doctors in different specialties in your locality. You can either visit the doctor in the clinic or consult over the private phone or video call via the Practo app.
From ordering medicines online to book full body checkups, you can use the Practo app for your health and medical needs.
You can choose from a wide list of more than 1 Lakh doctors and specialists in the top 70,000+ clinics and hospitals across the country. Unlike some other doctor consultation apps, Practo lets you find doctors in your area by their name and specialty.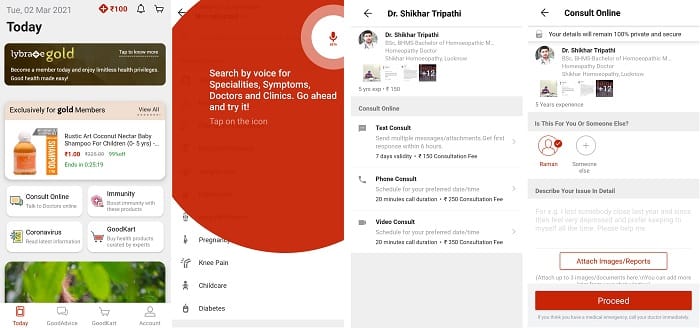 Lybrate is most likely similar to Practo app. It allows you to book appointments and online consultations with doctors in all major specialties. This app is helping over 10 million users connect with over 100,000 top doctors in the country.
The best part of this app is that it allows you to ask free health questions on the app and get answers from different certified doctors within just a few minutes. So, you don't have to book consultations for your small queries, just ask free health questions and get answers in no time.
For online consultation with doctors, Lybrate allows users to connect with doctors via text chat and video call. Through Lybrate's GoodKart, you can get your health supplements and medicines delivered to your doorstep.
Tata Health is another leading online doctors consultation app available for Android and iPhone users. You can install this application and start booking online consultations with doctors across the country.
You can book online consultations with doctors in different specializations. You can even order your prescribed medicines online from the trusted pharmacies and get them delivered to your doorstep. TaTa Health app also allows you to book lab tests at your home.
In addition to booking online consultations, you may even book on-site appointments with the doctors near you. Using the TaTa Health app, you can book an appointment online for a Tata Health clinic near you.
Which is the Best Online Doctor Consultation App in India?
Above mentioned apps are the top 6 online doctor consultation apps available in India. All of them are truth-worthy and very helpful for online doctor consultations. You can sign up with any of these 5 apps and start online consultations with doctors in different specializations.
However, I've already ranked these 6 online doctor consultation apps in terms of popularity, effectiveness, and ease-of-use, but still, if you ask my opinion, I will recommend using DocsApp and Practo to fulfill your needs for online doctor consultation.
I'm a gold member of DocsApp, an online doctors consultation app, and also tried MFine and Practo apps to evaluate their quality of service. I've been using DocsApp for many years to consult with doctors online for me and my family and I can confidently say that this app is amazingly helpful and very useful for everyone.
However, all the apps mentioned in this article for online doctor consultation are best and worth trying. So, if you're seriously concerned about your health but don't have enough time to visit the doctor's clinic, you can install any of these apps, more preferably DocsApp or Practo to solve your health-related issues at your home.