Staying with your girlfriend, boyfriend or just a friend of the opposite gender isn't that comfortable for many people in India. And it's just because of the lack of knowledge and awareness. People never dare to spread rumors about just anything. Even I heard through many people that booking a hotel room with your female friend is illegal. But, very soon I got to know that it's absolutely wrong.
There's no law in India that stops unmarried couples to stay together in a hotel. Despite believing in rumors, you should think that how just booking a hotel room for an unmarried couple can be illegal whereas even a live-in relationship is now completely legal in the country.
But, it depends upon the hotel whether to allow unmarried couples or not. There're still many hotels that don't allow unmarried couples for booking a room. But, it's not a problem. You just need to find out a good hotel which allows booking a room for unmarried couples. And there're many mediums to find it out. In this article, I'll guide you on how you can legally book a hotel room for an unmarried couple in India.
Book a Hotel Room For Unmarried Couple Online
If you're an unmarried couple, booking a hotel room online will be a great decision. There're many websites and apps available which allow booking hotels for couples in India.
A few days back, I wrote an article on some of the safest hotels booking Android apps for couples in which I mentioned OYO Rooms, Goibibo, Stay Uncle, Fab Hotels, and more. Among all of them, I recommend OYO Rooms to legally book a hotel room for unmarried couples.

How to Book a Hotel Room with OYO for Unmarried Couple?
Well, there're many websites and apps available to book hotel rooms for unmarried couples but I will suggest you book through the OYO Rooms app which is the easiest, most trusted, and legal platform to book couple-friendly hotels.
OYO Rooms has a collection of some of the best hotels all over the country so that you can choose the perfect one for you at your location.
Here, I'm guiding you to book a hotel room with the OYO Rooms Android app for unmarried couples. So, first of all, install the OYO Rooms app from Google Play Store and then signup with your phone number.
Once you're signed up with your phone number, just search for the location where you're willing to stay, choose the check-in and check-out date, and the number of guests. If you're staying as a couple, just select 2 guests in 1 room.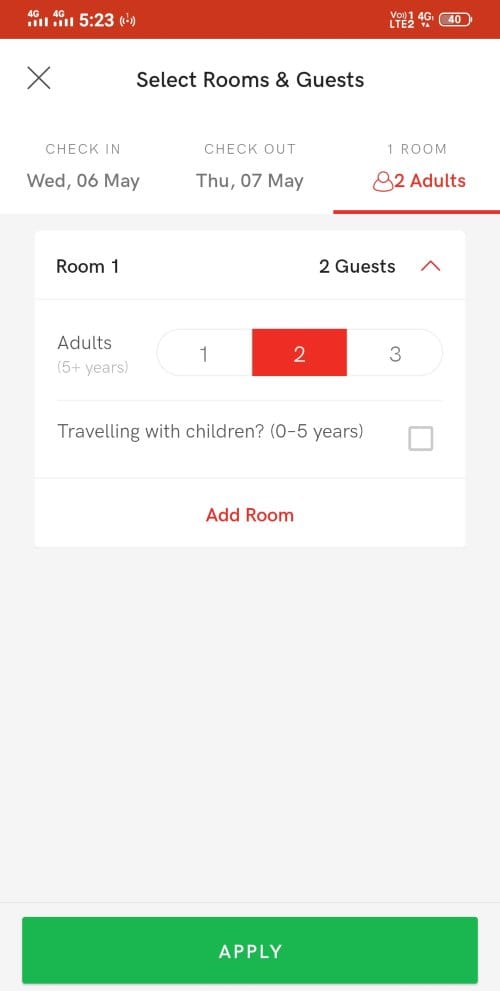 After that, tap on the Filters icon at the bottom right corner of the screen and check OYO Welcomes Couples option inside Collections. Apply this filter and you'll see only couple-friendly hotels for your search.
You can choose any hotel you like the most depending upon the amenities and your mutual preference. Some hotels ask you to pay online right before confirming your booking and some allow you to book first and pay at the hotel.
Whether you want to filter your search with only the highest-rated OYOs or those which allow paying at hotels, there're many filter options available in OYO Android app which makes your hotel finding process even easier and quicker.

Book a Room Directly Through Hotel Reception
However, it's not something illegal to stay with your girlfriend or boyfriend in a hotel room but still, I would recommend you to book your hotel online instead of through the reception.
But, due to any circumstances if you are going to book a room directly through the hotel reception, I will suggest you follow these 2 points very importantly:
Read Hotel Reviews. This is a very important action to take before choosing any hotel for your stay and especially in the case when you're going to stay as a couple. For most hotels, reviews and ratings are available on Google. You should choose a hotel with high ratings and positive reviews.
Call the Hotel Reception. This is another most important action you should take before directly visiting the hotel. This will help you reduce your check-in time. You should ask the receptionist over the call if the hotel allows unmarried couples or not so that there won't be any questions & answers around during the check-in.
As you're looking for a room to stay in as an unmarried couple, it's very important for both of you to carry your government-issued identity card with address proof such as Aadhar Card, Passport, or Voter card. Pan cards won't work as identity proof.
That's all. Whether you book a hotel room online through an app like OYO or directly through hotel reception, if you'll follow the steps mentioned above in this article then I'm sure that your stay will be very comfortable and safe.