Have you ever wanted to write your own book but unable to do that due to the lack of content material or other resources? So, let me tell you that World's biggest non-profit organization Wikipedia, a free encyclopedia will enable you to make your own eBook for absolutely free. Not only this, but you can also physically publish your book too.
So, guys get ready to learn this guide on how to easily create an eBook from Wikipedia articles. In this article, I will provide you 3 simple steps to create an eBook from Wikipedia articles in a few minutes.
Think guys, who can create and publish a book in a few minutes. Commonly nobody can do it but with the help of Wikipedia, you guys can make this fact possible.
Create an eBook From Wikipedia [3 Steps]
It's time to hand over these 3 simple steps to you to start creating eBooks from Wikipedia articles. In these 3 steps, you will learn serially about collecting articles for your book (1st Step), managing your book like title, description, etc. (2nd Step), and third step for downloading or publishing your book.
Read Also: Awesome eBooks You Should Read Before Elections
Step 1 of 3: Collecting Articles For Your Book
Open any article in Wikipedia that you wanna add to your book and look for Print/Export link in the left sidebar. Click on Create a book link.
Next, click on the Start book creator button to start collecting article pages for your book.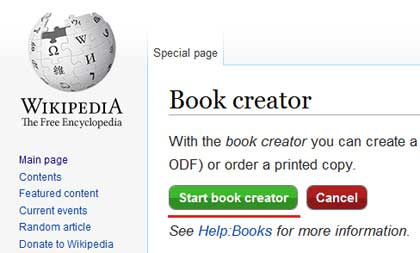 After the Book Creator has been enabled, the Book Creator box will be shown above each wiki page. Now, start collecting pages for ebooks. To add your favorite articles to your book, click on Add this page to your book.
You can also hover your mouse over any internal Wikipedia link to add the linked page to your Wikipedia ebook without having to open the page.
Step 2 of 3: Manage Your Book (Give Title, Subtitle, etc.)
After adding pages to the ebook, it's time to manage your book in which you can add a title, subtitle to your book. To start managing your book, just click on the Show book link at the Book Creator box. (Follow above screenshot)
Next, you've to type a title and subtitle for your eBook. You can drag and drop your added pages to make sure which one will be on the front and one after another. You can also give the name of each chapter in your eBook.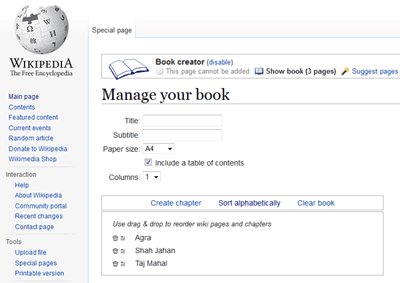 Step 3 of 3: Get Your Book in Your Hand
Everything is done? So, now it's time to get your eBook or a physical book in your hand. If you want to download your eBook, then on the same page of manage eBook, you'll see a download button on the right side. You can download eBooks in many popular formats such as PDF, ePUB, etc.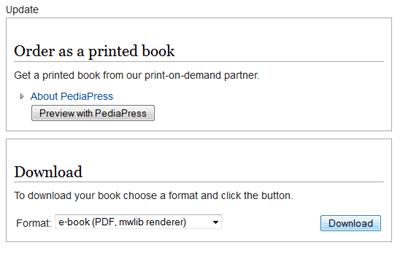 That's all, you can read and use your eBook anytime, anywhere, or on any device that supports the selected format. In another case, if you want to print your book physically, then click the button "Preview with PediaPress" (Follow the above screenshot).
At PediaPress, you can design your book amazingly according to your title in a unique look by adding images and different colors. You can again edit the title of your book and give the best preface to your book. However, the service is not free!
Further Reading:
If you wanna get your book with hardcover or want it in color, be aware because each extension will add an extra amount. After making payment the book will reach you between 5 – 20 business days or according to your destination.