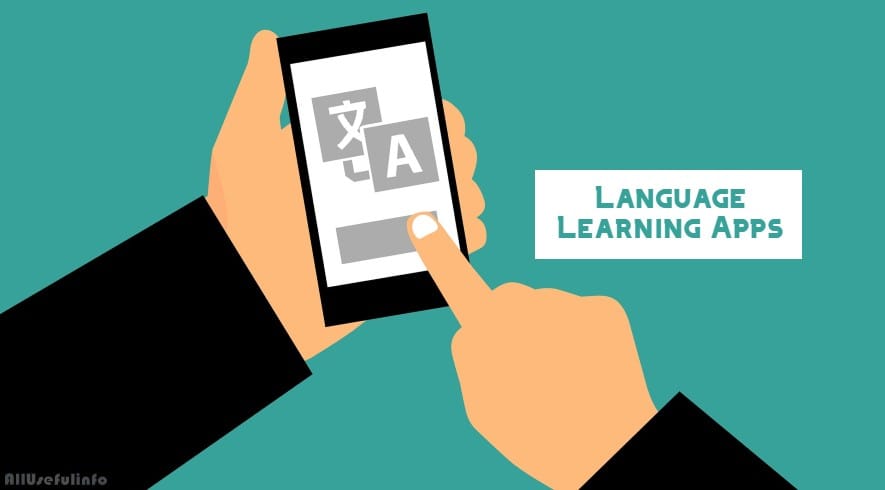 In today's world, learning a new language is no more difficult for anyone because many language learning applications are available in the market that make it fun to learn a new language by practicing a few minutes daily.
Whether you're planning to study abroad or want to enhance your skills, mobile apps are one of the most effective ways to learn a new language.
That's why in this article we've handpicked the 10 best and free Android apps that will help you learn new languages easily with your daily routine.
Without any further delay, Let's begin!
10 Best and Free Language Learning Apps For Android
Learning a new language is no doubt a challenging task but the following Android apps make this task interesting and easy. So, let's check out the following free Android apps to learn languages easily.
Duolingo Android app is the most popular and first on the list to make learning new languages interesting. In this application, you'll get fun learning activities and short video lessons that are easy to remember. Around 100 million+ users actively use Duolingo to learn new languages every day.
It's a very smart app because it analyzes and adapts your learning patterns and provides you with short lessons and fun exercises accordingly so that you'll learn faster and better.
Its user-friendly interface, personalized learning, and fun exercises make this Android app perfect to learn new languages easily.
You can install this application on your Android device, choose the language you want to learn, and Duolingo immediately starts your training and provides you lessons in animated text, images, and audios & fun activities according to your learning level (beginner/mediocre/expert).
You can learn many languages with the Duolingo Android app including Spanish, Hindi, English, French, German, Italian, Dutch, Japanese, Korean, Arabic, Swedish, Irish, Greek, Polish, Welsh, Swahili, Hungarian, Esperanto, Romanian, Hebrew, Indonesian, Finnish and some others.
Memrise is another best free language learning application that comes with its uniqueness. When you select a language for learning, Memrise provides video clips of real native speakers to teach you their language in an easy way.
For strong vocabulary, Memrise provides quiz games, flashcards, and mnemonics that make your learning faster and easier.
It has a user-friendly & engaging interface that encourages learners to take action and complete new learning activities. That's why 60 Million learners actively use this application to learn a new language every day.
Memrise is mainly popular because of its proven memory techniques that help learners learn any language faster, like native speakers. You can start learning a language as a beginner, and Memrise will help you become professional like native speakers.
Languages you can learn with Memrise are French, Spanish, German, Dutch, Swedish, Norwegian, Polish, Turkish, Chinese, Portuguese, Russian, Arabic, Danish, Icelandic, Mongolian or Slovenian.
HelloTalk is a global language exchange application. This application directly allows its users to connect with native speakers of other languages and communicate with them to learn the language.
In this application, you don't get any tutorials or video clips because you'll directly communicate with native speakers, and they'll teach you from scratch their language.
HelloTalk comes with a translation tool to understand the discussion between you and your native speaker. The app lets you directly talk with native speakers via one-to-one chat, voice messages, or video calls.
30 Million learners are learning and practicing with native speakers to learn their language and perfect pronunciation.
HelloTalk supports 150+ languages including French, Spanish, Mandarin, Chinese, Italian, Arabic, Turkish, Indonesian, Norwegian, Thai, Finnish, Czech, Farsi, Greek, Hindi, English, Japanese, German, Brazilian, Portuguese, Russian, Korean, Hebrew and many more for learners who want to learn new languages, explore new cultures, and make new friends globally.
Babbel is one of the best choices for learning a new language because it helps you learn any language via live online classes, podcasts, games, short video clips, and many other attractive ways.
It's a more professional learning app than Duolingo because you'll find everything well-structured, organized courses and lessons. You'll feel like taking online college classes but in a fun way to make the learning process interesting. Its simple, classic, and user-friendly interface encourage learners to give attention.
Currently, Babbel offers 14 languages for learners that include Spanish, French, Italian, German, Russian, Portuguese, Turkish, Dutch, Swedish, Polish, Norwegian, Indonesian, and Danish. Around 10 million users actively use the Babbel platform to learn new languages.
Rosetta Stone is specifically designed for travelers traveling to other countries to make their communication skills better.
In this application, you can select a language you want to learn; you'll see some words that you need to repeat and match with the photos. You'll start to understand the words/phrases, pronunciation, and vocabulary.
Rosetta Stone comes with a simple and innovative way to teach learners by focusing on words, images, phrases, and vocabulary and providing small tasks for practice. You'll get instant feedback on your pronunciation for improvement.
Rosetta Stone offers 25 different languages including Spanish (Latin America), French, Italian, German, English (American), Arabic, Chinese, Dutch, English (British), Filipino (Tagalog), Greek, Hebrew, Hindi, Irish, Japanese, Korean, Latin, Persian (Farsi), Polish, Portuguese (Brazil), Russian, Spanish (Spain), Turkish, Vietnamese and Swedish that you can learn and speak with fluency and confidence.
Busuu is one of the popular and award-winning language learning applications. And if you want to learn a new language from scratch, you need to spend only ten minutes a day on the Busuu application.
On Busuu, you'll get valuable tips from native speakers that will help you learn the language faster. For learners, Busuu provides new oral lessons, grammar tips, activities, listening audio samples, and assignments for practice and improvements.
Busuu is a very creative and engaging application that you can use to learn any language differently like taking lessons, video clips, and chatting with real people (native speakers) who help you learn more effectively.
Busuu creates a proper plan before you start learning a new language to stick to your goals and spend at least 10mins per day learning a new language. This application uses the "flashcards spaced repetition method" that encourages learners to learn more with curiosity.
120 million learners recommend this application to learn 13 languages offered by Busuu which includes English, Spanish, French, German, Japanese, Italian, Dutch, Russian, Chinese, Arabic, Turkish, Portuguese, and Polish.
Drops Android app is mainly designed for those learners who want to improve their vocabulary instantly.
The Drops app makes it easy for anyone to learn vocabulary so easily because of its illustration-based learning, fun games, and audio-based learning. It's a gamification type application where learners can easily learn thousands of words by playing activities.
It comes with a user-friendly interface and fun exercises where you'll learn about the most common words used in the selected language.
Around 35 million learners benefit from using Drops and strengthening their vocabularies. It comes with 45+ different languages such as Korean, Japanese, English, Arabic, German, French, Russian, Spanish, Danish, Dutch, Esperanto, European, Icelandic, Indonesian, Italian, Japanese, Korean, Mandarin Chinese, etc.
Tandem is a good alternative to the HelloTalk Android app. It is an exchange language learning platform that helps learners chat with native speakers and learn a new language via chatting, video calls, or voice messages.
Tandem comes with in-built translation and corrections features so that learners and native speakers can connect most effectively. You need to join the community and find a partner (native speaker) that can help you teach a new language. You can start discussing with your native speaker via chatting, voice messages, audio or video calls that can help you in practice.
Millions of people found Tandem very useful to practice and became masters of different new languages. The languages that you can learn with Tandem are English, Spanish, French, German, Italian, Portuguese, Russian, Japanese, Chinese, Korean, etc.
Mondly is the biggest and most premium application for learning new languages. It uses high-tech technologies to help learners learn new languages like Augmented Reality and Virtual Reality.
To teach learners, Mondly uses animations, images, short video clips, flashcards, and attractive elements that increase engagement and help you learn faster. It's mainly focused on conversational learning rather than vocabulary stuff. Also, you can join group conversations to practice your language more effectively.
80 Million learners actively use Mondly to learn different languages every day. You can learn English, Espanol, Deutsch, Italian, Chinese, Korean, Portuguese, Russian, Spanish, French, German, Hindi, and many more languages using the Mondly app.
This is another language learning application that allows you to learn new languages with so much customization. For example, if you're planning to go for a business trip to introduce and close deals, you can specifically learn about introduction and communication-based language learning; this helps you learn faster, better, and more effectively.
The app is very adjustable according to your time as it allows you to download lessons to learn at your suitable time without using the internet.
With the Mango Languages app, you can learn up to 70 different languages including Arabic, Portuguese, French, German, Italian, Japanese, Chinese, Russian, Spanish, Farsi, Korean, Latin, etc. starting with basic words & vocabulary. And later you'll speak like a native speaker because Mango Languages help you keep practicing by spending a few minutes daily.
Final Verdict
In today's world, learning a new language can be beneficial for you to improve your communication skills, connect with the world, make more connections and grow your business.
And these language learning Android apps will help you learn different new languages in a short time by spending a few minutes every day. You need to pick the best language learning application, and for this, you can review and compare each application to find the best one that suits your requirement.
We hope this article helps you find the best language learning application to learn new languages easily. Drop your comment and let me know which language you want to learn and for that which of the above-mentioned apps you are going to start with?