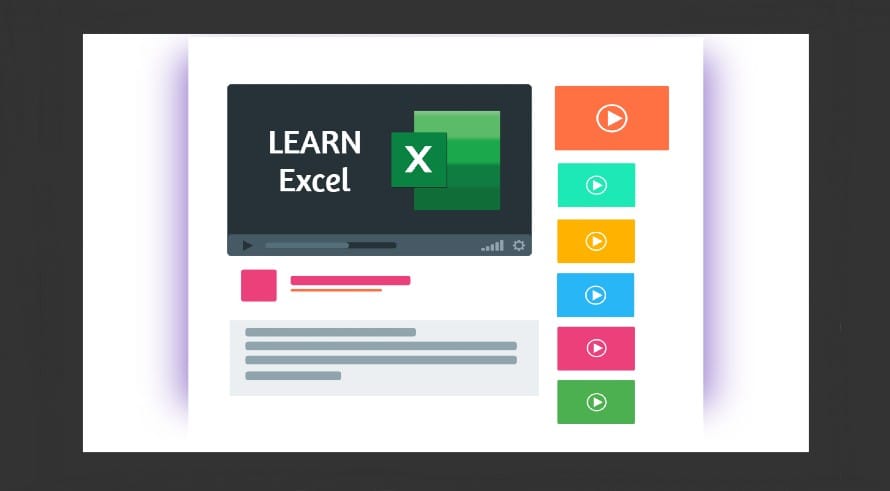 With the enhancement of technology, every company looks for a person who is a master in managing Excel files. From working with the data to keep the records, MS Excel is perfect for everything on a large scale. People with MS Excel skills can become an ideal choice for companies to manage the entire data effectively. To master the MS Excel skills, learners can go with YouTube, an ocean to initiate learning MS Excel.
This article will show you the 10 best and free YouTube channels to learn MS Excel from the beginning. You can go with these YouTube channels to start your journey in data management and become a crucial part of an organization. So let's create a fantastic journey of MS Excel learning and hone the data skills.
Learn More is not a new name for Excel learners because they provide the best in-house Excel training. The channel is posting Excel learning videos for the past five years, and many students have mastered their skills. If you want to know how to master MS Excel, this YouTube channel is a perfect place to start your journey.
Learn More courses are not lengthy and complete everything a person needs. If you check out their YouTube channel, you will find multiple clever tricks and tutorials to use MS Excel.
Also, if you want to start learning about other computer stuff like MS Word, PowerPoint Presentation, etc. to enhance your skills, Learn More gives you everything you need. It is a perfect place to begin your journey in mastering MS Excel and improve your data management skills.
Excel For Beginners is another YouTube channel where many students have completed their Excel mastery course. The course is entirely free for users, and it is only for people who want to pursue their career in data management. Learning MS Excel from Excel For Beginners YouTube channel can improve your data skills and give you a fantastic path to learn Excel.
Unlike many other channels in this list, the Excel For Beginners YouTube channel is specifically made to provide MS Excel tips and tutorials. All the videos on this channel are about Excel and so this YouTube channel can be a one-stop destination for you to learn Excel.
My Big Guide can be the best spot for learners to learn MS Excel. There are many videos available on this YoutTube channel, which will let you learn MS Excel. However, this channel publishes videos for different computer tips and tricks, but Excel tutorials can also be easily found here.
Like many other YouTube channels in this list, My Big Guide channel is available in the Hindi language, where Indian people can quickly start learning MS Excel in the easiest way possible.
As soon as you will visit the My Big Guide YouTube channel, you will different videos and playlists to shortlist the kind of tutorials you would like to watch. You can find a playlist named "Microsoft Excel" in which over 200 video tutorials can be found to learn Excel from beginner to advanced level.
Leila Gharani is a perfect hotspot for many Excel learners, which the numbers also show. With an average of 500K views, Leila Gharani's free YouTube Excel videos are liked by many users. On her YouTube channel, she has created many Excel videos from the basics of Excel and takes it to the expert level.
Also, you can get some MS Excel hacks from the expert Leila Gharani, who will let you know about everything in data management. Also, if you want to expert Google Sheets from the best mentor, this free YouTube channel can help you improve your skills.
People have multiple options online to start their Excel mastery course and many of them choose the Edureka YouTube channel to give themselves a good start. The channel is fantastic for new Excel learners, where they can learn MS Excel from easy-to-understand videos.
The Edureka YouTube channel not only has Excel tutorial videos but you can find many other tutorials and courses on different subjects like AWS Training, Ethical Hacking, Python learning, and many more.
If you are among those learners who want to learn MS Excel from experts, Edureka can provide all the essentials. You might find difficulty in finding the Excel tutorials on this channel because of many other tutorials and courses but you can navigate through the Playlists to find the playlist for Microsoft Excel Tutorials.
Dinesh Kumar Takyar is among those Excel tutors who start with a basic understanding of MS Excel to the advanced stage. Many people prefer to go with this YouTube channel to learn MS Excel for free. Unlike many other channels in this list, this YouTube channel is all about Excel and so every single video on this Channel is about Microsoft Excel.
Dinesh Kumar Takyar on his YouTube channel shares multiple arrays and data management tricks you can use to master MS Excel. People who want to know how to master MS Excel can go with this free YouTube Channel.
This channel for free MS Excel tutorials is just perfect for learners and educators who are looking to master MS Excel. The channel has been live on YouTube for the past 7 Years, and Dinesh Kumar Takyar provides all the resources for the learners for free.
This is another free YouTube channel to learn not only MS Excel but as the name suggests it is truly a one-stop platform for all kinds of tutorials for students with different subjects.
It contains all the data types and Excel methods to take your journey to an advanced level. You can subscribe to their free YouTube channel to learn MS Excel and everything you need in MS Excel. The courses have been active for the past few years and have achieved huge subscribers for the best Excel E-Learning courses.
As the name suggests, this YouTube channel is basically for learning different programming languages. But, in addition to the programing tutorials and videos, they also post videos to let others know about Excel and enhance their skills in MS Excel.
Due to it's an old YouTube channel and have lots of content in different kinds of languages, you might face little difficulty finding Excel tutorial videos. But, for your ease, they created separate playlists for different subjects and tutorials so this way you can easily find your Excel learning tutorials on this channel.
So, if you are among the people finding a free Youtube channel for learning MS Excel, this is the perfect choice for you. Every video is easy to understand and to the point.
Gyanagya is a fantastic YouTube channel for those who want to master MS Excel for free. It has over a hundred video tutorials on MS Excel that you can find easily on the channel. From basics to advanced Excel learning, videos on this channel offer all kinds of Excel tutorials.
The language is easy to understand and Indian learners can get the best content in Hindi. For your comfort, the channel has created playlists for different tutorials. You can easily find a playlist named "Learn MS Excel" to start learning your Excel from the beginning.
ExcelIsFun is a YouTube channel active since 2008 and provides the best Excel tutorials for new learners. As the name suggests, this YouTube channel is completely dedicated to Excel learners.
The channel has over 3300 videos so far to let learners complete their mastery in MS Excel. "Excel is not a tough game for new learners" is their primary thought, and they are helping millions of students to learn Excel from the very basics.
You can do data management at your fingertips with the help of the best Excel tips and tutorials available on the channel. From basics to master level, ExcelIsFun provides all the essential learning to students looking for advanced MS Excel training.
To Sum UP
If you want to enhance your skills in data management, MS Excel is the one thing you need to master before sitting in the interviews. The above free YouTube channels for learning MS Excel can help you go from basics to advanced Excel learning and get a kickstart to your career.
You can learn MS Excel from the world-class tutors who are providing free courses on YouTube. MS Excel is crucial for every person looking to get into data management with tremendous career growth.
I hope the YouTube channels mentioned in this article will help you start learning MS Excel for free. If you liked this post, don't forget to share the name of your favorite Excel tutor in the comments section.