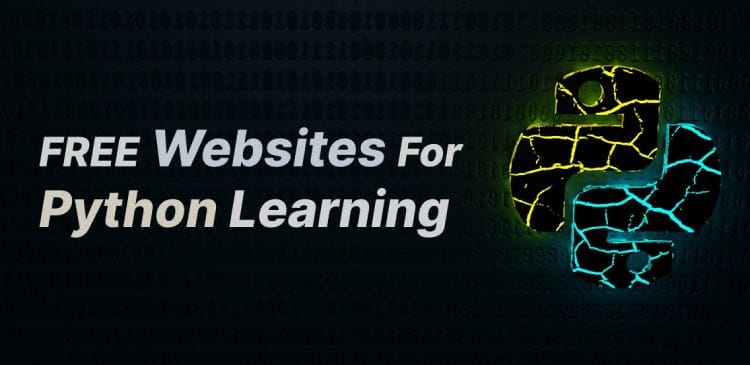 The world is going through hustle-bustle activities in the modern era, where technology is ruling over the world with its facilitating property. Nowadays, everyone has a mobile device to look over the world and get instant updates.
One of the famous programming languages in the technological world is Python, which makes people start programming and develop fantastic applications to make your life easier. From Amazon Alexa to Siri, we are getting instant solutions from Artificial Intelligence. Whether it is a business or an individual, everyone uses the latest technology to manage their lives effectively.
Python programming language enables Artificial Intelligence, where you can develop some exciting AIs.
Here, you will get to know about the top 10 free Python learning websites, where you can learn this fantastic programming language for free.
So, Let's Get started.
1. Google
Shocked? Google also offers Python tutorials for beginners, where students and even programmers who want to switch to Python can learn this programming language from Google's Python Class. The course is free, where you can learn about basics and moderate programming using Python.
The course consists of written tutorials, coding exercises, and video lectures to understand the language. Python is a primary programming language in Google, where you can understand the language from basics and develop a fantastic base for your programming. The best part of this course is finding the lecture videos on YouTube, which gives you a smooth experience to learn Python.
2. Udemy
Udemy is becoming the most used online learning platform to learn Python, where students can get different courses available on Udemy. Udemy has the most extensive collection of systems globally, where you can find out thousands of courses for Python learning.
Most new trainers post their courses for free on Udemy when they first start their journey. It allows them to establish themselves on Udemy and get good reviews in the initial time. Some best courses for Python on Udemy are Introduction to Python Programming and Python for beginners, which you can choose to master your Python skills.
3. Coursera
If you are looking to learn Python from the world's top universities without paying a single penny, Coursera will give you different courses to learn Python. Stanford University, the National University of Singapore, and various universities offer free Python courses on Coursera.
You can go with these courses and enhance your problem-solving skills using Python programming. The courses will teach Python from its basics, we can say from zero, where you don't require any prior experience in Python Programming. You can learn Python for free from the courses, but you need to pay some amount to get a certification and take part in quizzes. It's up to you what you need to enhance your Python skills.
4. Microsoft (edX)
If Google is already allowing learners to improve their Python skills for free, how another tech giant, Microsoft can leave this opportunity to offer free courses for Python Learning. You can access this course on edX, which is another free platform to learn different new courses as per your choices. The course is named Introduction to Python: Absolute Beginner, where you can register yourself to learn Python for free.
You will learn to code on Jupyter Notebooks and other online platforms, where you can develop some fantastic web applications. The course duration is of 5 weeks, where you need to invest 3 to 4 hours of weekly learning. The course is free, where you can learn Python for entry-level software development. If you need a Microsoft certification, you can pay the fees, where you need to participate in quizzes to get the certificate.
5. Educative
Want to learn Python from the world's top instructors? Educative will offer you the best instructors from every corner of the globe to let you learn Python to develop agile software. Educative is a text-based online platform to learn Python, where you can learn this fantastic programming language and code using your browser. Educative will take you to the core concepts of Python, where you can set up a virtual environment to start coding.
If you seek the best online platform to learn Python, then Educative will offer you an agile course to learn Python. You will find some fun quiz on Educative to enhance your understanding of Python and become an expert programmer.
6. SoloLearn
If you want to pursue a modular crash course in Python as a beginner, then SoloLearn gives you different courses to start your journey as a Pythonista. The course is free for basic learning, but you need to pay if you want to go advanced into Python and choose your path in development.
Sololearn consists of some exciting quizzes you can attend to become a certified Python developer. This course is a perfect course for new coders, where you can find some of the best Python tutors online to start your Python journey.
7. CodeCademy
If you seek interactive learning for Python, then choosing the Codecademy course can give you a fantastic experience and enhance your Python programming skills. This course has some basic theory concepts of Python, which you can understand from scratch, and start advanced coding on Python.
CodeCademy is an interactive platform for those who are looking to strengthen their programming skills with Python. Python 2 course is available for free on CodeCademy, but you need to become a paid member if you want to pursue the Interactive Python 3 Course.
8. FreeCodeCamp
Free Code Camp is another platform to learn Python for free, where you can interact with the best Pythonistas. Free Code Camp has a YouTube page, where multiple technical courses are available, in which free Python Course is one of them.
This course introduces Python, which will take you to the different levels of Python learning. The videos are sufficient to make you a Python programmer in no time, and you can pursue your career in Data Science and Artificial Intelligence.
9. Python.org
It's not a cliche that tech giants are already offering free Python courses to programmers. Python.org offers original documentation of Python language, which is perfect for beginners and intermediates to learn Python.
The course will teach you from the core of Python, which is sufficient to enhance your skills in Python programming and offer you expertise in programming. You can learn advanced Python topics like libraries, which will allow you to develop different programs using Python.
10. Tutorials Point
This is one of the fantastic platforms to take your programming journey to the next level for free. Tutorials Point offers quizzes and self-assessments, allowing beginners to test themselves and get to the advanced level efficiently.
Tutorials Point has different advanced Python courses for free, where you can access advanced Python topics such as database, CGI, XML processing, networking, and game programming.
Conclusion
The above websites will offer you multiple courses to learn Python from basics to advance level. Python learning for free is accessible for those who have the will to learn this awesome coding language and enhance their problem-solving skills using Python. The above-listed top 10 free online Python courses will take your programming skills to the next level.
Read Next: The Best Beginners Tips For Learning Python