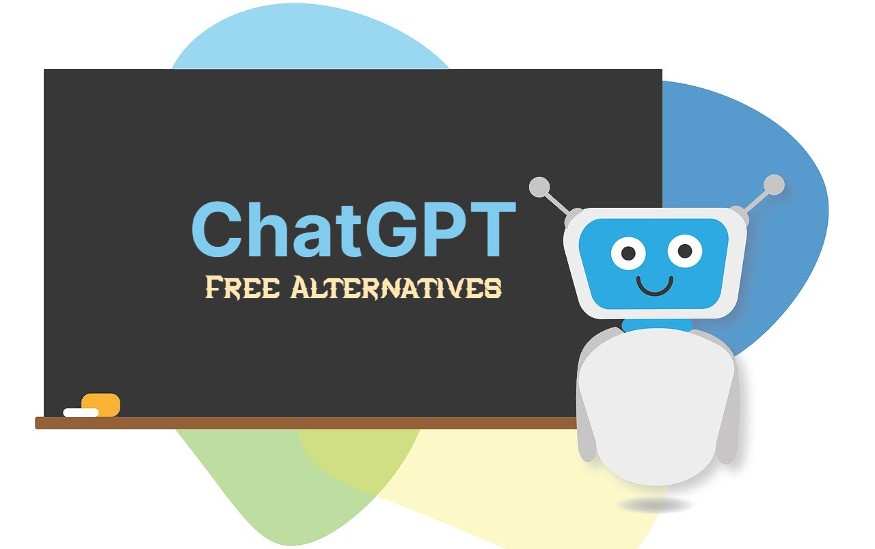 We all know that ChatGPT is rocking, and its users are satisfied with its intelligence. Apparently, it has become the fastest 100-million users gaining application so far. But, here came the twist due to which the users needed free ChatGPT alternatives.
Millions of active users, at the same time, overload the site with traffic and become inaccessible to many other users. Another reason that's why users are looking for free ChatGPT alternatives is its premium plan. Obviously, everyone is not capable of buying its premium plan. So, they are eagerly searching for the best free ChatGPT alternatives that have similar or the same features.
Are you one of these users and looking for the best free alternative for ChatGPT in 2023? Be calm, you are on the right page. This page includes the top 8 free ChatGPT alternatives to try in 2023. Make sure that you will check out all of these.
Top 8 Free ChatGPT Alternatives To Try in 2023
Here's the list of the top 8 free alternatives of ChatGPT in 2023. And you can't miss out on any of these as these ChatGPT alternatives are amazing and carry incredible features, whether it is AI writing, coder generator, research, question-answer, etc.
Google Bard AI could be the best free ChatGPT alternative and competitor as well. However, Google is yet to live the Google Bard for users across the world. Recently, on 6th February 2023, Sundar Pichai, CEO of Google, announced the launch of the advanced language model, Google Bard. The new AI service will be powered by Google's LaMDA (Language Model for Dialogue Applications).
According to the shared example by Google, Google Bard will be a chatbot similar to ChatGPT. The working model also could be the same, where users will ask their questions, and then the AI will perform the possible exact answer. It will allow users to regenerate the answer and give feedback for the betterment of its answer efficiency.
As mentioned, it is not launched yet, and all features of Google Bard are not official. But, we are expecting that it will come with all the features that ChatGPT has like searching, writing, translation, code generation, chatting, question-answer, image recognition, and many more. Apart from that, it could also have a premium plan like ChatGPT.
The second biggest rival and best free ChatGPT alternative we can consider is the upcoming Microsoft Being AI. Like Google Bard, Microsoft is also planning to launch its AI-enabled chatbot. As of now, it is not available to use, but the company has announced the launch of the Chatbot and also opened registrations for the waitlist.
Microsoft is launching this Being Chatbot in collaboration with ChatGPT. It will be directly installed in the Being search engine, in the form of a Chat section. Also, Microsoft said that it will be accessible only to Being users. Moreover, Microsoft is also providing a preview of the upcoming Being chatbot through some examples.
The mentioned features of Microsoft Being chatbot are question-answer, detailed search results, chatting, help in mail writing and meal planning, writing, etc. Apart from that, there is nothing mentioned like a paid or premium plan.
ChatSonic is an AI-enabled chatbot by a writing assistant tool, WriteSonic. Unlike the last two tools, this free ChatGPT alternative, Chatsonic, is available to use for everyone. ChatSonic has a freemium plan including free, premium, and business plans. Let you know, the free plan of ChatSonic has a limit of 10,000 words per month.
Talking about the features of ChatSonic. Along with some extra features, ChatSonic has all the ChatGPT features like searches, image generation, code generation, voice commands, text-to-speech, text generation, chatting, assisting, and many more. Additionally, it has the feature of personalization, which allows changing the chatbot personality to an English translator, travel guide, interviewer, stand-up comedian, poet, astrologer, etc.
The next free ChatGPT alternative is Poe by Quora. It can do a lot of things for you exactly like ChatGPT with the almost same interface. Even it generates answers faster than ChatGPT sometimes. Let you know it is an Open AI and Anthropic powered AI chatbot that was launched recently by its parent company, Quora.
And do you know what is the best about Poe? It lets you use multiple other chatbots like GPT 4 and ChatGPT on its platform. And you can easily switch between bots as you do on the WhatsApp desktop.
Talking about features of Poe. It allows you to do question-answer, translation, code assistance, suggestions, AI writing, etc. Apart from that, it doesn't have any paid or premium plan. As of now, it is completely free to use for everyone.
This Free ChatGPT alternative, Chat, is from the writing assisting AI tool, Copy.ai. The company officials recently launched the feature in the rivalry of ChatGPT. Let you know, it's not a separate tool, it's an in-built feature of Copy.ai.
Like all other ChatGPT alternatives, it is an AI-enabled chatbot that can be used for question-answer, research, writing, image recognition, code writing or assisting, re-writing, summarising, translation, and many more. Additionally, it also provides some templates for different uses like YouTube video descriptions, Social Media posts, articles, etc.
As mentioned earlier, it's a feature of Copy.ai, it doesn't need any separate paid plan. You can use the chatbot for free in the free trial of Copy.ai, which gives you 10 free credits per month. After using the given free credits of Copy.ai, you will have to upgrade to its Pro plan.
This free alternative of ChatGPT is interesting in comparison to others. It allows you to create your own multiple characters to chat with and to create Rooms to add multiple characters in it. Also, it has some featured characters to chat with for various categories like gaming, anime, movies, etc.
Like ChatGPT, all characters are very well capable of answering your question. You can ask it to write a blog for you, conduct research, copywriting, code writing, translate, any question, and many more. It also provides you with a featured image of each answer that you ask. Moreover, you can also ask a question and get the answer in voice instead of text with its character's voice.
The next free alternative of ChatGPT is Perplexity.ai. which is powered by various language models and search engines. It is an AI tool like ChatGPT, but it does not work exactly like ChatGPT. It directly answers your question without any conversational touch. And unlike ChatGPT, it mentions names of sources from where it collected your answers.
It doesn't have equivalent features to ChatGPT. You can only use Perplexity.ai for question-answering and conducting research. Apart from these two uses, it doesn't have such features that you can use for translation, writing, code generator, etc. But, it can refer you to the best tools for all these works. In short, it's a less smart ChatGPT alternative.
The last free ChatGPT alternative, Neeva.ai, is very similar to the last one with almost the same features and uses. It is not a chatbot like ChatGPT. Instead, Neeva.ai works like an AI-enabled search engine that answers your question very smartly. Unlike all other existing search engines, it gives a direct and exact answer to the asked question. Alongside this, it also lists websites that covered your question.
Like Perplexity.ai, you cannot use Neeva.ai for writing articles, generating codes, translating, image generation, and other ChatGPT uses. It can be used for research, question-answer, and assisting in personalized planning.
Final Thoughts
All the free ChatGPT alternatives seen till now have different uses. Some tools work like Exact ChatGPT, while some have different features as well. The tools that have the exact same features, you also call them the best free ChatGPT alternatives, are Poe by Quora, Chat by Open.ai, ChatSonic, and Character.ai. Although, the Google Bard and the new Bing are yet to come, also could be the best, or even better, free alternatives for ChatGPT.