Q&A websites are the places where you can post questions to get answers of your burning questions. These websites are really very useful for all of us. If you ever want to get answer for any of your questions, Q&A websites will help you a lot. So, in this article, I'm sharing list of top 5 most popular Q&A (Question and Answer) websites, where you all can get the answers of your burning questions.
Now, without taking your precious time, just move on to the list of these Q & A websites:
Answers.Com is an amazing website to answer your questions. Visit this website and you'll see a search bar where you can ask your question. Before posting your question to the community, Answers.Com will let you see some answered and unanswered questions related to your asked question. If you satisfied with any of their answers, read them out otherwise click on Submit Question to submit your new question in the community to get answers after a while.
Not only that, but here you can also enjoy more interesting articles on Technology, Health, Food, Entertainment, Business, Animals, Sports, etc. So, Answers.Com is one of the most useful and interesting Q&A sites you would ever find.
MUST-READ: 10 Common Interview Questions for Freshers
Yahoo Answers is the most popular Question-Answer site all over the world. If you want an answer to any question, just type your question in the search bar and hit enter. You'll see here many answered links related to your question. If they don't match exactly your question, you can post your own question in the Yahoo Answers community to make your question live among the thousands of visitors of Yahoo Answers to get different answers. But, to post a question, you will need to create a Yahoo account.
In addition, You can use Yahoo Answers specific for different countries such as in.answers.yahoo.com is the URL for Yahoo Answers India.
Ask.fm is the another popular Questions & Answers site. In reality, it is a social networking site where you can get answers to any of your questions. Visit the website and first of all, it will ask you sign up to create an account or log in if already have an account.
It was initially a form of anonymous social media but now it allows you to display your name publically while asking a question or do it anonymoysly. Ask.fm makes it very easy to ask questions and get asnwers on any topic.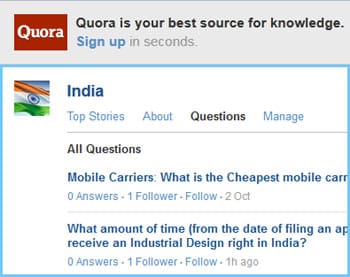 Quora is another popular and useful Q&A website to get the answers of your burning questions. When you visit the link, you must be log in to Quora to read the website. It means first of all you need to log in and then only you can access the content of Quora. But don't worry guys, you can log in with Google, Facebook or with Twitter and don't need to create a new account. If you don't have any of their account, you can also create a new account in Quora.
Quora provides many facilities instead Q&A. It means, you can create your own blog on Quora, increase your followers list and you can follow someone.
Stack Overflow is a leading sister site of Stack Exchange Network, a fast-growing network of 108 Q&A sites. Here you can read many existing answered and unanswered questions without logging in. But, if you want to post any question to the community, you must be log in. Don't worry guys, you can log in with Google, Facebook, and Twitter otherwise you can also sign up for a new Stack Exchange account. So, you can ask questions on any topic in your mind and surely will get the answer.
That's all!
CHECK ALSO: Top 10 Websites To Learn Coding Online
I hope you will like these all places to get answers for your questions. These all are the most popular and high ranked in Google and other search engines. So, don't suppress questions in your mind, just move on to any of these Q&A websites to get answers of your burning questions.