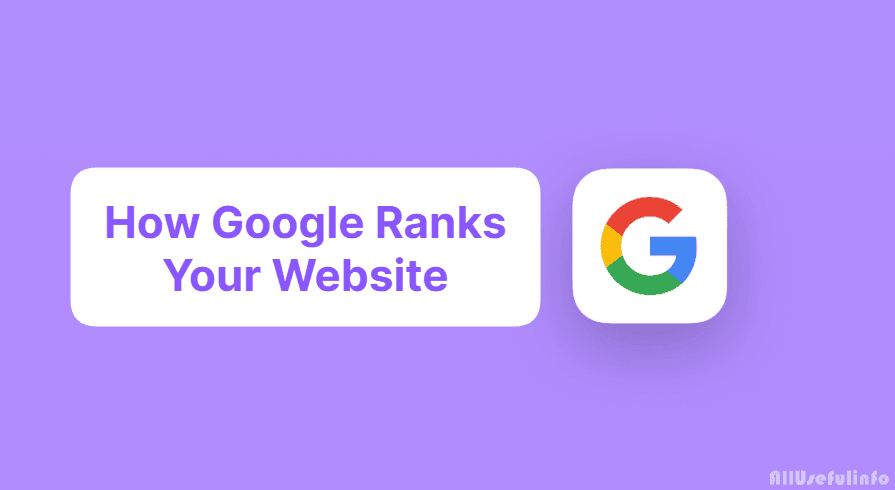 If you're new to blogging or content writing, the very first thing you should understand is how Google ranks your website. Gone are the days of inserting keywords into titles, descriptions, and posts. The main specialty of Google is that it always changes the search algorithm over time. So, keep in mind that Google has become more clever than ever before and only ranks the websites that are worth ranking after considering various factors.
Undoubtedly, the content is KING but without the power of the king's armed forces, it's likely impossible to win the battle. I mean to say, along with content there are many other factors too that Google considers to rank websites in search results.
In this article below, I listed 18 powerful factors that will help you understand how Google ranks your website. Google uses hundreds of different factors to rank a website but some of them are very important to understand in order to rank your website in search results.
How Google Ranks Your Website? [18 Powerful Factors]
According to some SEO experts and my self-experience, I found the following ranking signals very powerful and help Google decide how your website will be ranked in search results. Let's see, what are these factors:
1. Domain Age and Extension
There are several factors about your domain that Google sometimes considers for ranking your website such as the age and extension of your domain name. It is commonly seen that an older domain name has more authority than a newer one. However, if you don't provide quality content, even older domains don't rank well in search results.
When it comes to the extension of the domain name, this might leave some potential effect on ranking. For example, if you have a domain with an extension of .in, then your website will most probably rank higher in India as compared to other countries.
2. Title and Description
A properly written title and description of a blog post get more chances of getting higher rankings in search results. There is a certain character limit for the title and meta description that every webmaster should follow. However, many SEO tools and plugins are available that can help you to create SEO-friendly titles and descriptions.
3. Helpfulness of Content
On 18th August 2022, Google announced the Helpful Content Update for its search algorithm which is currently rolling out. According to this update, the more helpful content will be, the higher it will rank in the search results.
Google has certain guidelines and criteria to filter out which content is helpful for the readers and which isn't. We have also written a complete guide on Google's Helpful Content Update. You can read it out to understand how you can create helpful content for your blog readers.
4. Length of Content
Google these days focuses more on the helpfulness of the content than the length of the content. But, still, if you create all the articles on your website in short length just to manipulate search rankings, you might face a penalty from Google. So, although not more important but still seems to be a ranking factor.
5. Keyword Density
Although not as important as it once was, keyword density is still something Google uses to determine the topic of a webpage. Keyword density doesn't only help Google to determine the topic of a webpage but also understand how effectively the article is written.
If you bombard keywords in your blog posts just to get them to rank higher in search results, this keyword density factor will send negative signals to Google to not rank your website higher in search results.
6. Page Loading Speed
Both Google and Bing use the page loading speed as a ranking factor. So, this is very important to improve your website loading speed. As faster the website will load, the higher position it will get in search results.
There are many tools available on the Internet that let you analyze your web page loading speed. Even there's Google's own Pagespeed Insights tool can help you understand the issues with your page loading speed and fix them.
7. Links Pointing to the Website
This is where link-building comes into existence. However, Google hates link exchange or link buying, still, there are many SEO service providers that offer link-building plans. This is because good-quality links pointing to your website can improve your search engine rankings.
8. HTTPS URLs
This is another very common factor that every webmaster and blogger knows about. HTTPS is a protocol that servers your website content to the readers via a secured protocol. Google and other search engines rank HTTPS-ready websites higher than Non-HTTPS websites.
So, this is very important to make sure that every URL of your website serves over HTTPS. And to make it easy for new bloggers and webmasters, Google recently added an HTTPS report feature in the Google Search Console to easily find out which URLs are serving over HTTPS and which are not.
9. Grammar & Spelling
Content, written with improper grammar and incorrect spellings, can affect your search engine rankings negatively. This is a very basic thing that any search engine would consider for ranking any webpage on its search results.
10. URL Length
The length of your blog URLs can also be a ranking signal. It is seen that URLs with a short length rank higher in search results than those with long-length URLs. However, this can be one of the many other factors that determine how Google ranks your website. But, still, it should be taken care of while creating URLs for your blog posts.
11. Last Modified
This is something that Google clearly recommends webmasters use a Last-Modified response header. This helps Google find out when your website was last updated. So, you can ask your hosting provider to add support for the last-modified response header.
So, along with using the last-modified response header, you should also keep updating your website's old pages frequently to keep them fresh. The more frequently you will update your website, the higher your website will be ranked in Google.
12. Contact & Privacy Page
This is also a serious factor that Google considers when ranking a website in search results. This is seen that websites with appropriate contact and privacy information rank higher in Google search results.
13. Presence of Sitemap
Frankly telling, Google doesn't actually need a sitemap to crawl your website. Even if you don't create a sitemap, Google can still crawl your website and show it in the search results. But, the presence of a proper sitemap helps Google crawl your website more appropriately and rank accordingly.
14. Website Downtime
This is where the demand for a good and reputed web hosting company comes into existence. Website downtime can affect your website rankings in search results severely. So, if you really intend to rank higher in search results, choose your web hosting company wisely. Here's a list of the top 5 web hosting companies in India that you can try.
15. No Follow or Sponsored Links
It remained one of the most controversial topics in SEO. But, these days Google is very clear about the effects of different kinds of links on ranking. Actually, Google just wants you to be honest about these kinds of links.
It means if you are sponsoring any product in your blog post or writing a paid review, this is mandatory to add rel="sponsored" tag with the link otherwise Google may penalize you.
16. Bounce rate & Time on Site
Not everybody in SEO agreed that bounce rate matters but it is definitely a way for Google to determine whether the content is really helpful or not. It means if someone visits your page and bounces back and looks for other pages on the same keyword, this indicates to Google that your content is not helpful for the reader and so the Helpful Content Update may impact your website negatively.
It means the pages where people quickly bounce are not probably very good. So, the more time readers will spend on your webpage, the higher your webpage will rank in the search results.
17. Returning Visitors
This factor is also included in Google's latest Helpful Content Update. This new update focuses on creating content more for your website's existing readers than search engine visitors. So, if the visitors return more and more to your website to read your content, this indicates to Google that you are having helpful content and promotes your ranking in search results.
18. Social Media Interaction
Social media interaction of your articles or blog posts on different social networks is also somehow connected with Google's search ranking. The more your blog posts will get likes and shares on different social media platforms, the higher rankings your pages may get in search results.
So, it's always a good idea to allow your readers to share your blog articles on popular social media platforms like Facebook, Twitter, LinkedIn, Pinterest, etc.
That's all. These are the most powerful factors that Google might be taking into account to rank your website. I'm sure these points will help you know how Google ranks your website in search results.