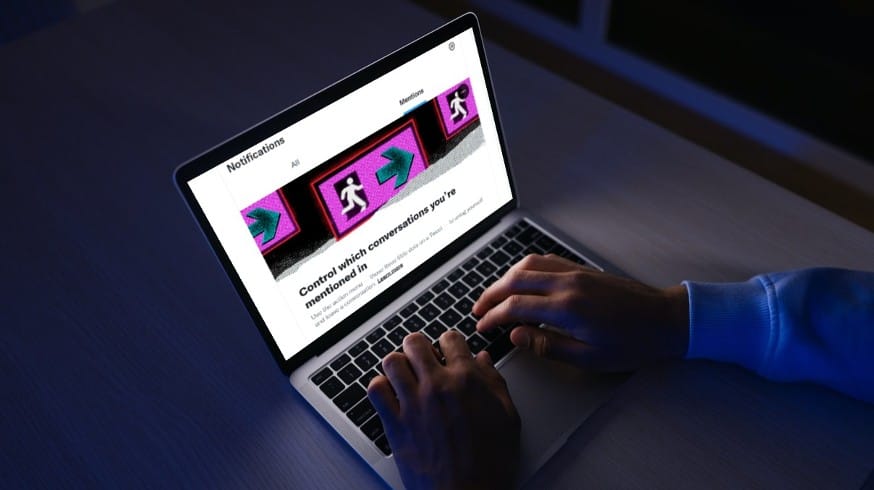 The earlier announced Unmention feature of Twitter is now rolling out for every user worldwide. With this feature, the micro-blogging website will let you exit yourself from any mentioned post. Well, to know how you can use Twitter's new Unmention feature, do not skip till the end.
In April 2022, Twitter proclaimed the Unmention feature by saying that we are experimenting with unmentioning – a way to help you protect your peace and remove yourself from conversations. At that time, this feature was available only on web versions, not for the app itself.
Now, after three months of the announcement, the Unmention feature is available for every user. Everyone can now use the feature to unmention themselves from any tagged post or leave ongoing conversations.
Sometimes you want to see yourself out.

Take control of your mentions and leave a conversation with Unmentioning, now rolling out to everyone on all devices. pic.twitter.com/Be8BlotElX

— Twitter Safety (@TwitterSafety) July 11, 2022
What Does Unmention/Untag Mean On Twitter?
Getting mentioned by any known or unknown person on Twitter is quite normal these days. But, it might bother you when you start getting tons of tiresome notifications of comments and retweets from the tweet. For sure, these notifications will make you irritated. What will you do?
You will desire to get out of there. Removing yourself quietly from a Twitter conversation with no notification to anyone is called Unmention or Untag on Twitter. Obviously, to give you peace and get rid of unnecessary notifications is the only purpose of the new Unmention feature.
How To Unmention Yourself From a Twitter Conversation?
There is nothing much to do to use the Unmention feature to leave any Twitter conversation you are tagged in. It is quite a simple process to do. You can use the below steps to be unmentioned on Twitter.
Go to the tweet in which someone mentioned you and you want to remove that.
Look for the three dots in the top right corner of the tweet, and click on the dots.
Now, click on the Leave this conversation option.
If you are using this feature for the first time, it will show you a popup screen for confirmation. To confirm, again click the Leave this conversation button.
That's easy! Now, you are no more part of that particular post and you will not get any notification from that post in the future. Although, the feature has already been rolled out for every user. Still, if you cannot use the feature, then you should check for recent updates of the application on PlayStore or the App Store.
Key Benefits Of Twitter's Unmention Feature
The new feature of Twitter has the most requisite uses. These benefits will help you a lot to keep you away from annoying tweets and replies. Some of the key benefits of the unmention feature are given below.
It will untag or unmention you from a particular post without any notification to the person who tagged you.
In that particular post, no one can mention or tag you in the future.
You will not get any type of future notifications related to that post.
Remember one thing: the unmention feature works for a tweet, and it applies to that particular tweet only. The same person can mention you again in future tweets.
Let me tell you that you can use the similar Mute feature if you want to mute any person, hashtag, word, or emoji forever. You can read a wholesome guide on what is Twitter muting and how to mute someone on Twitter in one of the previous posts. Once you do so, you will not get any notifications or suggestions from these hashtags, people, etc.