The popular Chinese smartphone maker Xiaomi also became popular in India. Other than smartphones it's launching many other products in market such as Power banks, LED lights, USB fan etc. But, according to some reports its fake products are also being sold in the market. Specially the duplicates of Mi power banks are being sold at rapid rate.
Generally it becomes very difficult to check if your Xiaomi Mi power bank is original or not. That's why in this article I'm aiming to let you know some of the differences between the original and fake Xiaomi Mi Power Banks.
A few days ago, I was shared some important clues to detect if your iPhone is not fake and it's the time for Xiaomi power banks.
Identifying the Fake & Real Xiaomi Mi Power Banks
So, if you're recently thinking to buy a new Mi power bank, it will be great if you read out the following tips to identify if the power bank is real.
#1. All Official Variants of Mi Power Banks
Xiaomi sells its Power Banks in the following 6 variants of different capacities, i.e.
Mi 5,000 mAh Power Bank
Mi 5,200 mAh Power Bank
Mi 10,000 mAh Power Bank
Mi 10,400 mAh Power Bank
Mi 16,000 mAh Power Bank
Mi 20,000 mAh Power bank
Out of these, the 5,200 mAh and 10,400 mAh variants are probably discontinued and you'll barely find them in the market. So, if you come across a Mi branded power bank of any different capacity other than the above six, it's absolutely fake.
There are many sellers selling a Mi branded Power Bank with the capacity of 20800mAh, but Xiaomi does not offer power bank with such capacity. So if you find any retailer selling a Mi power bank of such capacity, you shouldn't waste a second to decide that it's fake.
Read Also: 5 Low Budget Alternatives to Mi3 Smartphone
#2. Check Out 20 Digit Code on The Box
At the time of buying a MI power bank, you must check a sticker on the packaging with a 20 digit code. This is the most effective step to check if Xiaomi power bank is genuine.
All you need to verify this code on mi.com/verify and if you see a negative response, the power bank is 100% fake.
Mi power banks sold outside of China via official channels will not carry this sticker. So, to check if the power bank is real or not, you should check with other remaining tests.
#3. LED Lights Function While Charging
In a genuine Mi Power Bank at the time of charging when you press and hold the power button, LED lights will turn off and as soon as you leave the button, they will be light up.
But, in case if the lights are neither turning on nor off on pressing the power button, it means the power bank is not original; it's surely a fake one.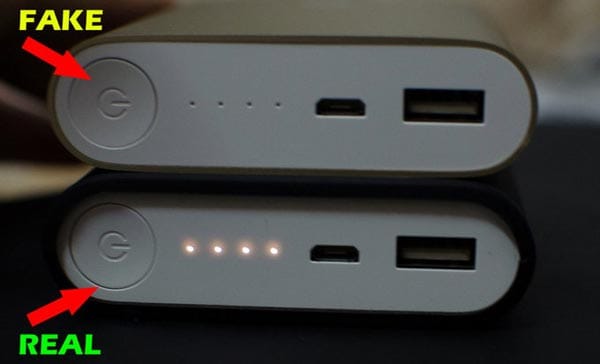 #4. Interior Color & Branding on USB Cable
The MicroUSB cable of the power bank doesn't include any Mi branding. If you see any Xiaomi power bank with such branding on the cable, it's surely fake.
Other than this, the original cable has black interior color whereas the fake power banks are being sold with white interior color of USB cable.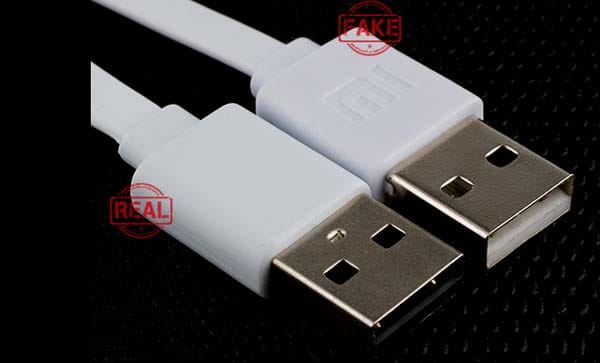 So, if you see any Xiaomi power bank cable with Mi printed on it and of white interior color, it's surely a fake power bank.
See Also: Xiaomi Redmi 2 Vs Micromax Canvas Spark
#5. Pass-Through Charging Capability
You can also judge an original Mi power bank with its pass-through charging capability. It means a real Xiaomi power bank will be capable of charge a mobile phone while it itself is being charged. If the power bank is being charged from a weak power source such as computer USB port, it won't able to pass through charge.
But, the fake power banks don't have this capability. They doesn't pass the power to charge any mobile phone connected to it while it itself being charged. So, it can be a strong test to check if Mi power bank is original or not.
#6. Color of USB Ports on the Power Bank
In case of original Xiaomi power banks, the interior color of the USB port and cable are opposite to each other. As I told you that the interior color of USB cable is black whereas front visible color of both of the USB ports of the real power bank is white.
A fake Mi power bank will have a milky white color on the standard USB port and black color on the Micro USB port.
So, if you see any Mi power bank with black interior of Micro USB port, it is surely a fake model of Xiaomi Mi power bank.
#7. Check out the Brand of Inbuilt Batteries
Original Xiaomi power banks always come with the branded inbuilt batteries from international brands such as Samsung, LG, Panasonic etc.
If you see any power bank with any local or non-branded battery, it's definitely a fake power bank.
#8. Text Printed at the Bottom of the Power Bank
You can also differentiate genuine and counterfeit Xiaomi power banks from the text printed at the bottom of the product. The genuine product's print is lighter and clear and the fake power bank's print is darker and blurry.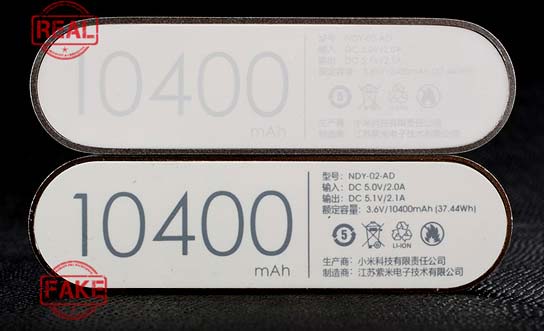 So, if none of the above method helped you to check if Xiaomi power bank is a real one, this one will definitely help you. Just check out the printed text at the bottom of the power bank and judge easily; just like as the above picture.
Must Read: 11 Clues to Detect if iPhone is Fake or Original
That's all guys! You must apply these 8 tests while buying a new Xiaomi Mi power bank. So, be careful while buying a new Mi power bank and don't forget to apply the above checks to avoid fraudulent.