Many times we see in our colleges, workspace or school that computer administrator makes the USB drives inaccessible and nobody can use their pen drive to get any type of data from PCs. On the other hand, you may also worried about stealing your personal data from your PC using pen drives. So, how often you witnessed the disabled USB ports in College or workspace, and how often you thought to disable your own PCs USB drives?
This article will give you 4 easy and most effective ways to disable your PC's USB ports or enable your workspace PC's USB ports very simply. So, don't worry if you found any blocked USB port because with the help of this resource you can easily enable USB posts of any Windows 7 or 8 computer.
You can also easily disable the USB ports of your Windows PC if you worried about stealing your personal data through external devices like pen drives.
Disable or Enable USB Ports in Windows PC
Now, look at the following four ways to disable or enable USB ports in your Windows computer very easily:
1. Enable/Disable USB Ports Using Registry
This is the widely used method to disable USB ports in your Windows 7 computer. To do so, you must have great knowledge about your Windows registry because on making any mistake, your whole PC may be crashed. But, don't worry. I'm here to guide you properly. You just need to follow these steps to disable USB ports using your Windows registry.
Go to Start Menu and open the Run command. Next, type "regedit" in the box and hit Enter.
Now in the Registry Editor navigate to the following key:
HKEY_LOCAL_MACHINE\SYSTEM\CurrentControlSet\Services\USBSTOR
In the right pane, select Start and change the value to 4. Click OK and it will disable your USB ports so that nobody will be able to access them via pen drives etc.
Anytime when you want to re-enable them, follow all the steps as they are described above but the only change you have to make is to change the value to 3 from removing 4. The value 3 will again enable the USB ports of your Windows PC.
2. Disable Ports by Uninstalling USB Mass Storage Drivers
If the administrators and really worried about the security of PC's data, then they may take the very powerful step of uninstalling USB Mass storage drivers from the computer permanently.
After uninstalling the drivers, all the USB ports of the computer will be instantly inaccessible and nobody can use pen drives and other drives into a PC. you should only apply this method if you also don't want to use USB ports anymore.
Still, if you want to re-enable USB ports of your Windows computer, then you must re-install the drivers of USB Mass Storage. So, when you plug-in USB drive, Windows will check for drivers, if not found Windows will prompt you to install the driver. After installing drivers, you can unlock your pen drive and access the computer via USB ports.
3. Enable/Disable USB Ports Using Software
You can also download external software to enable and disable USB ports on your Windows PC. You can download a free tool called USB Remote Drive Disabler. This software will help you to disable as well as enable USB ports on your Windows PC.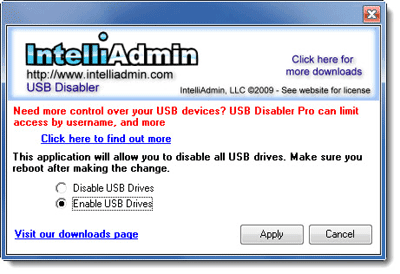 4. Disable USB Ports Using Your PC's Device Manager
If you don't like to apply any of the above-listed methods, you can easily disable USB ports using your Windows PC's device manager. This method is the simplest one and anybody can use it without any danger.
To disable USB ports using device manager you have to search for Device Manager in the Start menu search bar and hit Enter. Next, in the dialog box, look for Universal Serial Bus Controllers (USB) term and double click on the particular USB port to disable. Now choose the Driver tab and click on Disable. That's all!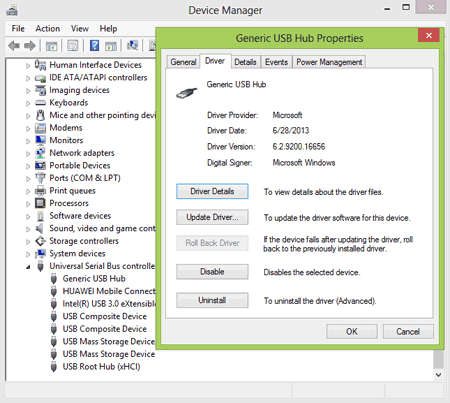 Further Reading:
There is a great danger in editing the registry and uninstalling USB drivers is also not a good option. That's why this method of disabling USB posts is the most appropriate and easiest.