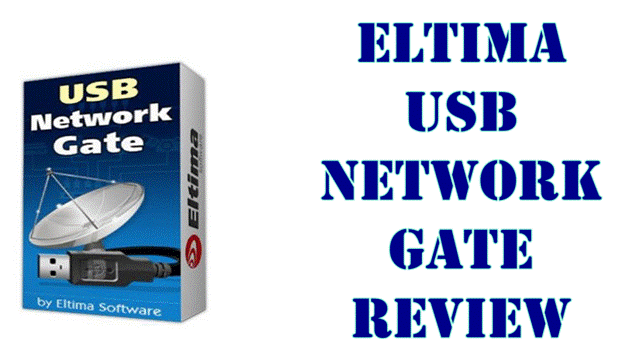 There are times when you need to use multiple USB devices, but can't connect them to your local machine directly. How to connect remote USB devices with your computer without much hassle? Is there a way out?
Yes, there is surely a solution for you. The USB Network Gate by Eltima Software is a powerful tool that lets you connect to remote USB device(s) from your local machine (PC/Laptop) and manage the files and folders in that device without any hassle.
How USB Network Gate Works?
USB Network Gate by Eltima Software is helping thousands of people around the globe to carry out a variety of tasks and manage endless problems of different kinds. It connects one or more remote USB devices to your PC over a network as if the device is plugged into your own PC.
Doesn't matter you are living in some other country or next door, you can always use the remote printer, scanner, modem, or anything else directly to your own PC. All you have to do is install this software on the client and server.
The client is your own PC while the server is the computer to which you will be connecting the remote USB devices to carry out different operations. You can even allow other users to carry out operations on your system from remote locations by making your PC a server.
Features of Eltima USB Network Gate
The USB Network Gate toolkit is packed with the most exclusive features. The users looking to access the remote devices without any trouble can definitely go with it. Some of its features to eye at are:
Share USB over the Internet/VPN/IP: A user can share one or more USB devices among different computers simultaneously. Once you are connected, you can utilize the capabilities of the server. A password can also be added for controlling remote user access.
Access USB Devices over Wi-Fi: You need not change your existing network configuration to allow your employees to share the new USB device. You can access it wirelessly from office desktops or laptops. Using this software, all your network users can work with the USB device(s) as if the device is connected to their local system.
Plug USB Devices in Blade Servers & Virtual Machines: All you have to do is install the USB Network Gate on a guest OS (blade server or virtual machine) and access all the USB peripherals from the remote virtual desktop.
Per Session USB Device Isolation: It is hard to find exclusivity in the USB device usage in the multi-user environment of terminal servers. USB Network Gate allows doling out a USB device to a particular user in the RDP session. This means that no other user will be able to access the device in that frame of time.
Access USB over Remote Desktop Protocol: When you are connected to a remote desktop, you may not be able to access the local USB devices. USB Network gate lets you work with the local USB devices during a remote session. Also, you can set the remote machine to detect and connect to the shared USB devices automatically.
Why Use USB Network Gate Over Others?
To be specific, it is hard to find a tool of the same ability as of Eltima USB Network Gate. There are a number of reasons to choose this software and a few of them are as follows:
Multi-Platform Oriented: This software is available for multiple platforms including Windows, Mac, and Linux as well.
Data Safety: This USB sharing software ensures that no third party can gain access to your private information without your permission. It ensures that highly-secured connection standards are provided by embedded traffic encryption. A password can also be added for controlling remote user access.
Optimize the Data Traffic: The Ethernet Connector Traffic Option allows you to improve the transfer bandwidth utilization and speed considerably.
Hot-Swap Support: You need not reboot your system to share a different device over the Ethernet. Unplug the currently shared USB and plug in the new one. It is that simple!
Pricing
A 14-days free trial pack is available for all users across the world. You will get access to all features of this software while using the trial pack. But, you will be able to share only one USB device.
To upgrade to premium, you need to pay $159.95 for a single license. You can upgrade the one-year plan to a lifetime plan by paying just $47.98 extra.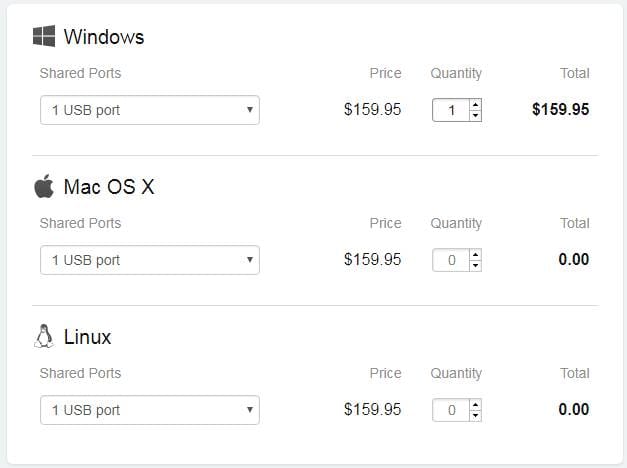 READ ALSO: How to Transfer Files Between Android & Mac
The Bottom Line
Eltima's USB Network Gate is a powerful toolkit that enables users to access remote USB devices efficiently without much hassle. Any USB device can be accessed remotely using this software.
Moreover, the owner can put restrictions to control remote user access. Overall, the software is a pure delight. Try this now and enhance the productivity of your team.