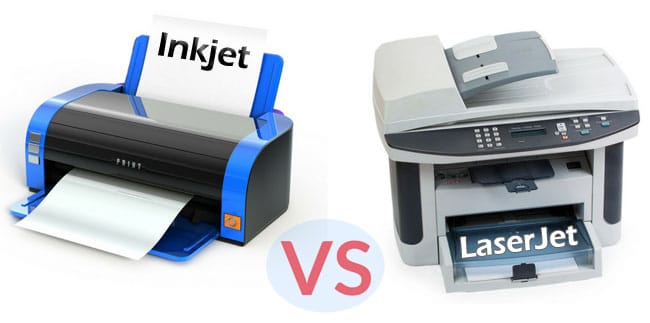 Generally, when you go for buying a printer, the basic confusion is whether to buy an Inkjet printer or laser printer. Both of these printer technologies have different characteristics, pros and cons that must be weighed by the consumer based on the genuine need.
If you're unsure which option is best, and what toner cartridges are required – let's review the comparison. Mostly the beginners feel great difficulty in choosing a right printer between both of them at the time of shopping. So, if you're also confused between Inkjet or Laser printer and having difficulty in choosing a perfect printer for your need, via this article I will help you take the right decision.
Inkjet & Laser Printer: The General Introduction!
Laser and Inkjet are two different type of printers available in the market. Laser and inkjet printers have toner and ink cartridges respectively.
However, the inkjet printers are least expensive as compared to laser printers. The black and white laser printers can be bit cost-effective but the color laser printers have higher price tag, often several times higher.
Inkjet printers come with ink cartridges which are actually less-expensive but have a higher cost per page when it comes to printing due to their rather inefficient usage of ink, whereas the laser printers are much more efficient with their toner.
Inkjet VS Laser Printer: Choose the Printer of Your Need
Following are the important factors that you should have in mind to choose a right printer of your need. These points will help you understand the difference between Inkjet and Laser printers so that you can easily choose right printer genuinely needed by you.
The Physical Size of the Printer
The size of the printer matters a lot when it comes to purchasing the one. It simply depends upon your preference and the purpose.
Generally, small size printers are recommended for home use as they consume very less space in your computer desk.
So, for your information let me tell you that Inkjet printers are relatively small in size as compared to Laser printers.
All-in-One Inkjet printers are a bit larger but are still typically smaller than a laser printer and much smaller than a standard office copy machine.
The Price of Printer
Price is the most important factor while buying anything. In terms of a printer machine, you should compare the price of different printers to choose the one with reasonable price, but without affecting the quality.
Inkjet printers have lower prices as compared to Laser printers, typically between $100 to $400, whereas the Laser printers may cost you from $300 to $2,000. The price range can vary depending upon the quality and brand of the printer.
Not only this, you should also think about the price of cartridges that will be used in the printer. Generally, Ink cartridges are relatively cheaper than Toner cartridges. However, it's true that Toner of Laser printer is more efficient as compared to Ink and gives the better print quality than Ink.
Maintenance/Printer Cleaning
When it comes to cleaning, inkjet printers sometimes don't stand the test of time. Cleaning an inkjet printer is not that easy task as inkjet cartridges can sometimes leak, and the ink can stain almost anything it comes in contact with, including clothes and hands.
However toner does not stain like ink and that's why cleaning a laser printer is not the messy as compared to an Inkjet printer.
So, from this perspective the Laser printer wins. Well, it's still upon you to choose any of these two printers for you without worrying about how to clean an inkjet or laser printer as there're many guides available on the web to learn the same.
Noisiness of the Printer
It's also a very important thing to consider while buying a new printer because if you're buying a printer for home use, it shouldn't be noisy.
So, let me tell you for your information that the Laser printers can be noisy a lot. They aren't known for their quiet operation, instead they're louder and might disturb you a lot when trying to talk to someone in person or on the phone.
So, What's Your Choice Now?
When you keep the above mentioned factors in mind while purchasing a new printer, it becomes easier to choose the perfect one according to your need.
For example if you are buying printer for home/individual use, you should go with Inkjet printer as it's typically small in size, cost-effective and doesn't create noise as compared to Laser printer.
However, the cleaning of Inkjet printer is bit difficult as compared to a Laser printer. But, it's not a big issue as you can call an expert for this or just do it yourself by learning from the guides available on Internet.
But, other than this, when you're willing to buy printer for business purpose, the main factors to consider are speed, efficiency, and high resolution quality of the prints. And, for your information let me tell you that the Laser printers provide the optimum speed, efficiency and the resolution, that's why it's the recommended solution for businesses or networks.
So, I hope now it should be clear in your mind that which printer technology to choose. If you still have any doubt or question in mind, feel free to ask via comments.