Have you ever heard about it? Today I tell you that you can use your Google Chrome web browser as a music and video player. No worries if you're lack of MP3 or VLC player on your computer, instead just go through your Chrome browser.
It is very easy to play any music or video file using Google Chrome and even easier than playing on PC using the original players. So, don't shock guys just wait and watch. I will tell you the complete procedure to use your Google Chrome browser as a music and video player.
How To Use Google Chrome As Music Player
First of all, I'm going to tell you – how to use Google Chrome browser as a music player? It's very easy guys. Have a look on the following steps –
Open your Google Chrome browser and restore down it.
Now, open the folder where music files are placed in your laptop/PC.
Now, Drag the Music file to Google Chrome URL bar.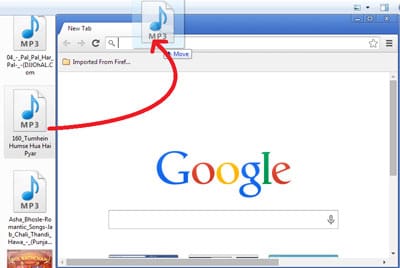 As you do so, the music file will start playing instantly like the following.
That's all, you'll feel yourself that how easy and interesting it is!
How To Use Google Chrome As Video Player
The whole procedure of this task is just same as the above. To use Chrome browser as video player, you'll need to drag and drop video file in Google Chrome URL bar and the video will start playing. The only thing to remember is that there must have Flash Player extension to play video in your Chrome browser.
Recommended Posts:
Conclusion
So, no need to worry whenever you don't have the appropriate music player or video player in your PC or laptop, instead just open Google Chrome browser and start playing video and music files without any external software in your PC.