You all would know very well that Google Chrome is the world's most popular web browser by defeating Firefox and Internet Explorer. Although you're daily using Google Chrome browser, I'm sure you wouldn't know about its lots of funny, interesting and useful tips. So, this resource will let you know about Google Chrome's interesting and useful tips.
For example, do you know you can use your Chrome browser as notepad, music player, or calculator? Do you know you can play an interesting game on Google Play when you're offline (not connected to Internet)? And many other Google Chrome tips and tricks you wouldn't know till now!
So, look at below and know about such interesting, funny and some useful tips of your Google Chrome browser.
RECOMMENDED POSTS:
Here're Some Useful Tips for Google Chrome Users
Primarily, I'm going to mention some of the Google Chrome tips and tricks that may be proven useful to its users. Have a look on each of them:
#1: Use Google Chrome task manager to manage your tabs
You would have used task manager in your Windows computer but have you ever thought that Google Chrome browser also comes with its own task manager. With this Google Chrome's task manager you can check the memory usage, CPU usage and even the data usage by each tab. You can easily end the process of any tab whenever needed. To open the task manager in Chrome browser, press Shift+Esc.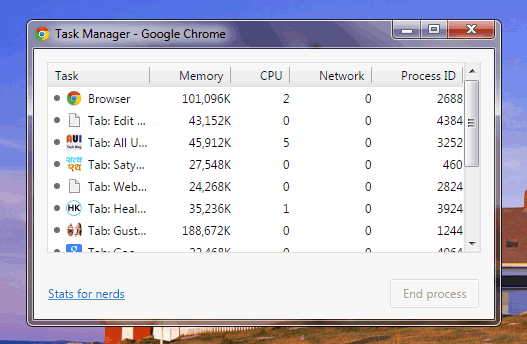 #2: Use Chrome browser as a notepad or HTML editor
However, this trick is not specially for Google Chrome but also works will all HTML 5 compatible web browsers. I found this useful for Chrome users and therefore listed here. So, if you want to use your Chrome, Firefox or any other HTML 5 compatible browser as notepad or HTML editor, then just paste the following code in the address bar and start typing on the screen.
data:text/html,<html contenteditable>
#3: Use Google Chrome as scientific calculator
It's also not only specifically related to Chrome browser but any browser can be used as a calculator. As here I'm listing some useful tips for Google Chrome browser, I thought to mention it as well.
To use your Google Chrome browser as a calculator (scientific calculator), right click on the screen, click on Inspect Element and then click on Console tab. Or you can directly press Ctrl + Shift + J to open Console. Here you can make any kind of calculations just like as in a scientific calculator.
For example, you can try the following calculation in your Google Chrome's built-in calculator.
Math.sqrt(144) + Math.pow(2, 6) 
Math.log(10000, 10) 
Math.floor((Math.random()*100))
Math.sin(90)
#4: Enable the OK Google to start using voice search
If you don't like to always type your query to search things on Google, then you can enable the voice search for your Chrome browser very easily. For this, you will have to turn on OK Google option from your browser settings. To do so, just go to your Google Chrome browser settings and tick on Enable "OK Google" to start voice search. As soon as you will do so, the microphone icon will be shown in the search bar so that you can easily search things by giving the voice commands.
#5: Browse web pages offline in Google Chrome
You might be thinking that how is it possible to browse webpages in Google Chrome when you're offline. But friends, it is 100% possible! You can view the pages of websites and blogs you previously accessed in Google Chrome.
For this, you'll have to enable the Load Stale button from Chrome's experimental flags/settings page. Go to chrome://flags,  look for "Enable Load Stale Button" and select Enabled. Finally, click on the Relaunch Now button found below the page or just restart your browser for changes to be applied.
That's all. Now you'll start seeing the Show saved copy button to load the stale copy of the webpage while you're not connected with Internet. Read this guide with screenshots here.
MORE STUFF FOR CHROME USERS:
Funny and Interesting Google Chrome Tips
Above you learnt some useful tips and tricks of Google Chrome browser. Now, its time to have some fun with Chrome. Here're some funny and interesting tips for Chrome users.
#1: Play game on Chrome when you're offline
Did your know your Google Chrome web browser has a hidden game and it's very addictive. You can play this game when you're offline. So, anytime when you're not connected with Internet can play this game in your Chrome browser to get rid of boring.
You don't to do anything special to start playing this game. In fact, when you're offline, you will see a dinosaur icon on the screen, so all you need to do just press the space bar and the dinosaur will start running. You just need to save him from obstacles.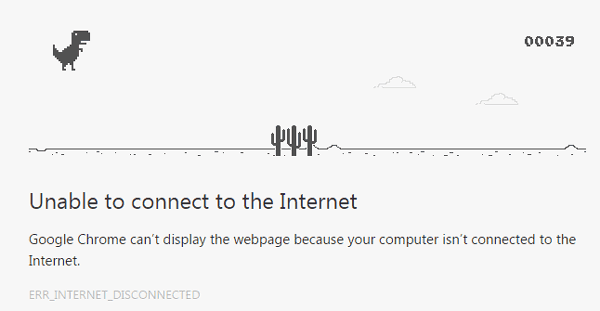 #2: Here's how to use Chrome as music or video player
It's another interesting trick for Google Chrome users. You know Google Chrome can be used as a music or video player. So, if you don't have a music or video player in your computer, you can easily use Chrome browser as a media player.
All you need to do is drag and drop the music or video files to your Google Chrome browser's address bar and it will start playing the file instantly. You can learn this trick with step by step procedure here.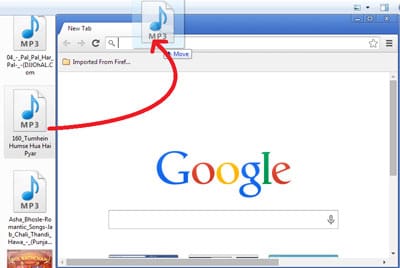 That's all for now. But, I will keep adding more and more Google Chrome tips and tricks. I hope you'll find this collection of Google Chrome tips useful and interesting.