In the age of smartphones the use of ordinary calculators has almost finished because every smartphone comes up with built-in calculator. But, when it comes to scientific calculator for complex calculations, every college student buys the one.
But, honestly if you're having an Android smartphone, you really don't need to buy a scientific calculator which might cost between ₹400 to ₹4000 because you can turn your Android phone into scientific calculator by using an Android app.

In this article, I'm going to share with you some of the best and free apps to turn your Android phone into a scientific calculator. So, all you need to install any of the following Android app in your phone and experience your smartphone as scientific calculator.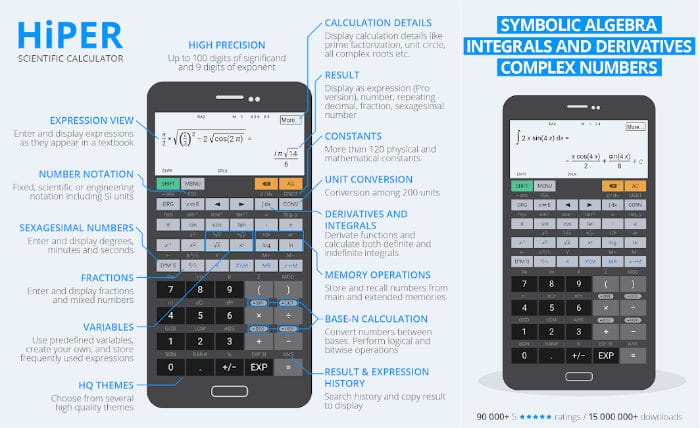 HiPER Scientific Calculator is one of the most popular calculator application for Android phone users which has up to 100 digits of significand and 9 digits of exponent.
This scientific calculator app has several functions such as basic arithmetic operations, fractions, mixed numbers, periodic numbers, variables and symbolic computation, derivatives and integrals, trigonometric and hyperbolic functions, powers, roots, logarithms, degrees, minutes, seconds conversion and many more.
The calculator has several layouts suitable for various screen including "pocket" for small devices, "compact" for smartphones (in portrait and landscape orientation) and "expanded" for tablets. You can turn on a multiline display in tablets to see the complete history of calculations and access to the previous results.
The Advanced Scientific Calculator app for Android comes with over hundred functions and provides science students with everything they need for most mathematical calculations.
Among the hundreds of mathematical functions, some of the main functions of this calculator include complex number calculations, matrix and vector calculations, statistics, and 40 metric conversions.
It comes with a standout feature of 2-line natural textbook display which displays fractions, formulas, square roots and other expressions as they would in textbook.
I found this calculator Android app highly rated on Google Play Store. It can help students perform major calculations easily and quickly.
You can use this Android app as an ordinary calculator for basic calculations such as addition, subtraction etc. and as scientific calculator for complex mathematical calculations such as trigonometric, logarithms and exponential functions.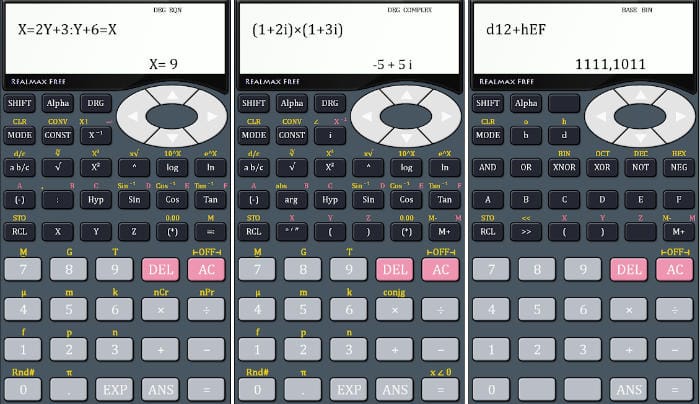 This is yet another scientific calculator app for Android users which helps students and businesses solve complex mathematical calculations quickly.
Along with all the basic mathematical operations it comes with many other scientific operations such as Trigonometric, Hyperbolic, Logarithmic, Complex number, Matrix Operations and many more.
This is a free engineering scientific calculator which supports most of the features of 500 ms 500 es 570 ms 570 es 991 es 991 ms and 82 ms & 82 es.
This scientific calculator for your Android phone supports over 500 functions, including fractions, statistics, complex number calculations, base arithmetic, derivative, integral, linear regression, standard deviation, computer science, and polar-rectangular conversions etc.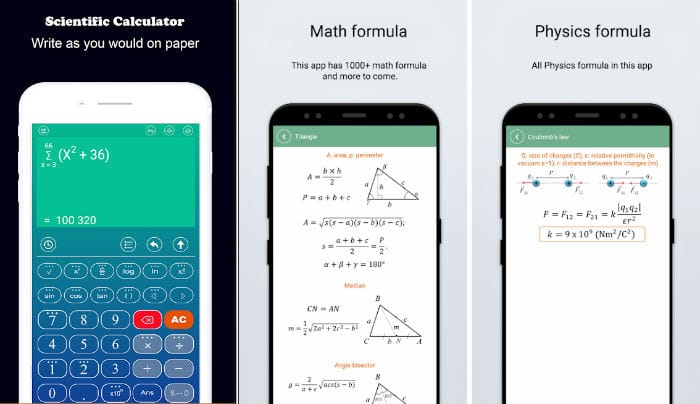 This Android app converts your Android phone into a powerful scientific calculator that includes standard, scientific, and programmer modes, as well as a unit converter, Math, Physics and Chemistry Formulas, graph and solve the equations.
This scientific calculator app supports most of the features of real calculators such as Casio fx570ms, fx570esplus, 570vnplus. You can save the history of your calculations to view and edit later.
This is another free Android app which turns your phone into a scientific calculator. It comes with Basic, Advanced and Graphing modes so that you can operate it easily.
It not only helps you solve the complex mathematical problems like Trigonometry, log, exponents, Fraction, Linear and polynomial equations, Basic statistical functions, Binary, decimal and hexadecimal operations but also the full color graphs in Graphing mode.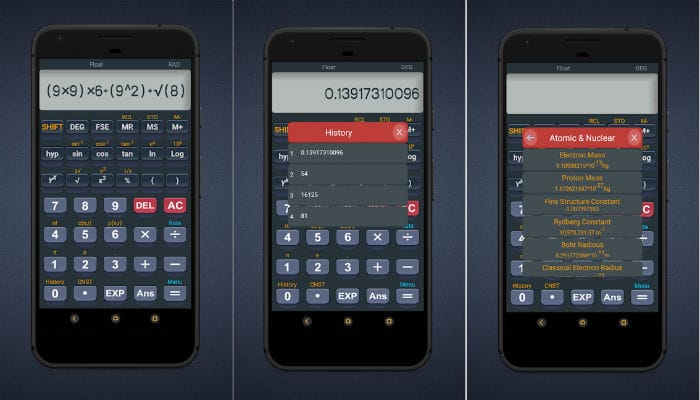 Stellar Scientific Calculator app for Android gives you an exact feel of a real scientific calculator. It is one of the most realistic well designed scientific calculators in the market.
Steller Scientific Calculator helps you with fractions, complex numbers, advanced statistics, and history & memory registers as well as trigonometry formula functions using Sin Tan Cos. This calculator app allows you to view previous calculations history and allows you to save previous calculations.

Should You Really Use Android Apps For Scientific Calculator?
Weather you're a business person or a student, scientific calculators are used in various tasks for complex calculations. This is an article for those who really won't want to spend money for buying a scientific calculator. You can instead install any of the above mentioned scientific calculator app in your Android phone.
Is it good for students to use Android apps for scientific calculator? I say YES. This is because these Android apps work exactly as your physical scientific calculator. But, in most exams Android phones aren't allowed, you can only use a scientific calculator inside the exam. So, in that case, you'll have to buy a scientific calculator from the market.
But, still you can keep any of the above scientific calculator app in your smartphone for the time you miss your calculator at home or just lost somewhere. In such situations you can always have your scientific calculator in your phone to use it any time, anywhere, on the go.