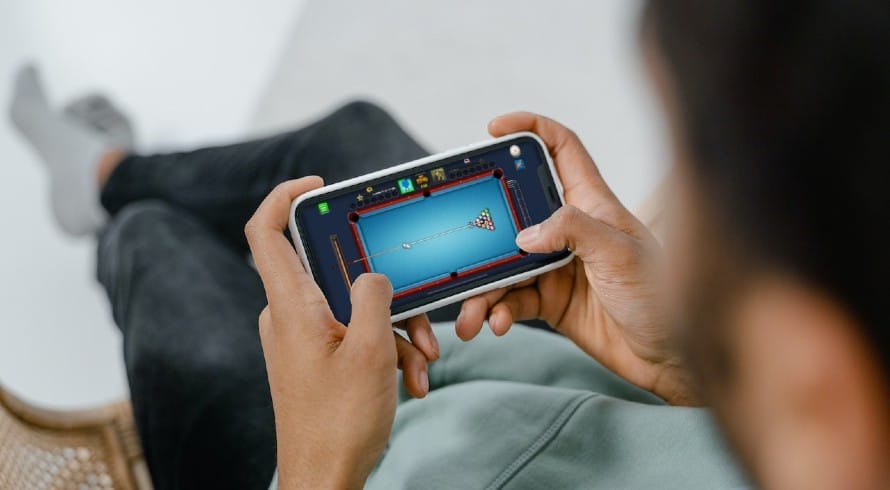 The year 2022 proved to be a happening year for the gaming industry. Many companies have launched new games. At the same time, different governments have banned different games. So, throughout this year, being a mobile gamer, I downloaded different games on my iPhone and uninstalled many of them, but some of them remained my all-time favorite.
Also, we see how commercialized the games have become, and because of all this, iPhone users have been affected a lot just like anyone others. It is very difficult to find free games on the Apple App Store. But, it doesn't mean only paid games are available on App Store. You can find many free iPhone games to play this year 2022 with some in-app purchases.
There are many free iPhone games that are not only maintaining their existence on the Apple App Store but are also very popular. Here, I am going to list the top 10 free iPhone games to play in 2022. The criteria we used to filter these top 10 iPhone games is their popularity. These games are downloaded and played in large numbers in the year 2022.
Top 10 FREE iPhone Games To Play This Year 2022
So, here is our list of the top 10 free iPhone games to play this year. While creating the list, I have kept all types of players in mind, so you can be relaxed. I have added almost all the categories' games to the list.
Do you like to play Pool games? If your answer is yes, this 8 Ball Pool game by Miniclip will fascinate you. Let me tell you how famous the game is. 8 Ball Pool has been recorded in the Guinness Book as the title of the most downloaded Pool game.
8 Ball Pool is a smartphone game based on real Pool games' theory. Here you will be enjoying the same as you feel while playing a real Pool game. The game follows the same rules as the real game. You can play it on your iPhone with any stranger, your friend, or with a team.
And the best part is that you can play as a guest here without any login. If you want to play it with your friend or in a team, then you will have to log in to it. You can use your Facebook or Miniclip id for logging in or signing up.
The 8 Ball Pool game is free to download and play on your iPhone. If you want some customization, like changing the Pool table or stick, you can use the coins. Either you can earn the coins by winning in the game or buy them from in-app purchasing.
I don't think there are any of you who don't know about the Ludo game. After all, it is a traditional game that almost everyone used to play since childhood. Now, because you are looking for free iPhone games to play this year, Ludo King can be your choice to refresh your childhood memories.
Although a lot of other platforms are available where you can play Ludo, Ludo King is one of the best applications to play it. Even it is one of the 10 most downloaded games on Android. In four various modes, you can play Ludo on Ludo King. And all four modes are; Play With Computer, Play Online, Pass & Play, and Play With Friends.
Along with playing with family or friends, you can also play online with anyone you know or not. It allows you to play individually or in a team. Moreover, the Ludo King has a voice feature, which will help you to have a conversation with other players while playing.
You can download and play Ludo King for free from the Apple App Store on your iPhone. Some in-app purchases are there, where you can buy coins and diamonds for the game. Also, the above-mentioned feature, Voice Chat, is a premium feature, you have to pay for it.
Again, a worldwide famous game in the series of free iPhone games to play in 2022. People of every age group love to play this game. They love it because playing Bubble Shooter is a worthy time pass.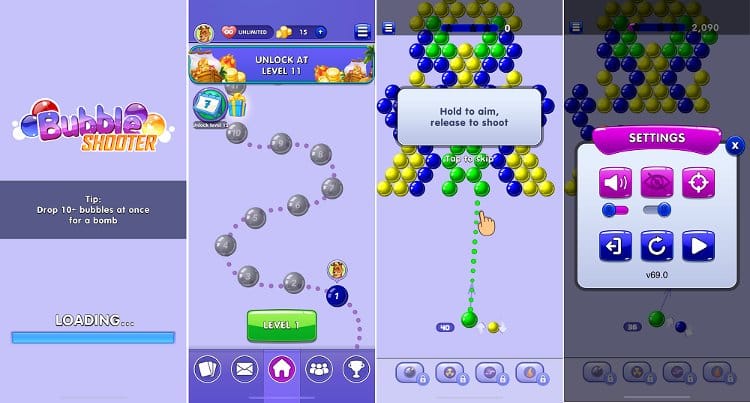 Its name, Bubble Shooter, defines its gameplay. Like all other similar games, you shoot the bubbles in this game. You see many balls of the same color and burst them by hitting them with the same color ball. The same procedure will keep going and you can keep playing it for hours and hours.
Its thousands of levels and various types of puzzles don't let you get bored. Let me tell you that the Bubble Shooter game has a very simple interface, and it doesn't have complicated features. Although, one interesting feature that I like is its Retro Theme that maintains your interest in the game.
The Ilyon-owned game Bubble Shooter is completely free to download on your iPhone. The in-app purchasing that the game offers is coin purchasing. You can play this game and pass your free time without getting bored.
Here comes one of the most interesting games for kids. It's not like only kids play this game, but they enjoy it the most. If you are here as a parent and looking for a free iPhone game for your kid, let your kid play Subway Surfers.
Subway Surfers is about the interesting endless running on the train tracks of three characters; Jack, and a Policeman with a dog. Jack runs on the tracks and the other two run after Jack to catch him.
While running on the track, Jack has to keep himself safe from the train without being caught by Policeman and dog. During the race, Jack collects coins and various rewards. To make the game fascinating, Jack can run faster with a 2X Speed Booster reward and also can fly over the bridges and trains with the gained Hoverboard.
You can download Subway Surfers on your iPhone without paying any amount. You can easily earn coins by playing the game or buying from in-app purchases. After all, because this game is for kids, it doesn't have more in-app purchase features.
Do you like to solve puzzles in your free time? If your answer is yes, this game is for you. Millions of people around the world have this game installed on their smartphones and play it in their free time. And I am sure you will like it too.
The game has three types of puzzles to solve. As the name shows, all three types of puzzles are made from different types and colors of candies. Every puzzle has various candies, you just have to align any three same colors of candies. When you align all the same colors of candies, you will be at the next level of the game.
But wait, it's not that easy. A twist is there, and that is you have limited moves to arrange and align the candies. Apart from that, you can compare your score with your friends. The game is completely free except for some exclusive features. Like if you want to have extra moves & lives and a bar package, you will have to pay for it.
Many cricket games are available to play on your smartphone but not all of them have the features to resemble real cricket. That's why real cricket lovers are always seeking authentic cricket games that resemble real cricket. If you are one of them, I would recommend the Real Cricket 20 game.
By playing cricket on Real Cricket on your iPhone, you will feel like playing cricket in real life. The game has effective visual effects and graphics that will make you feel that you are facing everything in reality. As a batsman in the game, you will see all the ground visuals with a player's eye.
The game has a lot of realistic cricket features like commentary, cricket highlights, unique jerseys, DRS with a third umpire, etc. You can play the Real Cricket game individually, with a team, or with a computer.
Real Cricket game is available on Apple App Store for free to download. In the case, you want extra features like Pro Monthly Kit, Advanced Kit, Extra Overs, etc., you have to pay charges for it.
This one is a game of war. The game is for people who love to survive on a battlefield and are fond of guns, shootings, and violations. If this is your type, you should try it.
Basically, it is a game where you have to survive on the battleground among nearly 100 other players. That one player who survives till the last will be the winner. The twist in survival is all players in the game have different weapons and they try to kill other ones. The battleground in the game has the theme of the second world war. Players can play it as a solo player or can also play in a team of 2 to 4 players.
The game has a long series, and the latest one is the 7th series Call Of Duty. You can download and play this game for free on your iPhone. It offers some coin packs in in-app purchasing, you can buy them and use them to unlock weapons and other tools. Here're some COD Warzone tips that you will love you know before playing it.
I thought since we are listing almost every category of games in the series of best free iPhone games, why not add a game from diving or vehicle-related categories? In this order, I added one of the best free-driving games.
Dr Driving has rich graphics and visuals that make you feel like a real car driving on the road. It gives you a complete 360 view of the car, which helps you a lot if you are a new driver in the game or in real life.
Probably, the game has all real traffic and driving norms. You will be out of the game if you break any of the game's rules. Moreover, there are many levels in it, and on completing them you get different rewards. Apart from the rules, rewards, and features, if you love to drive, then you will enjoy the game.
The game is completely free. Coins are available in In-App Purchase, which you can use for the customization of the vehicle. Although there is no need for this because you can easily earn by playing game too.
Have you ever desired to fly a fighter plane and take part in a war where you are flying a plane? I am pretty sure you will like to experience it. So think now if you are allowed to do this through a game, how will you feel? Let's make it happen.
1945 is a war field game where you will be in the role of a pilot of a fighter plane. Here, you will be assigned some tasks to take over the marked areas by doing airstrikes in those areas. While you are doing an airstrike, you will be getting counterattacks on you. You have to keep yourself and your aircraft safe.
To make the best strategy, you can team up with other players or your friends. The game has 30 war zones and it runs 350 campaigns. The game allows you to customize your plane or upgrade to other planes of the USA, USSR, Germany, Japan, and Great Britain.
Except for some extra starter packs and gems packages, there are no charges for anything in the app. You can download and play the 1945 Airplane shooting game completely free on your iPhone.
Do you know about Township games? The games where players make houses, shops, fields, and many other things are called Township games. People just love the process, in which they do farming, selling the crops, getting the worth of crops, and then using the money to build other infrastructure. It is really interesting. A lot of Township games are there but we are suggesting Virtual City Playground for iPhone users to play this year 2022.
All the Township games have almost the same gameplay but different games have different features. And this is the reason for listing Virtual City Playground, as it has more features comparatively. Along with building infrastructure, decorating buildings, etc, it has a public event organizing feature and 500 uplifting quests. Moreover, the app gives you 200 buildings, landmarks, and decorations for the city's beautification.
The Virtual City Playground is available for free to download and play on your iPhone. All of its features are available for free. You can get some extra diamonds and credits by making payments inside the app.
Minesweeper is easy to learn and provides an endless source of entertainment. The classic puzzle game requires players to strategically uncover tiles on a grid, aiming to avoid hidden mines while using clues provided by nearby numbers to deduce their locations.
While the game is simple, it requires players to use their logic and reasoning skills, the more you play, the better you get.
Backgammon is a classic computer strategy game where players compete to move their pieces across a board, utilizing dice rolls to make strategic plays in an attempt to block their opponent.
The free game can be enjoyed for players of all skill levels as you can grow your skills against their computer.