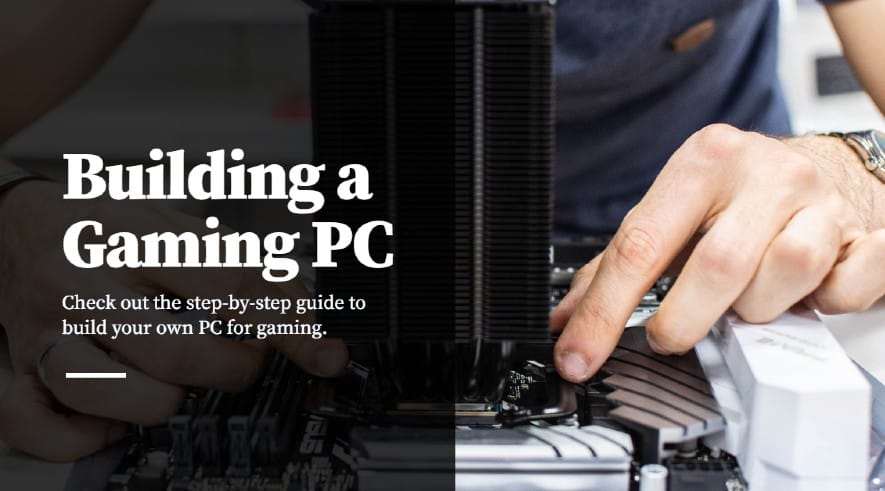 Are you facing boring lockdowns and have nothing to do instead of watching the sky? You can go with PC gaming to get an exciting life, and you can even choose gaming as a career. There is a gamer community where many gamers are using their passion for earning money. A gaming PC is something that you can make from your hands, and this guide is all about how to build a gaming PC.
If you can do some tasks on your own, like opening a PC box, you can build your PC at home. All you need is to understand the hardware, and you can prepare your gaming PC from scratch. Let's get into the accessories and how you can build your gaming PC quickly.
Essential Components to Build a Gaming PC
When you are new to gaming PC, you need to be a PC part picker and find the best hardware for gaming PC. It will help you choose the best for your gaming, and you can build your PC at home too. Regardless of your choice for Desktop PC, the hardware will be similar, but only a slight change of their capacity will matter when you choose a PC for gaming.
Before starting building a PC at home for gaming, you need a CPU Case, Motherboard, RAM, Graphics Card, and a high-speed processor to complete your system.
Motherboard
A motherboard is a circuit board, which is the heart of your PC. You need to be aware of the best and reliable motherboard you can use while building your gaming PC. The motherboard is the highway, which lets the system components communicate with each other. It is the core of your personal computer, where you will need some awareness before installing it.
To buy a motherboard for gaming, you can choose the best fit motherboard per your PC case. There is a list from where you can select the best motherboard as per your needs.
MSI MPG Z490: This motherboard supports Intel processors, where you can choose the processor as per your requirements.
Gigabyte H410M: You can bid on this incredible machine to get a smooth gaming experience.
ASUS ROG Maximus Hero: This is a high-performance gaming machine that gives you fantastic experiences when you start gaming on the system.
How To Install A Motherboard?
Installing a motherboard is an easy process, where you will need some screwdrivers and the CPU case. Put your motherboard on the PC case, and follow the screw patterns on the casing. Use the screws on the motherboard and tight them. It will let your motherboard be installed on the PC and fix their efficiency.
Processor
The processor is another vital component of your gaming PC because it is the speed factor in every PC. Whether the PC is for gaming or general use, you will need a fast processor to get good speed while using the system.
Some of the best processors you can take to experience high-speed gaming are:
Intel Core i5: Intel is the most used CPU for professional and personal PC use. Intel i5 is perfect for gamers who want to get high-speed gaming without affecting their pocket.
AMD Rayzon 9 5950X: This is the best processor for gamers, which allows them to get uninterrupted gaming. AMD is a leading CPU Company that develops high-speed CPUs for gamers.
Intel Core i7: One of the latest processors from Intel which offers good speed to gamers when they start as a beginner. You can install this processor to enhance your gaming experience.
How Can You Install A Processor On The Motherboard?
There is a space on every motherboard under the fan to install the processor. You need to remove the fan using the locks and open the panel. The panel is adjusted with a lock, which you can easily remove. After that, put the processor on the case and gently place the lock again. You need a cooling paste before putting the fan on the CPU. It helps the CPU to release the heat through the fan and resist overheating.
Graphics Card
A graphics processing unit (GPU) or graphics card is a crucial component to build a gaming PC. You can choose the best graphics card to enhance the gaming experience. Some of the suggested hardware which you can buy for high-speed gaming is
MSI Geforce GTX 1660: If you are a high-speed gamer, this graphics card is the perfect choice to build a gaming PC.
ASUS AMD RX 6700 XT: If you want to get smooth gaming, you can also go with ASUS 12 GB graphics card, which will enhance your gaming experience and give you smooth gaming.
Gigabyte Nvidia Geforce RTX 3070: One of the great graphics cards that support smooth gaming and high graphics games.
If you don't want to invest in expensive graphics cards, we have a prepared list of the best graphics cards under 5000 INR. You can also check it to select the best graphics cards for gaming.
How To Install Graphics Card?
Installing a graphics card is an easy process. Put your graphics card on the PCI slot on the motherboard, and push it. The lock will make the sound to confirm the installation. Also, you can check out "How to Install Graphics Card on Your Desktop PC?" for step by step understanding.
Storage
The closet for every gaming pc, where all the data will get stored. You need to take a storage device that will hold ample data that you will use while installing high graphics games on the PC.
You can choose the storage device from the list to give you the high storage capacity to store your data.
Samsung T5 1 TB SSD: It is a device that will give you plenty of storage to load games and play them effectively.
Western Digital 1 TB SATA HDD: HDDs are not in trend now, but you can choose if you don't want to enhance your expenses while building a gaming PC.
Crucial MX 500 Internal SATA SSD: It is also a perfect storage device for your system, which will give you a high-speed gaming experience.
How To Install a Storage Device on a System?
If you use SATA Storage devices, you can put the cables on the port and enjoy gaming. You can also use a 2.5 inch to 3.5-inch cable convertor to install SSD on your devices.
RAM
RAM is a short-term memory for the PC, but it is crucial for everyday PC use. As you want to set up a gaming PC, you will need high memory to enhance speed.
You can choose the best RAM for your PC from the suggestions and prepare your gaming PC easily.
Corsair Vengeance LPX 16 GB RAM: A 16 GB RAM is crucial for high-speed gaming without interruptions. You can buy this one from online marketplaces.
Crucial RAM 8 GB: You can also go with 8 GB RAM if you use a high-speed graphics card on the system desktop.
How To Install RAM on Desktop?
Motherboards have a slot for RAM, where you can install your RAM for high-speed gaming. Before taking the RAM, make sure to check the motherboard slot. Choose the RAM accordingly and gently place it on the RAM Slot. The lock on the space will bind the RAM, and your PC is now ready for gaming.
Conclusion
After putting all the components together, your gaming PC is ready for a boom. You can close the case with the help of a screwdriver and install the Operating System on the system to enjoy gaming. Now your gaming PC is ready to use, and you can choose the best games to enjoy your free time.