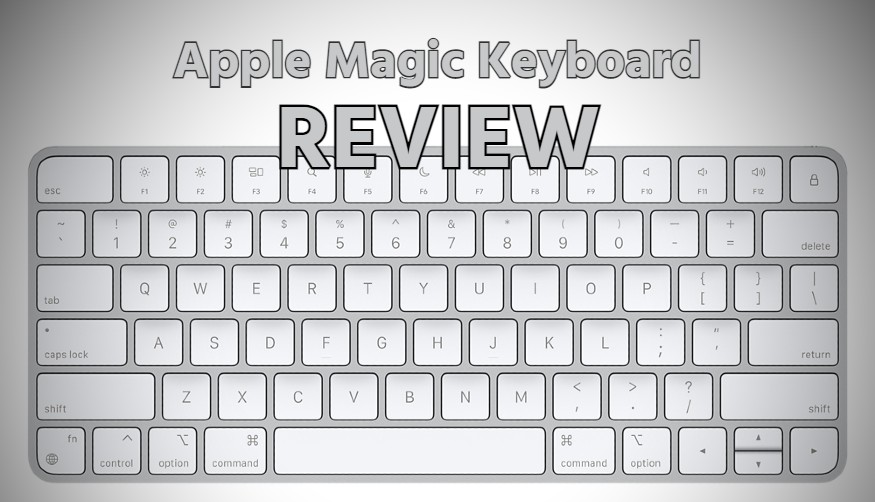 Customers are consistently surprised by Apple's cutting-edge gadgets. The creation of the magic keyboard demonstrates it well. The new Magic Keyboard for iPad Pro is also in vogue and well-liked. Although many other cutting-edge keyboards have achieved a milestone, the Apple Magic Keyboard is uniquely positioned when discussing keyboards.
The main motive behind introducing Apple Magic Keyboard was to present a default keyboard for Apple devices. As a result, you can integrate Magic Keyboard with your iMac, MacBook, iPhone, Apple TV, and iPad.
Many people want to know what makes Apple Magic Keyboard different from other available Keyboards. Is there any magic in this Magic Keyboard? Is it worth its price? I will discuss all the points in this Apple Magic Keyboard Review, which will help you to decide whether you should buy the Apple Magic keyboard or not.
Apple Magic Keyboard Review: Why Buy and Why Not?
There are different variants of the Apple Magic Keyboard available that support different Apple devices. Some Apple Magic Keyboard variants support only specific devices and some provide compatibility with all Apple devices. Most features in all Magic Keyboard variants are the same, with different sizes and colors.
People are always captivated by Apple products. However, opinions are divided between several social networking sites and independent websites. In this review, I will discuss its advantages and limitations based on basic and highlighted features.
After reading this you find out the inside and outside features of the Apple Magic Keyboard like speed, compatibility, missing features, and other important aspects of this keyboard. So without wasting time let's have a glance over its advantages and limitations.
The Advantages of Buying Apple Magic Keyboard
So, if you are looking for genuine reasons to buy an Apple Magic Keyboard, read the following advantages of purchasing an Apple Magic Keyboard.
Fast Speed and Key Navigation
Apple Magic Keyboard is a membrane keyboard that takes less time to type and gives you a smooth typing experience. The Scissor mechanism used in this keyboard makes the speed and navigation of keys fast.
As per Apple Magic Keyboard reviews, It is perfect for long-time typing work. Play pause buttons, navigation, and function keys are available in Apple Magic Keyboard with Numeric Keypad.
Attractive and Sleek Design
This keyboard looks like magic in white color. It has a glossy finish on the backside and it is easy to set up anywhere. The body is so thin that you can carry it anywhere easily. One more color option for Apple Magic Keyboard with a numeric keypad is available which is Space Gray.
The size is thin and small that you can carry and set up anywhere, and you can also place it on the inbuilt keyboard of Mac as the size of the inbuilt keyboard is similar to Apple Magic Keyboard.
Travel Friendly
The keyboard is extremely lightweight with a durable battery which makes it ideal for frequent travelers. Some users also shared their experience that the size is small and thin that they can pack in a bag and travel anywhere easily.
Smart Connector
The process of connecting the Magic Keyboard is simple. You don't have to make extra efforts to communicate with a Mac, iPad, or iPhone. It attaches easily via Bluetooth or cable.
Long life Battery
The battery used in Apple Magic Keyboard is rechargeable and environmentally friendly. It will last approx. One month once you charge it. You don't need to charge it again and again or regularly.
Noise-free
Usually, keyboards make a sound while typing fast, but there will be no such issue with the apple magic keyboard. The main reason behind the noise is the distance between keys, but in the Apple Magic Keyboard, the space is less, and the scissor mechanism makes it smoother so that you can enjoy quiet typing without unnecessary noise.
Fix Connection Issues Easily
You can fix connection-related issues by resetting the keyboard. To reset your keyboard, press and hold the shift and option keys for some time. Then find the Bluetooth option from the menu bar. Select debug option from the Bluetooth window. Now debug menu is visible on the screen, select "remove all devices" from this menu. After this, set up your keyboard with the device again with a new setting.
Limitations of Apple Magic Keyboard
We have discussed the advantages and features of the Apple Magic Keyboard, but it has some limitations also. Let's explore another side of the Magic Keyboard together to check, Is Apple Magic Keyboard Worth buying?
High Latency for Gaming
This is sad news for game lovers that they won't experience any magic while using the magic keyboard for gaming, as 30 ms latency is too high.
Lack of Backlit
The backlit feature is not available in the Apple Magic Keyboard- US English, while it is available in other versions of Apple Magic Keyboard trending in the market. You can opt for Apple Magic Keyboard for iPad if you want to buy a backlit keyboard.
Single USB C Port
There is only one USB port in the laptop for connecting the lightning cable for charging. You cannot connect or use any other device to this port for charging although this feature is available on iPad Apple Magic Keyboard.
One Device at One Time
Some popular keyboards in the market allow users to connect with multiple devices simultaneously like Logitech, but you cannot enjoy this feature in Apple Magic Keyboard. With this keyboard, you can connect only one device at a time.
For example: If you have connected this keyboard to your Mac, it will remain connected to it. You need to disconnect it first; then, you can pair it with another device like an iPhone or iPad. You cannot swap between instruments as in other smart keyboards like the Logitech keyboard.
Are There Apple Magic Keyboard Alternatives Available?
There are many low cost alternatives to Apple Magic Keyboard available such as Logitech, Omoton, and Clever. Logitech K480 is a good option for those looking for advanced features at a lower price, and some elements like swap or switch connection between devices are not available in Magic Keyboard. It also comes with a stand and tablet cover.
Logitech K480 is compatible with ChromeOS, macOS, iOS, Windows, and iOS, and the price is 2,595 INR which is extremely low compared to Apple Keyboards with additional features like a connection switch between devices.
Omron Ultra slim Bluetooth keyboard is another great option that supports iPad, iPhone, and Bluetooth-enabled other tablets also, and the current Price is 4,563 INR. Some other keyboards of Macally, iClever DK03 are also good alternatives ranging between 2899 INR -7000 INR.
These alternatives are nominal and offer almost the same features. All provide the same basic features as Magic Keyboard and can be connected with Bluetooth. The price is very low compared to Apple Magic Keyboard, which comes at 9500 INR and 12500 INR with a numeric keypad.
Is the Apple Magic Keyboard Worth its Price?
According to some evaluations, this keyboard is great for working from home because it allows quick typing. People are discussing its high performance on social media platforms. Other views reveal users' excitement about its classy, sleek, stylish look. Although some are unsatisfied with the cost, most reviews favor the Apple Magic Keyboard.
Apple Magic Keyboards are higher in price due to their advanced technology and high-quality material which you will not get in any other brand. The high standard of quality and speed justifies the price and makes it worth its price.
Apple is known for its quality, durability, and reliability, which is unbeatable. You can go with other affordable options which I have discussed above, but Apple has set a milestone for its quality and class. It would be a one-time investment for a long-life product with incredible typing experience and a classy look. It is worth being at your workstation, and it justifies its price.
FAQs About Apple Magic Keyboard
What are the dimensions of the keyboard?
Apple Magic Keyboard- H 0.41-1.09 cm Width 27.89cm and weight is 0.239 kg Grams
Does it have function keys?
Apple Magic Keyboard and Apple Magic Keyboard with numeric keypad have function keys.
How to switch on or switch off the keyboard?
There is a small slide button on the edge of the keyboard to turn on or off your keyboard.
Does it come with a key protector/ Key protection cover?
No, It does not have any key protector or Key Protection cover.
How to disable inbuilt speaker sound?
Use the F10 key to mute the sound of the inbuilt speaker.
Is it possible to connect Apple Magic Keyboard with Windows 10?
Yes, you can pair your device with Apple Magic Keyboard via Bluetooth and use it with your device.
How long does the battery take to charge for the best performance?
The battery is long-lasting; if you charge it for 2 hours, it will work for around 2 months. You can use it for up to 9 hours after 1-minute of charging.