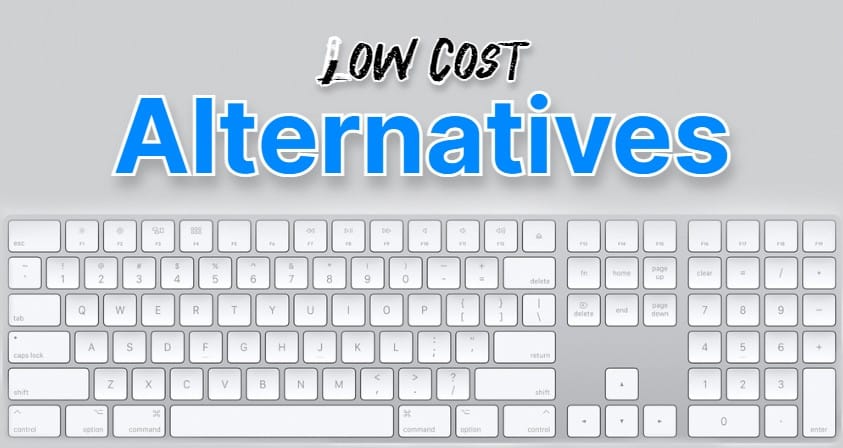 The Magic Keyboard by Apple offers a great experience to Mac, iPhone, and iPad users, owing to its comfort, long-lasting battery, and ultimate typing experience. We all know Apple products have a class but they do not suit everyone's pocket.
Moreover, Apple products work best when paired with other Apple products. But still, there is no dearth of other third-party accessories that you can pair with your Apple product, that too at a much lesser price.
The Apple Magic Keyboard comes in different variants, depending on the device generation you want it for (iPad, iPad Pro, etc.). The price can vary between Rs. 10,000 to Rs. 32,000, which is quite high.
If you have spent enough money on buying the Apple Mac/iPad and do not want to spend too much on its Magic Keyboard, then don't worry. We have some of the best low-price alternatives to Apple's Magic Keyboard. They are compatible with Apple and will also suit your pockets.
1. Logitech MX Keys for Mac
If you are looking for something really close to the look and feel of the Apple Magic Keyboard, then go for the Logitech MX Keys for Mac. It is sleek, and stylish, and offers super smooth keystrokes. Its fast, accurate, and fluid-like keystrokes make the experience world-class. It somewhat gives the look and feel of using a Mac keyboard.
It comes with a smart backlighting feature and lets you add up to three different devices, i.e. with a single tap you can switch between three devices using the same keyboard. You can either connect it with a USB or use it wirelessly. Its battery backup is robust, as it can last from 10 days up to five months when fully charged.
The Logitech MX Keys for Mac costs just Rs. 12,995. Buy it on Amazon.
2. Satechi Aluminium USB Wired Keyboard
If you want a much cheaper option than the Logitech Keyboard, then check out the Satechi Bluetooth Wireless Keyboard. It comes with classy color schemes to match the looks of Apple. Its design is sleek and modern and can also connect up to three devices via Bluetooth. Its keys are intuitive, i.e. the keyboard provides easy shortcut keys specially made for Mac devices.
Even though its battery life is a bit lower than Logitech, it still counts to be one of the best and cheapest alternatives to the Apple Magic Keyboard. This keyboard can run up to 80 hours after a full charge.
The Satechi Aluminium USB Wired Keyboard costs just Rs. 11,860. Buy it on Amazon.
3. Macally Wireless Keyboard
The Macally Wireless Keyboard is another best option to try if you want to pair a keyboard with your Apple devices like Mac, iPhone, iPad, etc. This ultra-thin keyboard offers a smooth typing experience owing to its fast scissor flexors. Despite its slimness, it contains all 110 keys along with shortcut keys and a number pad.
This keyboard can also multisync, i.e. can be connected to up to three devices simultaneously. It has a strong rechargeable battery that can run for up to three months. It is budget-friendly and costs around Rs 8000.
Buy this classy keyboard at just Rs. 8,160 from Amazon.
4. Arteck HB220B Universal Slim Keyboard
The Arteck HB220B Keyboard is a very smart alternative to Apple Magic Keyboard at a cheaper price. It comes in seven cool backlight colors to pep up the style. The backlight has an auto-sleep feature as well. It is slim and portable as well. You can connect it to three devices and it is also compatible with Operating Systems like iOS, Android, Windows, and Mac OS.
It has a battery life of six months (without the backlight). It is a budget-friendly keyboard that will complement your device.
Buy this smart keyboard for just Rs. 4,658 from Amazon.
5. iClever BK10 Bluetooth Keyboard
The iClever BK10 Bluetooth keyboard is a smart keyboard, built with an ergonomic design. You can even place it on a comfortable slope while working. It also allows pairing with up to three devices and is a perfect choice to pair with Laptop, iPad, iPhone, MacBook, etc. The typing is seamless and efficient with this keyboard. Its industry-standard layout makes it an ideal alternative to Apple Magic Keyboard.
It has a long-lasting, rechargeable battery that comes with a power-saving option as well. It is available at a much lower price than the Apple Magic keyboard.
Buy the iClever BK10 Bluetooth Keyboard at just Rs. 2,499 from Amazon.
6. Keychron K6 Pro
Keychron K6 is a compact 65% layout keyboard, with a backlight. It is one of the best mechanical keyboards for Windows and Mac. It can connect with a maximum of three devices through Bluetooth. It comes with a Mac and Windows layout and offers all the necessary functions and multimedia keys. It also offers ergonomic support to give comfort while using.
Its battery is very powerful and can last up to 200 hours (without the backlight). It comes with both wired and wireless modes.
Buy this keyboard for Rs. 14,323 from Amazon.
7. Logitech K580 Wireless Keyboard
The Logitech K580 is a smart keyboard with a slim and minimalistic design. It offers a fluid-like and soundless typing experience. You can use it across multiple devices and platforms like iOS, Mac, Windows, and Android. It proffers fluid-type typing due to the scissor switches.
It has an auto sleep feature which puts it in sleep mode when no one is typing. Due to this, its battery life is long.
Buy the Logitech K580 Wireless Keyboard at just Rs. 2,995 from Amazon.
8. Typecase Keyboard for iPad 10th Generation
The typecase keyboard is compatible with only iPad 10th Generation. It is one of the best options to pair with your Apple iPad 10, at a price much lesser than Apple's Magic keyboard. This keyboard is backlit and comes with three-level adjustable brightness.
It also comes with an Apple pencil holder, adapter ports, and a cap. The touchpad is multi-touch and offers effortless clicking and scrolling. Its powerful battery can last for 120 days.
Buy the typecase keyboard at just Rs. 3,990 from Amazon.
9. OMOTON iPad Keyboard
The OMOTON keyboard for iPad is a stylish sliding stand for iPhone and iPad. It provides a good angle view of the iPad. The typing experience is also very smooth and quiet. It is one of the best budget-friendly alternatives for the Magic Keyboard.
This keyboard is compatible with iPad 10.2, iPad mini, iPad air, iPad Pro, and iPhone Pro/SE.
Buy the OMOTON iPad Keyboard at Rs. 5,115 from Amazon.
10. Khinda Portable Wireless Keyboard
The Khinda Portable Wireless keyboard is a lightweight and foldable keyboard with a sensitive multi-touch keypad. It is super thin and has a very unique design. You can fold and carry it around even in your pocket. Its biggest USP is its size and wide compatibility with iOS, Android, and Windows.
It has a built-in, energy-efficient, rechargeable battery. It is available at an affordable price as well.
Buy this portable keyboard at just Rs. 3,499 from Amazon.
Conclusion
The above-mentioned keyboards are some of the best alternatives to the Apple Magic Keyboard at a lower price. They are well-designed and compatible with Apple devices. They are a great way to save money when you are looking for accessories for your Apple devices. They will offer the best experience at a great price.