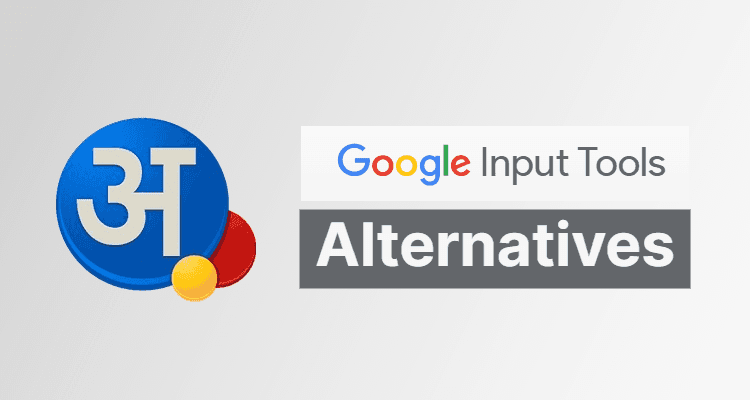 Most people find it very difficult to type in their regional language using an English keyboard but some tools available on the Internet make it easier. In one of my previous articles, I wrote about how to type in Hindi language using an English keyboard, and in which I mentioned Google Input Tools for typing in Hindi but sadly this tool is no more available for downloads.
The Google Input Tools was one of the best, free and easy-to-use software for Windows to type in different regional languages using your English keyboard. But, as it's now no more available on the Internet, I've come up with some of its best alternatives to get the work done.
The Best Alternatives To Google Input Tools For Windows
When the Google Input Tools was up and working, I never searched for any of its alternatives for typing in Hindi language using the English keyboard because it was really fantastic and great. I'm still very shocked that why Google shut it down.
Well, after the shutting down of Google Input Tools, I searched for the best Google Input Tools alternative and found some really cool options. Check them out below:
1. Hindi Indic Input
Indic Input is a Hindi typing software provided by IndiaTyping.com for absolutely free of cost. Just like Google Input Tools, you need to download it from the IndiaTyping.com website and install it on your Windows 7, 8, or 10 computer. Once, installed, open it and start typing in Hindi through your keyboard.
Apart from just English to Hindi typing, this software comes with many different keyboards such as Hindi Remington, Remington Gail, Krutidev, Devlys 010, Mangal font Hindi, etc.
This is one of the best alternatives of Google Input Tools by which you can type in Hindi anywhere in your computer even without Internet connection.
How to Use Hindi Indic Input?
First of all, visit this page and download the appropriate version of this tool according to your system requirements. Once, it's downloaded in your Windows computer, install it.
After, you've properly installed this tool on your Windows computer, go to the bottom right corner of your taskbar and choose the Hindi keyboard from the preferences. It's that simple.
In case, you're not able to see this Hindi keyboard in the taskbar, it means the tool is not configured properly and so you're required to set it up through the control panel. For the instructions, visit this page.

2. Lipikaar
Lipikaar is a premium typing software that allows typing in your regional language using your regular English keyboard. It's designed especially for professional use.
However, the tool comes with a 3-days of the fully functional trial period. To continue using the software after 3 days, purchase and activation are required.
It supports 18 languages; Hindi, Marathi, Bengali, Assamese, Gujarati, Oriya, Punjabi, Tamil, Telugu, Kannada, Malayalam, Sanskrit, Nepali, Konkani, Sindhi, Kashmiri, Arabic, and Urdu.
Lipikaar is another great alternative to Google Input Tools but the only thing is that it's not free of cost. However, its features are absolutely worth the price.
How to Use Lipikaar Typing Tool on Windows?
Lipikaar supports Windows XP, Windows Vista, Windows 7, Windows 8, or Windows 10. So, first of all, you need to download the trial version on your Windows computer from its official website.
Once, it's downloaded, install it and start using the free trial version for 3 days. If you're completely satisfied, buy the premium version to continue using the tool after 3 days.
Lipikaar comes with a per PC license. Once purchased, it can be used on a single PC without any additional charges. It comes with different kinds of licenses based on their validity like 1 month, 6 months, and 1 year at different prices. Once you buy the tool and make payment, the license will be sent to you over the mail.
The Best Online Alternatives to Google Input Tools
Apart from this desktop software, there're plenty of online tools which allow typing in different languages from your English keyboard. All you need to visit them online in your web browser and start typing in whatever language you want to type.
Google Input Tools Online
Google Input Tools has an online version that lets you type in your regional language using your English keyboard. You just don't need to download anything on your computer. Just need to visit this page, choose the language you want to type in, and start typing.
IndiaTyping.com's Online Hindi Typing
IndiaTyping.com has its own online Hindi typing version which lets you type in Hindi language using your English keyboard. And this is why it's another great online alternative to Google Hindi Input Tools desktop software. Go to this page and start typing.
EasyHindiTyping.com
As the name suggests, it also lets you type in Hindi using your English keyboard online. All you need visit EasyHindiTyping.com and start typing right away. In addition to Hindi, you can type in many different languages using an English keyboard easily.

Which One You're Going to Use?
These all are the best alternatives of Google Input Tools for typing in your regional language using your ordinary English keyboard. For using online tools, you need an Internet connection, and each time you want to type something in your regional language, you will be required to turn on Internet and open these online resources to start typing.
So, which one of the above-mentioned tools you're going to use for your typing needs? If you're looking for a desktop alternative to Google Input Tools, you should go for IndiaTyping's Hindi Indic Input tool. It works great.
You can also use Google Input Tool's own online version for typing in your regional language using an English keyboard in case you don't want to download any software on your computer. You can also try its own Google Chrome extension for more ease and comfort.