Nowadays, most of the blogs and websites are built with WordPress due to its awesome features and flexibility. So, if you're using WordPress, then you would be felt a problem of mistakenly publish uncompleted article. So, today I will tell you how to get back your suddenly published article to draft.
This article provides you the awesome guide for how to change suddenly published article back to draft in WordPress. So, don't worry if you've suddenly published an uncompleted article. I've compiled very simple steps to get back it to draft. Have a look –
On the Edit Post page, you'll see a Publish Widget for several options such as Save Draft, Preview, Status of Post, Visibility and Publish.
So, if you've published the post, you'll see the status Published. So, click on Edit and change it to Draft and Click on Update.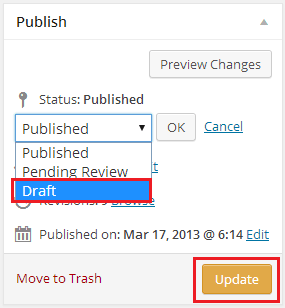 That's all friends, now your published article has changed into the draft and will not seen on the website until you publish it again. So, I hope the above two steps are easy to understand and you all liked them.
More Articles For WordPress Users:
If you really like this article, then don't forget to share it on your social networks to spread it maximum webmasters.